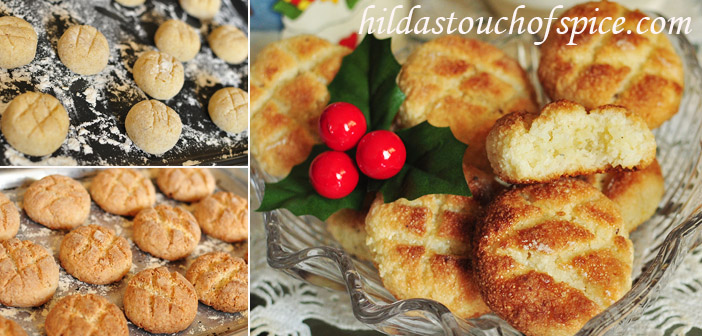 Tea time in Goa is always special with a platter of Bolinyas. These beautiful coconut and semolina cookies are easily available in the bakeries of Goa but a Goan takes great pride in baking them at home for regular tea time and for special festive occasions. These golden cookie balls bursting with succulent fresh coconut mixed with the perfect crunchy binder rulao / suji and that sweet aromatic flavor of green cardamom and nutmeg is a wonderful Christmas treat. Eggs add that oomph to these delectable baked golden cookie balls. The combination of egg yolks with egg whites or just egg yolks to the Bolinyas batter is what makes the magical cookie enriched with fresh or dessicated coconut not only rich but super delicious.
In this recipe for Bolinyas, the addition of only egg yolks fortifies the nutritive value and enhances the taste further. If you love cookies, then Bolinyas will send you on a sweet spin and you cannot but satisfy that urge or craving with just a couple of them. This is the ultimate traditional and classic cookie on the Goan sweet table which a Goan takes pride in to bake and serve with elan. 🙂
Today's recipe for Bolinhos / Bolinyas is with only egg yolks. We often baked Bolinyas two ways in keeping with age old traditions – with the inclusion of egg white and with only egg yolks.
We had a small poultry farm with country fowls and had an abundance of organic brown eggs. Often the eggs contained two gorgeous deep orange yolks and so we did not have to wait for festive and celebratory occasions to enjoy traditional sweets or desserts but it was celebration almost every day with an abundance of eggs. In Goa, we had the luxury of both coconuts and eggs but in Pune we had eggs and often brought coconuts from Goa.
I am very fond of eggs and never get fed up of them. Being a weak child, my grandmother made sure I consumed eggs almost every day in whichever way she felt fit unless I was unwell. My Mama particularly made these golden round balls of coconut laden goodness for me with egg yolks to fortify me with good health and energy and they were always exceptionally delicious.
Our ancestors always fed us with enriching, fortifying, healthy foods which were laden with nutrition. Yes, they made sure we burnt all our calories. It is sad that now the good old humble egg yolk is looked down upon. Egg yolks have immense nutritive, health and medicinal value as compared to egg whites. Unfortunately, most of us overlook the positives and highlight the negatives of egg yolks. Sad but true, we trust medicines more than natural foods. If you have serious health issues, then it is better to avoid egg yolks in your diet and consult your doctor / physician.
Healthy individuals especially children should enjoy it. Organic / gaunti (gaoran) / eggs are better especially from your own poultry farm. We nurtured our stunning fowls well with trimmings of vegetables and grains and they gave us very tasty and large eggs. They did give us a hard time sometimes when they would lay the eggs elsewhere and sometimes refused to return to the coup at dusk! :D. It was worth the exercise I must say after enjoying the eggs and those gorgeous yolks in Bebinca and Bolinyas and many delectable Goan / Portuguese sweets. 😉
This recipe for Bolinhos / Bolinyas is simple and easy. When it was prepared at home in a wood / coal fired clay oven the baking timings were eye balled and there was no lining the trays with parchment, etc. In the bakeries, there is no fuss baking and they turn out just fine.
Please take into consideration your electric conventional oven settings and the instructions for baking. I use baking powder in my batter for Bolinhos / Bolinyas but my grandmother did not. We use green cardamom and nutmeg as we love this combination of flavor. Vanilla essence or extract may be substituted or combined if you prefer. Flavouring your goodies always depend on your personal palate and that of your family and loved ones.
These Bolinyas / Bolinhos / Bolinhas are very addictive and a family favorite. They are firm on the outside and moist with an intense flavor of natural fresh coconut.They are always welcome at tea time. Who can resist the very delicious Bolinhas / Bolinyas? They are good as an anytime snack and in your short break tiffin at school, college and at work. Equally good to carry on your holidays, travel or on a picnic.
For those who have health issues, there's always the earlier recipe for Bolinhas with inclusion of egg whites.
Bolinhos de Coco / Bolinyas are lovely as always to serve on your Christmas platter and make excellent gifts. Enjoy with a cup of your favorite tea / coffee or simply with a hot glass of milk. 🙂
Share the spirit of Christmas which brings festive good cheer and good tidings with family and friends. Bring in that infectious fun and laughter to your goodie table… munch away these beauties (Bolinhas / Bolinyas) with hot cups of your favorite beverage and ring in the joy of peace and harmony.
Merry Christmas to one and all. 🙂
Ingredients:
250 gm fine Rawa / Suji / Rulao / Semolina
250 gm Sugar Powder or Sugar
250 gm fresh Coconut; scraped (only white flesh)
4 Egg Yolks
¾ tsp fresh Green Cardamom Powder
A pinch of Nutmeg Powder (optional)
1 tsp Baking Powder (optional)
3 tbsp Ghee
¼ tsp Salt
¼ cup Water for grinding fresh scraped Coconut
Procedure:
Grind scraped coconut with ¼ cup water to a rough paste. Set aside.
Beat ghee and sugar powder until light and fluffy.
Add egg yolks and beat further until the mixture turns pale and creamy.
Add rawa / semolina / suji / rulao, coconut paste, salt, cardamom and nutmeg powder. Stir well to combine.
Cover the bowl with cling film and set aside to rest for about 8 hours.
Let the batter rest overnight in the fridge or keep outside if the climate is cool and bake the next day.
Before baking, stir in baking powder. Mix well.
Grease your palms with melted ghee; and roll small portions of batter into balls and place on a baking tray dusted with dry flour or use parchment or butter paper.
Make sure there is enough place in between for expansion.
Create decorative patterns on top of the balls with a fork or knife
Pre-heat the oven at 150C.
First bake them with only the base heat on.
After about 10-15 mins., check if the base of the bolinha is firm by moving a bolinha on the tray.
If it moves easily, then switch over the mode to top heat and bake till the top gets lightly golden.
Cool baked Bolinhos de Coco / Bolinhas / Bolinyas on the tray and then shift them on to a cooling rack.
Enjoy at tea time and / or bake and serve on your festive Christmas platter.
Note:
Alternatively, if using sugar; heat with ¼ cup water to form a thick syrup and then add the other ingredients excluding egg yolks and mix well. When cool mix in the egg yolks and set aside for about 8 hours. Follow the steps thereafter as mentioned above.
Batter can be prepared in the morning and bolinhas can be baked in the evening.