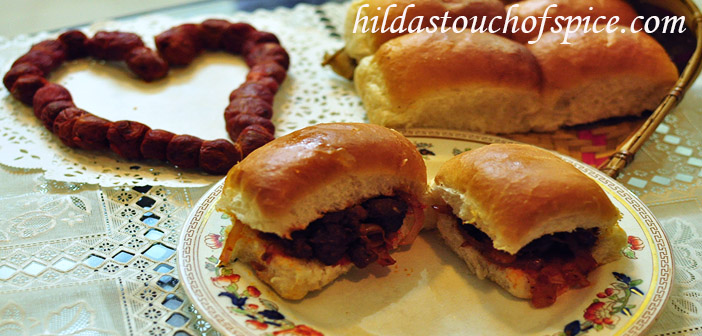 Goan rosary bead sausages / Choris are not only popular but well known worldwide. Traditionally, the Goan Catholic community takes pride in making their own choris / sausages. Homemade choris has that special unique taste and flavor as great care is taken to use choicest pork, chillies, spices and homemade vinegar to achieve perfection. In fact, pigs are reared in the backyards for good quality meat for Vindalho / Vindaloo, Sorpotel and of course the famous and familiar Goan Choris / Sausages. The natural fat in the meat makes the cooked sausages succulent. Smoking and drying the choris in natural sunlight enhances the flavor and shelf life. The process of making sausages from scratch is often lengthy and time consuming but once ready, those gorgeous beads make life in the kitchen much easier and consumption a pleasure!
Goan Choris Pao is considered as street food but also served in small eateries, shacks and restaurants in Goa. It is an awesome finger food. It can be enjoyed at breakfast, as a snack and as a quick meal.
Homemade Choris Chilli Fry neatly tucked into soft pao which is lovingly called "Choris Pao" is the best. Homemade Choris usually has a perfect balance and hence it is simply added to onions and sautéed to get a perfect chilli fry! It is the commercial Goan bead sausages which may sometimes need adjustments to balance the taste.
Goan Choris Bead Sausages are so handy especially in the monsoon season when fish is scarce and great to fix a quick delicious meal in minutes. I use them to make a pulao, curry, chilli fry with potatoes and the delicious choris pao.
Aromatic and inviting… if you have relished it before then can you resist Goan Choris Pao?
Enjoy! 😊
Ingredients:
8-10 Goan Choris Beads / Goan Bead Sausages
4 med. Onions
1 tbsp Vegetable Oil
2 tbsps Goan Vinegar / Sugarcane Vinegar to taste
A few tablespoons of Water or as needed
Salt to taste
To Serve:
Pao
Alternatively; can be served in Poee or with bread slices or even in burger buns.
Procedure:
Separate the Goan choris / beads from their casings.
Peel, slice the onions vertically or horizontally. Alternatively, you may dice the onions if you so prefer.
Heat oil in a frying pan / kadhai / wok until hot.
Reduce heat; add sliced onions and sauté until soft and translucent.
Add the Goan choris and sauté continuously on medium heat until the choris softens and releases fat.
Add some water to help the choris to cook further for a few minutes.
Alternatively; you may cook the choris separately until cooked and soft and then add it to the pan after the onions soften and become translucent.
Add vinegar as per taste and adjust seasoning if necessary.
The Goan Choris Chilly Fry should be moist with some sauce.
To serve; Slice or split the pao gently with your fingers.
Stuff a generous helping of the prepared Goan Choris Chilli Fry and serve immediately.
Relish your Goan Choris Pao.