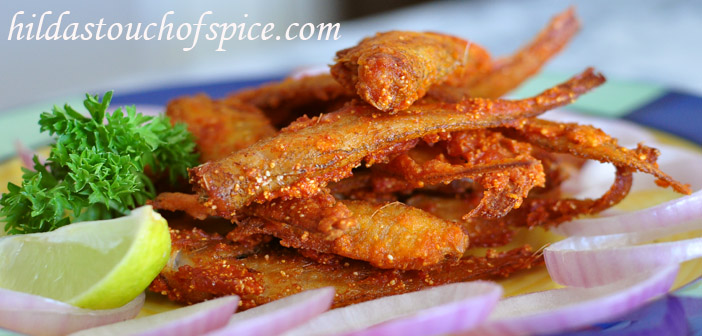 Fresh Golden Anchovies / fresh Mandeli are delicious to eat especially when they are pan fried or deep fried to crispy crunchy golden with a light coating of rawa / rulao / semolina.
Today's recipe is the Goan special with a marinade of the popular recheado masala / spice paste. They should be eaten immediately on frying to enjoy the crispness and crunch or as we Goans would say "Kurkurit."
Kurkurit Mandeli makes an awesome appetizer and a great side. It pairs well with Sorak and Ukadem Xitt, Fish Curry Rice and Dal Rice. It can be served as part of a meal with chapatis or phulkas too.
This small fish is enjoyed by fish lovers as it is tasty. Some people may not like it as it has fine bones. If you are not familiar with it or not used to chewing fine bones then you may find it intimidating. If one is raised on eating small bony fish as well as big fish then it is no problem at all.
A very important point to note is that each Mandeli is full of scales. You need to make sure to remove the scales completely and gut it properly. It takes a load off; if you get it cleaned from the fisher monger just the way I do but you need to check each fish again before washing it well. If you find some scales then just scrape it off with the help of a small serrated knife. Obviously, to get scales into your mouth while eating is an absolute "NO"!
In case you have never tried eating fresh Mandeli before and would like to give it a try, I assure you that you will surely relish it if you are an avid fish lover who loves the crispness and crunch (Kurkurit).
Goan Recheado Masala paste, adds a nice flavor to the rawa fried Mandeli. Give it a try and taste it yourself.
Enjoy Goan Recheado Mandeli Rawa Fry…😊
Ingredients:
250 gm fresh Mandeli / Golden Anchovies
3 tbsp Recheado Masala
2 tbsp Rice Flour
5 tbsp Rawa / Rulao / Semolina
Salt to taste
Oil for pan frying / deep frying
Method:
Scrape off the scales thoroughly and gut the mandeli / golden anchovies. (It is better to get it done by the fisher monger).
Wash well; drain and pat dry.
Marinate for about 15 to 20 minutes with salt and recheado masala.
Place rawa and rice flour in a zip loc bag or plastic bag. Toss the Golden Anchovies in the bag and shake to help the fish to be dredged completely. Shake off excess rawa.
Pan fry or deep fry the Mandeli until crisp and golden.
Serve immediately to enjoy the much loved Goan Recheado Rawa Fried Mandeli.