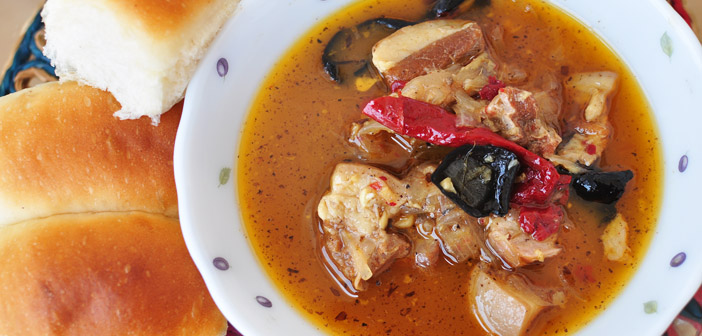 Goan Pork Solantulem is also known as "Pork Amsol" or "Pork Binda Sol". It is a simple, non-fussy preparation and finger-licking good. The important ingredient which is highlighted and given a place of pride in this classic Goan pork preparation is Bindi Sol / Sola / Kokum / Amsol. The popular and gorgeous Sola if used fresh; not only lends a mild pinkish hue but further enhances the taste with its pure sweet-sour notes in the gravy. Fresh good quality kokum / sola is the key to the awesome flavor of the gravy. It is also important to have good quality pork to prepare solantulem.
Pork Solantulem does not require oil as it is cooked in its own juices, fat and a little water. It can be prepared with or without spices viz. ginger, garlic, cumin seeds. In this recipe, I have used these spices simply because they aid digestion. I have also used tamarind which is a binder and helps thicken the gravy. You may add more sola as per your personal preference and avoid the use of tamarind in the solantulem.
My husband's all-time favorite with lots of gravy. If he had his way, then my blog would have been all about his favorite meats! 😀
Ever since I started blogging, he has been requesting me to post Pork Solantulem, Aard Maas, etc. and I really don't know why I did not give it priority. I tend to put simple things on the back burner. There are a whole lot of photographs in my folders since years and I sincerely hope that I start posting regularly!
So here it is … the much awaited Goan Pork Solantulem which is welcome any time in the year but especially in the monsoons when the sea is rough and the fish are breeding.
When you want to treat yourself to a simple meal and look forward to pure comfort in a bowl… When you just want to dunk your pao in a sweet tangy soupy gravy and enjoy tender pieces of good old pork and feel bliss or simply feel the goodness of Ukadem Xitt (Goan parboiled rice) soaked to the core…it's time to fulfil those cravings with this mouth-watering Goan Pork Solantulem!
How easy and quick can this get? Ready in a jiffy in my trustworthy pressure cooker! Give it a shot and see for yourself. 😊
Ingredients
½ kg Pork chunks; washed
½ tbsp fresh Ginger-Garlic paste
3 med Onions; roughly sliced or chopped
8-10 petals Sola / Amsol / Kokum / Binda Sol
4 cloves fresh Garlic; minced or roughly sliced
½ tsp fresh Ginger; grated
¼ tsp unroasted Cumin Seeds, lightly crushed
¼ tsp Turmeric powder
A pinch of Sugar or to taste
5-6 dry Kashmiri Chillies; deseeded; break a few
1 tbsp fresh Tamarind extract or to taste (optional)
1 ½ cup Water or as needed
Salt to taste
Procedure:
Marinate pork chunks with ginger-garlic paste, turmeric, salt for about an hour.
Pressure cook the marinated pork chunks with the remaining ingredients for about 4 to 5 whistles or until the pork is tender and cooked.
Open the pressure cooker only after the pressure has dropped down on   its own.
Taste and adjust seasoning if necessary.
Goan Pork Solantulem is ready with gravy or further cook until you achieve the desired thickness of gravy.
Enjoy delicious and succulent Goan Pork Solantulem with Goan pao, sannas, bhakri, Goan Ukadem Xitt, bread, etc.