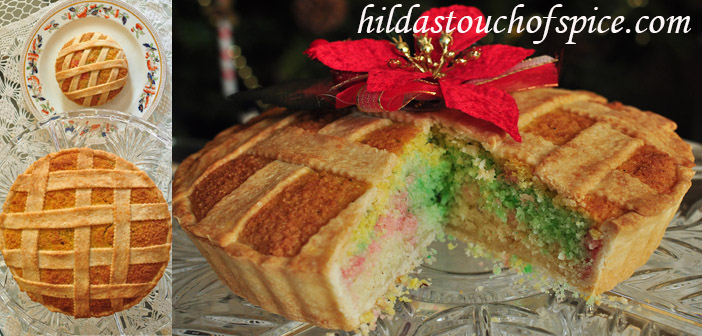 The traditional and classic "Bolo de Rulao" in Portuguese which is fondly referred to as the "Goan Baath" / "Baatica" is a heavy and dense cake. It is easily available in the bakeries in Goa. Even though it is a festive special and served on the Christmas goodie platter; it is served at regular tea time and baked at all celebratory and festive occasions. It can be baked two ways. One of the version's is posted earlier.
Here is the other version of Goan Baath / Baatica which I do bake and my grandmother would too. This is a beautiful Goan Baath Rainbow Cake Tart wherein the Baath cake batter is in pale or vibrant colors and baked in a sweet short crust pastry. The top of the cake is further covered with pastry strips which are arranged in a lattice / crisscross pattern. You can use unsweetened pastry if you wish and use serrated pastry strips or plain ones. It all depends on your personal creativity and preference to make the cake tart look spectacular.
We like our Baath / Baatica light and sweet so I have as in my previous recipe. In this one, I have used fresh green cardamom powder (elaichi) instead of vanilla flavor. You can use a combination or any one as per your personal taste.
Every time I bake this Rainbow Baath / Baatica with or without Lattice pattern; it has always had an eye and nose appeal.  Each time I have sliced it in slices or wedges, it has been theatre!
Check for yourself…isn't it a beauty? Gorgeous and beautiful, I always take pride in serving this one to my family and guests especially at Christmas and throughout the festive season. It lights up the sweet table and the goodie platter too.
Check out the small, cute and adorable Rainbow Baath / Baatica with the pretty lattice design. It is dainty and apt to gift with love. It is a show stopper in your gift hamper.
Make your festivities special with this stunner and warm up the spirits of your loved ones.
Wishing all visitors "A Very Merry Christmas."
 Ingredients for the Cake:
 1 cup (170 gm) Rawa / Semolina / Rulao / Suji
2 cups (160) gm fresh Coconut; scraped
½ cup Water
½ cup (210 gm) Icing Sugar or Castor Sugar
3 tbsp Maida / All Purpose Flour
1 tbsp Corn Flour
2 Eggs
2 tsp Baking Powder
3 tbsp Butter / Ghee
1 tsp Salt
1 tsp Vanilla Essence and / or ½ tsp Elaichi Powder
Procedure:
Grind coconut with water to a paste.
Beat eggs until light and fluffy in a sufficiently large bowl; add coconut paste and mix well.
Combine all the dry ingredients and gradually incorporate it while mixing continuously with the hand blender.
Beat butter / ghee in another bowl and add it to the above mixture and continue blending.
Cover and keep the batter aside for 6-7 hours; preferably overnight.
Add vanilla essence or elaichi powder and mix well.
Divide the batter into four individual bowls or as desired.
Add a drop of edible color to each bowl retaining one portion as white. I have used 3 colors; pink, green and yellow.
Ingredients for the Tart Pastry:
250 gm sifted; Maida / All-purpose Flour
150 gm Butter (cut into small pieces)
¼ tsp Salt
70 gm Caster Sugar (optional)
2 Eggs
For the Tart Pastry:
Combine all the above mentioned dry ingredients in a sufficiently large bowl.
Use your fingers or a food processor to rub pieces of butter into the flour until it resembles bread crumbs.
Mix eggs into the flour mixture and bring together lightly to form a dough. Do not over work the dough.
Cover the bowl of pastry dough with cling film and refrigerate for ½ hour.
Preparation of Tart Shell:
Divide the pastry dough into two balls of dough.
Roll out the one ball of pastry dough and cut to fit into the tart mould.
Refrigerate the prepared tart shell until baking time.
Roll out the other ball of dough into a disc / chapati and cut strips with a plain or serrated pastry cutter or knife. Place the strips on a baking tray and refrigerate.
Assembling the Baath Rainbow Tart with Lattice:
Randomly, drop tablespoons of alternating coloured baath cake batter in the prepared chilled pastry tart until you finish up all the cake batter.
Tap the pan lightly on your kitchen counter to release air bubbles if any.
Level the top and arrange the cut strips of pastry in a lattice pattern.
Bake in a pre-heated oven at 165C for 45-50 minutes or bake until a skewer or toothpick inserted in the centre of the cake comes out clean. Cool thoroughly.
Slice the Baath / Baatica and enjoy at Christmas.
To store; wrap in cling film and refrigerate.
Before serving; thaw, warm up lightly, slice and serve.