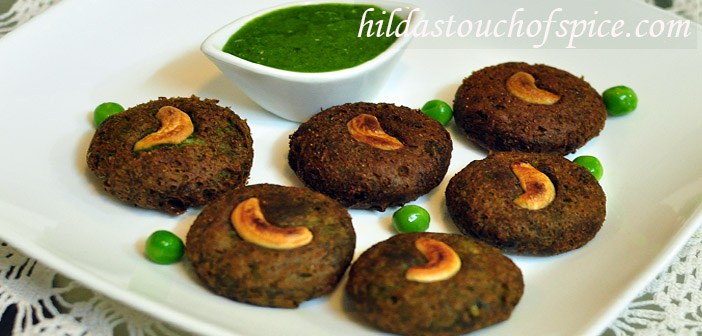 This delectable Hara Bhara Kabab is so fresh and vibrant with nutritious and healthy combination of evergreen vegetables. There are several variations to this interesting vegetarian kabab and it all depends on one's creativity to include a variety of greens and create a textured green beauty. Whoever invented vegetarian kababs to entice the palate of vegetarians did so with great enthusiasm which even die hard non vegetarians cannot resist.
Hara Bhara Kabab is a very popular vegetarian starter. It is a star in the vegetarian section of restaurant menus. It is always a great hit at celebratory parties. Kids and adults who are not fond of vegetables do love these little coin size patties and they taste good with ketchup or chutney. These refreshing green kababs are wonderful in burgers and can be served whenever you feel like eating them.
It's a good idea to make a batch of Hara Bhara Kabab and freeze them to be served to unexpected guests and equally handy to enjoy at short notice on busy week nights. Put your green vegetables to good use and make your weekends special. These are ideal to pack in your holiday picnic baskets, wonderful as a light lunch and travel food too. Its difficult to resist these cute little kababs studded with cashew nuts. They look pretty on your serving plate and light up your dinner table.
A perfect snack… a gorgeous starter… equally good as part of a meal. Hara Bhara Kabab tastes best when served piping hot if you like it crispy from the outside and meltingly soft within. We prefer deep fried ones but you can shallow fry or bake them as well.
Simply a beautiful medley of green vegetables, mashed potatoes, tangy and aromatic spices bound together with chickpea flour to form into cute little patties. Bite into these cute green crispy beauties which are studded with golden fried cashew nuts and enjoy the refreshing flavor of these kababs. If you have always ordered it at a restaurant or enjoyed it at a celebratory party; then give it a try in your home kitchen and relish the exquisite taste of home fresh ones.
If you have experienced difficulty in getting your family to eat their greens, then just make and serve a platter of Hara Bhara Kabab and watch them disappear in minutes! 🙂
Ingredients:
1 large bunch Spinach / Palak
3 Potatoes
¾ cup fresh or frozen Green Peas/ Matar
½ inch-piece fresh Ginger; peel, grate or roughly chop
3 fresh Green Chillies or to taste
3 tbsp freshly Coriander Leaves
2 tbsp Besan / Chick pea Flour; lightly pre-roasted until fragrant
1 tsp Amchur powder or to taste
1 tsp Chaat Masala Powder or to taste
Salt to taste
Halved Cashew nuts (optional)
Procedure:
 Wash and boil potatoes in their jackets until soft. Peel and mash the potatoes.
Pick the spinach leaves, wash well and then blanch the spinach. Place the spinach in a colander and rinse with cool water. Drain out the water completely and squeeze the spinach thoroughly to remove excess water. This step is extremely important to help bind the final mixture into kababs.
If using fresh peas; boil until soft with a pinch of sugar. Rinse with cool water through a colander.
If using frozen; first thaw, then rinse with water and drain completely.
Grind the spinach / palak, green peas, coriander leaves, ginger and green chillies to a slightly rough paste (not fine paste) without water. The paste must be thick with minimal water possible.
In a sufficiently large bowl, combine mashed potatoes, the prepared green spinach paste, amchur powder, chaat masala and salt. Mix well.
Then add the roasted besan flour / chickpea flour and mix well to bind the mixture together into a firm dough.
Place the mixture in the fridge to further firm up. For about 15 minutes.
Roll the hara bhara kabab mixture into small coin size patties or as per desired size and insert halved cashew nut in each kabab.
Deep fry or shallow / pan fry the kababs few at a time until cooked and lightly golden.
Serve Hara Bhara Kabab with ketchup / chutney.