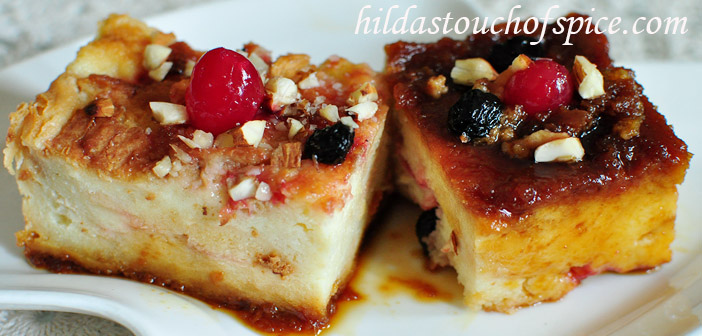 Put your day-old bread to good use by baking this gorgeous marbled Bread Butter Jam Pudding. So easy and delicious that irrespective of whether you are a child or an adult; it is truly irresistible. Serve it at breakfast, pack it in your tiffin box for a tea or coffee break or short school / college break, at tea time or serve as a warm or cold dessert.
My husband is good at bread puddings; steamed or baked and he would often make it for our kids. Left over bread is never wasted in our home. Never waste good food is our motto and we live by it.
This time I wanted to try my hand at his popular bread pudding which we all love so much. I baked this Bread Butter Jam Pudding and oh boy!… our home was filled with the wonderful aroma of sweet baking. 😊 When we sliced through the pudding it had a beautiful marble effect and the taste was heavenly with the flavor of butter and jam. The added texture of raisins and nuts was healthy and divine. If you have nut allergy issues then I suggest you skip the nuts. The pudding is full of nutritive value with the addition of eggs and milk and therapeutic with sweet cinnamon and nutmeg too. The aroma of this pudding does send you on a delightful spin!
Try it to experience the goodness of delectable bread pudding. I'm sure you will find your family and friends handing out their dessert plates for seconds! 😊
Enjoy the taste and beauty of Bread Butter Jam Pudding. 😊 😊
Ingredients:
10 slices Bread with Crust; preferably a day old
600 ml Milk
100 ml Cream (optional)
4 Eggs
50 gm Sugar or to taste
1 tbsp Demerara Sugar (optional)
¼ tsp each fresh Cinnamon & Nutmeg powder (optional)
6 tsp Mixed Fruit Jam or to taste
65 gm Mixed Dry Fruit & Nuts or as per choice
4 tbsp each Melted Butter & Jam (for brushing)
2 tbsp Butter (for greasing)
For the Caramel:
50 gm Sugar
½ tsp Water or as needed
Procedure:
In a sufficiently large mixing bowl; beat eggs until lightly frothy.
Add milk, cream (if using) and sugar. Stir to dissolve sugar completely.
Using your fingers; tear bread into rough pieces and set aside.
Add sugar and water to your aluminium baking pan and heat to caramelize sugar. Set aside to cool. Then grease the sides of the pan with butter.
Mix together cinnamon and nutmeg powder (sweet spice powder) and set aside.
In the prepared baking pan; roughly arrange alternate layers of bread pieces with jam, dry fruit, nuts and milk mixture. Sprinkle the aromatic sweet spice powder in between layers.
After each layer, use the back of a spoon to gently press down to compress and help the bread to absorb the milk mixture.
Allow the mixture to soak and settle down for about 5 minutes.
Cover with aluminium foil and bake in a pre-heated oven at 200C for 45 minutes.
Insert a wooden skewer after 45 minutes to check if the pudding has cooked through. If the skewer does not come out clean bake further.
After the process of baking is completed; take out of the oven and brush with melted jam, melted butter, sprinkle demerara sugar, nuts and dry fruit and bake the top of the pudding for 8 minutes at 100C to get a beautiful glaze.
Cool completely and refrigerate to allow the pudding to set and the flavors to meld.
You may serve the Bread Butter Jam Pudding warm or cold.
When cold they can be cut into neat slices or pieces as desired.
Enjoy your delicious, colorful Bread Butter Jam Pudding. 🙂