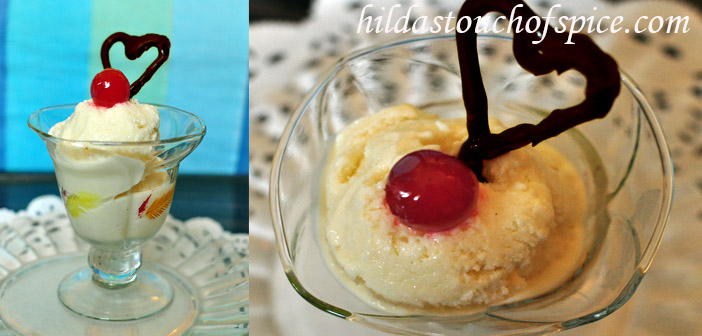 When you think of ice cream, your thoughts venture immediately to the classic… Vanilla Ice Cream! It is this basic flavor of vanilla in a pure creamy white ice cream with no frills attached; which almost every child, young and old craved for since the discovery and invention of ice cream. Every ice cream company and ice cream parlour throughout the world takes great pride in not just show casing but having an ample stock for ice cream lovers.
Vanilla Ice Cream provides a huge canvas for your creative urges and your creativity can run riot with various toppings to make it attractive I have earlier posted fresh fruit ones viz. Mango Ice Cream, Strawberry Ice Cream, Banana Ice Cream, Custard Apple Ice Cream and my husband's favorite Chocolate Ice Cream, but just over looked the Vanilla Ice Cream even though I make it ever so often. The photos have been clicked since such a long time! It's never too late to post.
Today's recipe is for the simple but elegant, pristine white Homemade Vanilla Ice Cream. My ice cream is always custard based and no-churn. It is popular among family and friends. It was loved so much when I had "Pick-a-Bite" and was especially popular among children. I also served eggless ice cream then. Even though we indulge in commercial ice cream; I can say with a feeling of pride and joy that my family always compares and the homemade one is the winner every time! 😊😊.
My family loves and prefers homemade ice cream with the inclusion of eggs. I like to use whole eggs in my ice cream but sometimes use only yolks. I also make varieties depending on health preferences and love to experiment. Will post all the delightful ice cream as I continue along my blogging journey. I personally prefer my Vanilla Ice Cream without toppings but my family sometimes likes it with toppings.
You will agree that Homemade Vanilla Ice Cream is pure bliss and always transports you in a cool zone when the summer is not kind to many. The Indian summer is at its peak and it is not kind to me. I just do not enjoy Indian summer but I can surely enjoy cool treats which help me to cope up. Who can resist a good ice cream especially when its fresh and homemade? Combat heat with this delicious dreamy, creamy homemade goodness of pure milk, cream and the soothing aroma of super Vanilla in an ice cream and enjoy! 🙂 Vanilla tops the list for me. 😊 Does Vanilla do wonders for you too?
Ingredients:
½ litre Milk
200 gm Sugar
35 gm Corn Flour
3 Eggs; lightly beaten
½ level tsp Salt or to taste
200 gm Heavy Cream
½ tsp Vanilla Extract or Vanilla Essence
Procedure:
Mix sugar with corn flour and salt in a saucepan.
To this add milk and beaten eggs.
Stir the mixture until well blended and smooth.
Place the saucepan over low heat and cook; stirring constantly for about 30 to 45 minutes until the custard thickens and coats the back of a spoon.
Remove the saucepan from the heat and cover the surface of the custard with cling film or parchment paper.
After it cools down completely; put the pan in the fridge and chill for about 2 hours.
Add heavy cream and vanilla extract or essence to the chilled custard and stir well.
Use an electric hand blender or transfer the contents to a mixer jar and blend well.
Pour this mixture preferably in an aluminium container and freeze.
Before serving; thaw for about 10 minutes or until soft enough to scoop.
Serve your Homemade Vanilla Ice Cream; plain or with your favorite sauce / topping and enjoy!