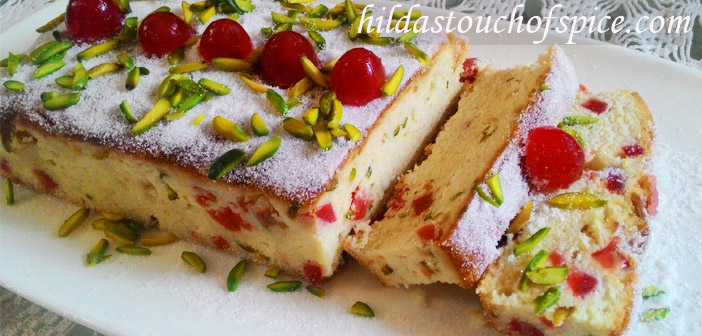 Who wouldn't love Glacé Cherries and Pistachio in a cake? When you bake this beauty and slice through it; you can't help but first feast visually. The Glacé Cherries and Pistachio look like studded gems on the slices of cake and is a joy to behold!
This spectacular Glacé Cherry & Pistachio Cake is good for all celebratory and festive occasions and great at tea time too. It has the colors of Christmas and is apt to celebrate the joy of Christmas. Simply dusted with caster sugar adds a special element and creates a holiday mood of a snow white Christmas. Make it look pretty and festive; covered with marzipan and fondant or serve it plain for those who do not like icing. Makes a delightful Christmas or New Year gift.
Make regular tea time special or bake on a weekend to share with family and friends. Wonderful to serve at high tea too. An absolute stunner to serve at a party and your guests will surely be thrilled at the visual display and not to forget the delicious taste of this gorgeous Glacé Cherry & Pistachio Cake.
Here's one of our favorites just for you… Wonderful as a mid-morning treat… a surprise in your child's short break tiffin box … even better in your picnic basket!… How about enjoying while travelling or on a drive? If you are into bake sales for charity; this one sure takes the cake! Just watch them disappear like hot cake from your counter!
Celebrate the joy and festive spirit with this stunning and gorgeous cake which has the beautiful colors of Christmas. This cake is especially for those who do not like an overloaded rich fruit cake drenched in alcohol. It is equally good for kids as you can skip the alcohol in this one. It is a light celebratory cake with or without the use of fondant, marzipan and any icing. The simplicity of this cake makes it look elegantly beautiful and spectacular just apt for Christmas with just a light dusting of caster sugar which brings in the Christmas mood of pure white snow. Just look at the photo… It surely has all the trimmings which are associated with the colors of Christmas.
Wishing all visitors "Christmas Blessings & Good Tidings." May the joy of Christmas linger in your hearts and may you enjoy peace throughout the New Year.
Ingredients:
175 gm Glacé Cherries
150 gm unsalted Pistachio
170 gm unsalted Butter; softened
170 gm Caster Sugar; sifted
2 Eggs
150 gm Maida / All Purpose Flour
100 gm Self-raising Flour
A pinch Salt
2 tbsps. Milk @ room temperature
1 tsp Vanilla Essence or Rum Essence
Rum to soak after baking (optional); as needed
Procedure:
 Rinse the Glacé cherries, pat them dry with a tea towel and chop them roughly.
Grease and line your cake pan.
Sift both the flours together and set aside.
In a sufficiently large bowl, beat softened butter until light and fluffy. Add sugar and beat further until pale and creamy.
Add the eggs, one at a time, beating well after each addition until well combined. Mix in essence.
Lightly fold in ½ the sifted flour and then mix in the milk until just combined. Fold in the remaining flour until well combined.
Dredge the chopped cherries and pistachios with a little flour and stir into the cake batter thoroughly.
Spoon the mixture into the prepared cake pan and smoothen the top evenly.
Bake in a pre-heated oven at 180C for about an hour or until a skewer inserted into the center comes out clean.
Remove cake from the oven and let it stand for about 10 minutes. Turn out the cake on a cooling rack.
When the cake is completely cool; spoon some rum on to the entire cake (optional).
Wrap the cake in cling film or foil and keep in the fridge overnight.  The flavor improves as it matures. But does one have the patience to wait for a few days? ;D
Slice and serve your delicious Glacé Cherry & Pistachio Cake.
Enjoy at Christmas with your favorite hot beverage… tea, coffee, cocoa, milk or just plain slices of cake.