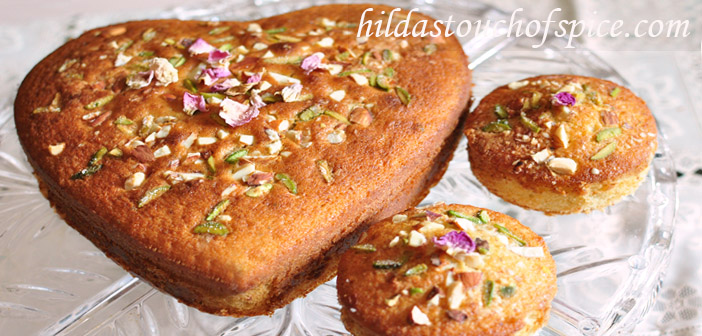 Always delectable, irresistible and a winner; Mawa cake is truly a satisfying one. I just can't get enough of it. Pune and Mumbai is blessed with Irani bakeries par excellence and good quality mawa cake is easily available. Besides, most Indian sweets are mawa based and mawa is prepared the traditional way almost every day to create Indian mithai. Making mawa / khoya / khoa in the traditional way is time consuming but very delicious. Quick mawa making in a microwave with milk, ghee and milk powder is also very popular. Since we get it easily, I always use store bought mawa for my mawa cake and Indian sweets / mithai. Maybe someday I may make my own mawa just for the thrill of it! 🙂
I have posted a recipe for plain rich and dense Mawa cake earlier. Today's recipe for Mawa cake is an extra special one and so perfect for Valentine's Day. It is the Irani Mawa Cake which is regal in all its splendour. Persian dry fruits, nuts, aromatic dry rose petals are well known. Commercial bakeries are known for their plain Mawa Cake while home fresh cakes and other goodies are made with a lot of love and one can take the liberty of including exclusive and quality dry fruits, nuts, rose water, rose petals, etc.
Enjoy this gorgeous Mawa Cake / Irani Mawa Cake made with love in the shape of a heart and a touch of royalty. Feel the calm and soothe your senses with the sweet scent of green cardamom, aromatic rose water and rose petals. Experience the crunch of green pistachios and almonds. What can be better than to share love with every bite of this delicious Irani Mawa Cake with your Valentine, family or friends?
Moist with a delicate crumb! Awesome with a cup of hot tea / coffee or cold coffee, milk, milk shake or simply enjoy plain!
Ingredients:
250 gm Cake Flour
200 gm Caster Sugar
120 gm unsalted Butter @ room temperature
150 gm Mawa / Khoya / Khoa @ room temperature
1 tsp Baking Powder
2 Eggs
¼ tsp Salt
¼ cup Milk @ room temperature
1 ½ tsp freshly powdered Green Cardamom
½ tsp Vanilla Essence or Extract (optional)
1 tbsp Rose Water (optional)
Slivered Nuts – as needed
Dry Edible Rose Petals – as needed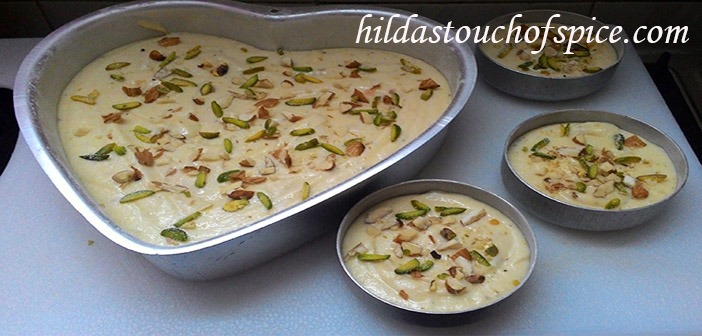 Procedure:
To make Cake Flour: To one cup measure; place 2 tbsp corn flour and top with all-purpose flour / maida. Level the top of the cup. Mix well and sift at least five times to mix and aerate well. Use as per recipe.
Mix together cake flour, baking powder, green cardamom powder and salt. Sift the dry ingredients 2-3 times. Set aside.
In a sufficiently large mixing bowl, beat together softened butter, mawa and caster sugar until soft, light and fluffy.
Beat in one egg at a time until all the eggs are used up. Do not overbeat.
Stir in vanilla, cardamom powder and rose water.
Gently fold in cake flour in 3 additions alternating with milk. Combine well after each addition.
Grease a baking pan with butter and line the bottom with parchment and dust with flour.
Pour the prepared mawa cake batter into the baking pan. Tap the pan gently on the kitchen counter to release air bubbles, if any.
Sprinkle with slivered nuts and rose petals.
Bake in a preheated oven at 180 C until the top is lightly golden and when an inserted tooth pick or wooden skewer comes out clean. If the cake is browning too quickly then just tent the top with aluminium foil.
If using vatis like I did, then it will take about 15-20 mins to bake.
The larger mawa cake should take about 45 to 55 mins. Just remember it depends on your oven settings and the size of your baking tin or moulds. Accordingly, the temperatures will vary.
For a moist mawa cake with a soft crumb; do not overbake.
Transfer to a cooling rack. Cool completely before removing from the pan.
Peel off the parchment; cut into slices and serve.
Serve fresh or store in an airtight container to enjoy with your favorite hot or cold beverage.