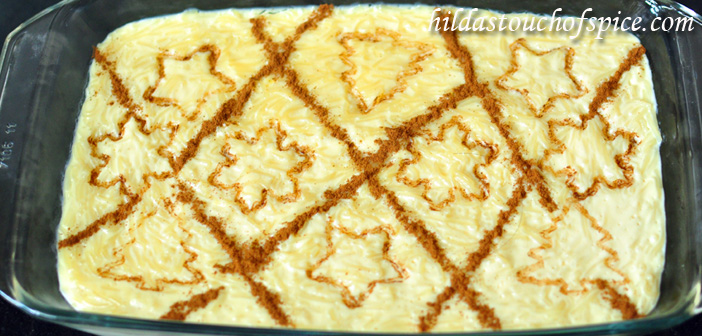 Aletria is a classic Portuguese Vermicelli Pudding. This elegant dessert is traditionally served at Christmas and is the pride of the buffet table in Portugal. Goan cuisine is influenced by the Portuguese and is one of the favorites. Even though it is popularly served at Christmas, you can prepare this pudding whenever you feel like it and relish this sweet, soothingly soft and creamy dessert.
The unique speciality of Aletria is the inclusion of egg yolks, the sweet aromatic flavor of cinnamon and freshness of lime/lemon peel or zest. The highlight of this dessert is the cinnamon. Cinnamon sticks are used to infuse flavor into the pudding and cinnamon powder is used to decorate it with pretty designs. Usually fine Angel Hair Pasta or Vermicelli is used to prepare this wonderful pudding but fine Egg Noodles can be used too. For a hint of tangy fresh fragrance, add lime/lemon peel but if you prefer a stronger flavor then use zest of lemon/lime.
For a lighter version of the pudding you may use low fat milk, boiled & drained pasta/vermicelli/noodles but then you may need to set it in individual bowls. This will not be the classic traditional pudding!
Aletria is set and served in a large bowl/dish at Christmas and decorated elaborately with cinnamon powder with beautiful designs. Serving in a large wide bowl gives a vast canvass to utilize and showcase your creative skills at the family dining table.
I am happy to share this recipe which is close to my heart and would like to bring this forgotten dessert back to the festive table of every Goan home and for all dessert lovers to enjoy for generations to come. Enjoy! 😀
Ingredients:
125 gms. Angel Hair Pasta (I used Italian Pasta)
 1 Litre Milk (I used Chitale's)
½ cup Water
100 gms. Sugar or to taste
2 Egg Yolks
½ Lime or Lemon (only Peel) (I used Lime Peel)
1 tbsp. Butter
1 fairly large Cinnamon Stick
¼ tsp. Salt
Garnishing :
Cinnamon Powder
Procedure :
Lightly grease with butter a 7 x 10 inch glass baking dish with butter.
Break the pasta into reasonably small pieces.
Reserve ½ cup milk and blend in the egg yolks. Set aside.
In a sufficiently wide and deep saucepan; preferably non-stick, combine the remaining milk, water, sugar, butter, cinnamon stick, lime/lemon peel and salt and bring to a boil. Give it a stir.
Reduce heat and let it simmer for about 5 to 7 minutes so that the flavors are infused. Use a slotted spoon to discard the cinnamon stick and lime/lemon peel.
Stir in the Angel Hair Pasta and again bring to a boil.
Reduce heat and cook the pasta/vermicelli/noodles until just tender.
If the mixture is thickening too quickly add enough milk so that the pasta cooks until tender.
Take the saucepan off the heat and then stir in the reserved egg yolk mixture in a stream to combine well. Make sure you stir briskly so that the mixture does not curdle or scramble.
Stir continuously and briskly on medium high heat to cook for a few seconds. This step is optional.
Pour out the Aletria in a sufficiently large, wide and deep bowl. Let it cool completely.
Decorate the top of the Aletria with cinnamon powder as desired into beautiful patterns using a cookie cutter or with the rim of a glass, cup or bowl or in a crisscross pattern with the help of your fingers or lightly sprinkle cinnamon powder.
Place the bowl/dish in the fridge to chill and firm up.
To serve, slice the Aletria into desired shapes or portions.
Enjoy this delicious Portuguese/Goan Vermicelli Pudding/dessert.
To create the design I have created on the Aletria :
Place normal room temperature water in a saucer.
Each time, briefly moisten the cookie cutter rim in water.
Dip the moistened rim into a saucer of cinnamon powder and emboss the design at intervals on top of the Aletria.
Voila! You have a glamorous looking Aletria fit to adorn your gorgeous dessert table.