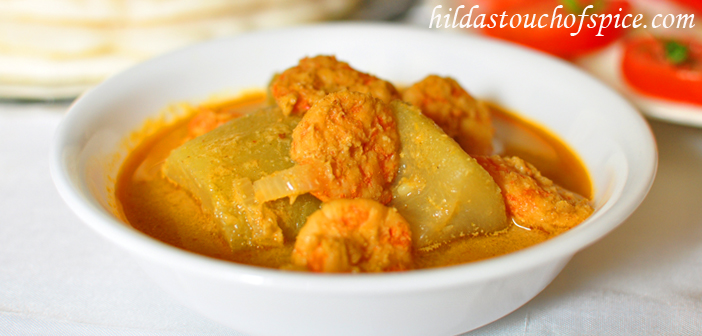 Temperado/Temperade means 'to season' in Portuguese. This curry is prepared traditionally with large prawns and vegetables namely, white pumpkin, red pumpkin or brinjal.
For this preparation, first some spices, then the prawns and lastly the spice paste is tempered in oil. The poppy seeds, fresh coconut and coconut milk help to thicken and form a smooth and creamy textured curry. The beautiful yellow color of the curry is due to the use of turmeric. This curry is very mildly spicy since it is made with minimal use of red chillies.
The flavor is further enhanced in this curry recipe with white pumpkin. The flavor of this curry improves and tastes even better the next day. It is delicious if cooked in a clay pot and the coconut oil brings out the flavors better.
Prawn Temperado tastes best with Goan parboiled rice, sannas, dosas and bread. You can enjoy it with normal steamed rice as well. Children and adults who like mildly spiced curries will love it!
I cooked this Prawn Temperado in virgin coconut oil and in a clay pot. We all relished it with sponge dosas the first day and the next day with rice. It did bring back sweet memories of our Goa vacations …Enjoy! 😀
Ingredients:
250 gms. large white Prawns (washed, shelled & deveined)
250 gms. White Pumpkin (peeled & diced into large chunks)
1 dry Kashmiri Chilli (remove stem & discard seeds)
1 cup fresh Coconut (scraped)
½ cup fresh thick Coconut milk (optional)
2 med. Onions (peeled & finely chopped)
2 fresh Green Chillies (slit)
1 tbsp. fresh Ginger (grated)
1 ½ tbsp. fresh Garlic paste
1 tbsps. dry Coriander Seeds
1 tbsp. Khus- khus (white Poppy Seeds)
1 tsp. Cumin Seeds
½ tsp. Turmeric pwd.
A pinch – Sugar
2 tbsps. fresh thick Tamarind paste or 4 tbsps. freshTamarind pulp (extract)
4 tbsps. virgin Coconut Oil or Vegetable Oil
Salt to taste
Procedure:
Parboil the white pumpkin chunks in enough water until cooked and just tender. Use the pumpkin along with the water for the curry.
Toss the prawns with ¼ tsp. turmeric powder and set aside.
Heat oil in a pot; use a clay pot, if you have one.
Lightly sauté the chilli, coriander seeds and cumin seeds in oil.
Drain and place in a masala grinder along with coconut, ½ the chopped onions, poppy seeds, garlic and ginger.
Grind with enough water to a fine thick paste.
Rinse the jar with water and reserve for the curry.
In the same pot, first lightly sauté the fresh prawns till it turns to a pale pink. Drain and set aside.
In the same pot, fry the remaining onions till soft and translucent; then add and sauté the spice paste (masala) for a minute,
Add the reserved masala water and ¼ cup water to get sufficiently thick curry.
Add the remaining ¼ tsp. turmeric, tamarind paste or pulp, sugar and slit green chillies..
Give it a stir and let it come to a boil.
Now, add in the sautéed prawns, par boiled white pumpkin along with the water and again bring to a boil.
The curry should be sufficiently thick and not too thin. This depends on personal preference.
Add the coconut milk, if using. Adjust salt to taste. Give it a light stir.
Take it off the heat and allow the flavors to meld for about 15-20 minutes.
Serve with appams, neer dosa, sponge/set dosa, bread, steamed rice, Goan par boiled rice or sannas.