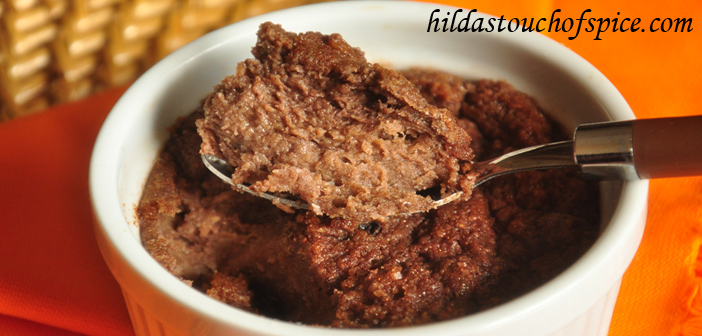 Bread Pudding is a great comfort food especially in the cold winter months or in rainy weather. The best part of bread pudding is that you can use leftover bread to make it. A day or a couple of days old bread is perfect to make bread pudding. If you have fruit bread with you then you do not have to add any dry fruit and if you do not like dry fruit in your pudding then just skip it.
I like to make my bread pudding interesting so this time I used dark chocolate and cream to make it extra delicious. Besides, my hubby loves chocolate and this pudding did make him very happy! J The pudding also has a hint of sweet cinnamon which is irresistible! Cinnamon and brown sugar are a perfect match along with the dark chocolate which imparts a deep brown color to this aromatic and awesome bread pudding.
This Chocolate Bread & Butter Pudding can be enjoyed at breakfast or with a cup of tea. You can even serve it as a dessert or simply enjoy as a mid morning snack if you are hungry. It will enliven up your party dessert table or make it a part of your Sunday brunch.
Here is an interesting twist to a regular traditional bread pudding. You can consider serving it as a treat to kids instead of a bar of chocolate. This lovely pudding is especially for those who are fond of chocolate… be it young or old! Give this pudding a try and see the bowls of warm or cold pudding disappear in minutes! 😀
Ingredients:
600 ml Milk
5 slices Bread with edges
50 gms. Black Currants or Raisins or use Fruit Bread slices
3 Eggs (lightly whisked)
50 gms. Caster Sugar or to taste
75 gms. Dark Chocolate (broken into pieces)
100 gms. Cream (I used Amul) – optional
50 gms. unsalted Butter + extra for greasing
1 tsp. Vanilla Essence
1 tbsp. Brown Sugar
1 tsp. Cinnamon pwd.
Procedure:
Grease the baking dish or ramekins liberally with butter.
First butter the bread slices and them cut them into triangles if using a baking dish or break into pieces.
Arrange the bread triangles or pieces of bread in the baking dish or ramekins.
Place the milk, cream and chocolate pieces into a heavy bottomed saucepan and gently heat until the chocolate has melted.
Bring the temperature of the chocolate milk to lukewarm.
Stir in whisked eggs, sugar and vanilla essence into the chocolate milk to dissolve the sugar and pour over the bread. Leave to soak for 10 minutes.
Gently push the bread down into the custard.
Mix together the brown sugar and cinnamon powder and sprinkle over the top of the pudding.
Place the dish or the ramekins in a bain-marie.
Bake in a preheated oven at 180C for about an hour or until the custard is lightly set and the top is golden brown.
Serve while still warm.
Tips & Variations:
 Instead of using fruit bread, use white bread and sprinkle raisins or black currants in between slices.
 If using a baking dish, cut the bread slices into triangles. If using ramekins (like I did) break the bread into small pieces.
Bain-marie: It is a roasting tin filled with enough hot water to come half way up the sides of the dish. This helps to slow down the cooking process and prevents the egg custard from curdling.