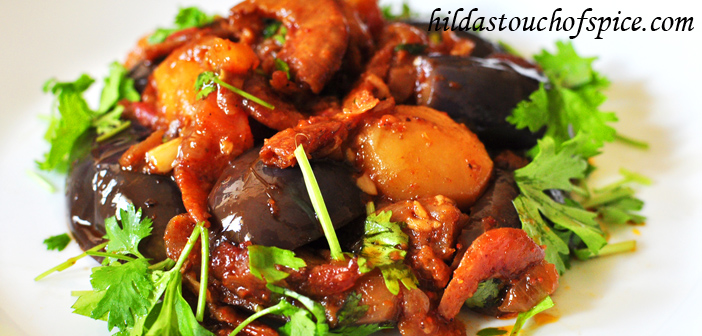 With the onset of monsoons, it is time to bring out the dry fish which you carefully stored during summer in your pantry and start using it in your curries or stir fries.
During the entire monsoon season, when you could miss fresh fish and prawns in your regular meals because it may not be easily available or might be scarce; it is dry fish which comes to your rescue to make your meal appetizing and fulfilling.
The addition of vegetables to your dry fish or dry prawn curry makes it wholesome. It is even better when you just want to relish a simple, quick stir fry with your bowl of rice kanji or with chapattis.
Today's preparation is a quick dry prawn stir fry with brinjals and potatoes. Both these vegetables pair well with dry prawns and absorb the flavors better. This tasty stir fry is a great side dish. We enjoyed it with chapattis and also with dal and rice.
I think you should give this simple stir fry a try. If you love potatoes but are not fond of brinjals then just skip it! 😀 It will still taste good. It is a quick fix for working people and very easy for beginners too. In fact, you can make this any time during the year if you wish. Enjoy… 😀
Ingredients:
50 gms. Dry Prawns/Shrimp (snip off the heads & tails)
250 gms. Brinjals (trim off the tops & sliced)
3 med. Potatoes (peeled, cubed & soaked in water)
2 med. Onions (peeled & chopped)
¼ tsp. Turmeric pwd.
½ tsp. Red Chilli pwd. or to taste
1 tsbsp. Coriander pwd.
1 tsp. fresh Ginger-Garlic paste
¼ tsp. roasted Cumin pwd.
¼ tsp. Garam Masala pwd.
1 tsp. fresh Tamarind paste/ Vinegar or to taste
6  tbsps. Vegetable Oil
A pinch – Sugar or to taste
Salt to taste
Freshly chopped Coriander leaves for garnishing
Procedure:
Lightly wash the prawns and set aside.
In a sufficiently large kadhai/wok, heat oil until hot.
First lightly fry the brinjals and then the potatoes. Cook until tender but firm. Set aside.
Then fry the washed dry prawns until lightly crisp drain and set aside.
Sauté the onions until lightly brown.
Add turmeric powder and then ginger garlic paste.
Sauté on low heat until rawness disappears.
Add all the spice powders, sugar and stir for a few seconds.
Add the fried dry prawns and vegetables and toss to coat with the masala.
Add tamarind paste or vinegar if using.
Stir fry on medium high flame.
Adjust salt to taste.
Add water if necessary and depending on the consistency you desire.
Cook for a few more minutes.
Serve hot garnished with freshly chopped coriander.
Enjoy with your favorite Indian bread or serve as a side dish.