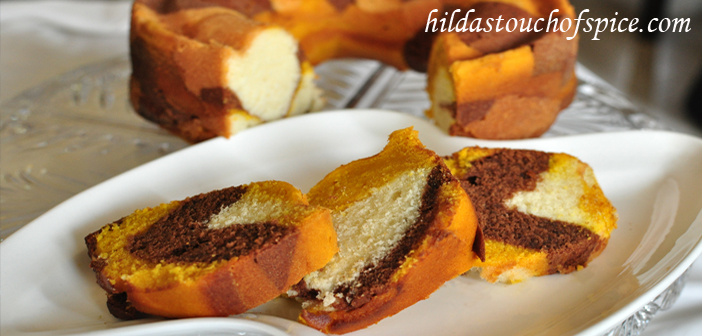 Swirl cakes are so pretty and pleasing to the eye. Initially I wanted to bake a mango cake but finally decided to include our other two favorite flavors – Chocolate and Vanilla. I was imagining how it would taste with three strong flavors and then finalized on baking it because it would triple our joy! Besides, you can enjoy this combination throughout the year as canned mangoes and frozen pulp is always easily available.
Above all, tomorrow is the 3rd Anniversary of my blog "Hilda's Touch of Spice" and this beautiful and delicious triple bonanza is just right to celebrate with. A fresh mango pulp swirl cake is apt to another fresh year of blogging with love and enthusiasm.  The fragrance of sweet vanilla, the irresistible taste of chocolate and delectable magic of fresh Alphonso mango is what this gorgeous swirl cake is all about. Slice to reveal the pattern and every slice will be a beauty! 😀
So let's celebrate together and enjoy this super soft Mango – Choco – Vanilla Triple Swirl Bundt Cake! Cheers & Enjoy!! 😀
Ingredients:
250 gms. Maida/All Purpose Flour
250 gms. soft unsalted Butter
250 gms. Castor Sugar
3 large Eggs
1 tsp.Baking pwd.
Juice of ½ Sour Lime
1 tbsp. Milk
1 tsp. Vanilla Essence
½ cup fresh thick Mango Pulp
2 tbsps. Cocoa pwd. (make a paste with milk)
Procedure:
Grease a bundt cake pan or any cake pan of your choice with butter and lightly dust with flour.
Combine and sift maida and baking powder. Set aside.
In a sufficiently large bowl, cream butter and sugar until light and fluffy.
Add one egg at a time and beat well after each addition.
Add milk and lime juice and mix with a wooden spatula or spoon.
Add few tablespoons of flour at a time and fold in gently until all the flour is incorporated.
Divide the batter into 3 portions.
To one portion of the cake batter, mix in the mango pulp.
To the next portion add ½ tsp. vanilla essence.
Finally to the third portion, mix in the cocoa paste and ½ tsp. vanilla essence.
Place spoonfuls of alternating batter in your cake pan.
Top again with spoonfuls of alternating cake batter until you use up all the batter.
Tap the pan lightly on your kitchen counter to release air bubbles, if any.
Bake in a pre-heated oven at 180 C. for 45 minutes and then check with a wooden skewer (it should come out clean).
Let the cake stand in the pan for about 15 minutes before turning onto a cooling rack.
Cool the cake completely before slicing.
Slice to reveal the mango-choco-vanilla swirl pattern.
Serve as a dessert with ice cream or simply enjoy with your favorite cup of tea or coffee.