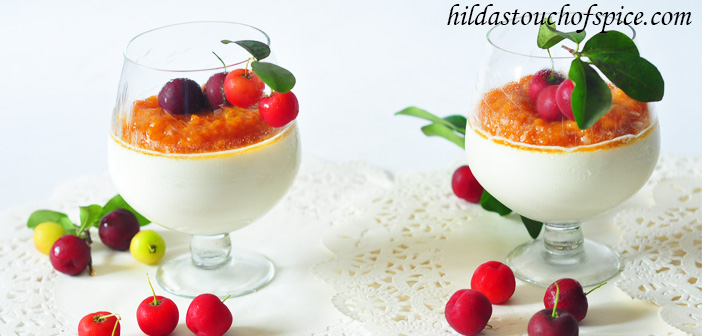 Panna Cotta is a light Italian dessert which can be served with a swirl of your favorite syrup, a dollop of fruit puree, a dribbling of fruity sauce, layered with jelly or with freshly chopped fruit. It is simple but looks elegant and beautiful when served. My personal preference is the Vanilla Pannacotta. The added advantage is that we can enjoy this dainty dessert with various toppings and it also looks very pretty.
This time we enjoyed the panna cotta with a fresh cherry sauce. My neighbour was kind to share fresh cherries from their garden with us. The cherries were not fleshy and so I used most of the cherries to get enough puree to prepare the sauce. I cooked a very simple sauce as I wanted to retain the flavour and texture of the cherries. The sauce was delicious. To save the trouble of pitting the cherries which would have been quite a task; I boiled all the ingredients and strained the puree. I did not add any binder to thicken the sauce but you may add a tablespoon of flour or corn flour if you like a thick sauce. I wanted to retain the color of the cherries as much as possible so skipped the thickener.
So here is the gorgeous and delicate Vanilla Panna Cotta with Fresh Cherry Sauce for you to enjoy. 🙂
For the Cherry Sauce:
300 gm Fresh Cherries
4 tbsp Water
1 tbsp fresh Lime Juice
5 tbsp granulated Sugar or to taste
To Prepare the Cherry Sauce:
Bring to a boil all the above mentioned ingredients and then simmer for about 15 minutes.
Cool, make a puree and then pass through a steel sieve. Pour in a bowl or a small jug.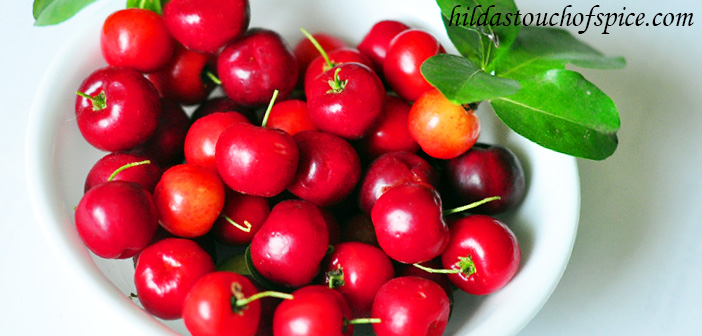 For Garnishing: Fresh Cherries
Ingredientsfor the Panna Cotta:
200 ml Milk
200 gm Cream
3 tbsp granulated Sugar
1 tsp Vanilla Essence
3 Gelatin Leaves or 3 tsp Gelatin powder
¼ cup cold Water
Procedure:
Soak gelatin leaves in water for 5 minutes to soften.
Pour in milk, cream and sugar in a saucepan. Stir to mix well.
Place saucepan on low heat and bring to a gentle simmer.
Remove from the flame when you see tiny bubbles on the edges of the pan.
Add vanilla essence.
Squeeze softened gelatin with your hands to remove excess water and then add to the milk mixture. Stir to dissolve completely.
Let the mixture cool slightly.
Pour into desired moulds and set in the fridge.
When ready to serve, unmould on individual plates.
Serve the Vanilla Panna Cotta with Cherry Sauce and fresh Cherries