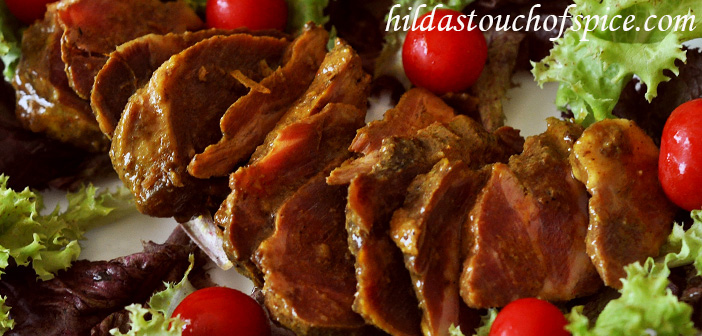 We Goans love our pork preparations so much that we do not wait for festive occasions. I think the most loved is the Goan Roast Pork. We sometimes simply refer to it as Pork Roast. In Portuguese it is known as Assado de Porco and there are quite a few versions of preparing this delicious and lip smacking roast.
A must at wedding banquets and all celebratory occasions but often prepared to relish at weekends. Leftovers are never wasted but used well to fix delicious sandwiches and salads. Enjoy it in pita pockets or stuffed in a Goan poee or thin slices neatly arranged in soft Goan pao.
This delectable Assado is traditionally slow cooked over a wood fired stove in clay pots. Also coconut shells and coir are used so that the roast gets a lovely smoked flavour and aroma.
In Goa, palm vinegar is used to add tang to the roast. Well, we love the flavour of sugar cane vinegar so I have used it. You may use cider vinegar or any vinegar you like.
It is rarely possible to use traditional methods of cooking and baking in urban settlements and also due to time constraints one prefers to use modern and quick methods.
I use a lot of pressure cooking which not only saves time and energy but does give exceptional results. My family does enjoy and relish the food I serve up.
Even though I have used ginger and garlic paste; I sometimes use bruised ginger and crushed garlic.
You may select pork tenderloin, shoulder etc. Pork with bones can be used too but if you like thinly sliced roast then it is better to use boneless.
Do give this recipe a try. It sure is a keeper. My hubby loves pork and he did enjoy this one and so did the rest of my family. I must tell you that this roast is awesome in a chilly fry. Enjoy… 🙂
Ingredients:
1 kg boneless Pork chunk (without skin & minimal fat)
5 tbsp Cooking Oil
Water – 2 cups approx. or sufficient to pressure cook
For the Marinade:
1 tbsp fresh Ginger paste
2 tbsp fresh Garlic paste
½ tsp Turmeric powder
½ tsp Jeera powder
½ tsp Sugar or to taste
Salt to taste
A dash Palm Vinegar or to taste (I used Sugar cane Vinegar)
Whole Dry Spices:
2-3 dry Kashmiri Chillies (de-stem & de-seed)
2 small sticks Cinnamon or Cassia Bark
4 Cloves
4 Peppercorns
2 Bay Leaves
2 Green Cardamom (lightly bruised)
Procedure:
Wash the pork chunk and pierce it all over with a fork.
In a bowl mix together all the ingredients listed under marinade.
Rub the marinade into the pork chunk with your hands. Massage the pork well.
Marinate the pork for a couple of hours if you are in a hurry but preferably overnight.
Heat the cooker body with oil until hot.
Reduce heat and add all the dry whole spices. Let it splutter for a few seconds.
Gently lower the marinated chunk of pork.
Braise and sear the pork to seal in the juices. Flip occasionally to brown evenly on all sides.
Add the remaining marinade and stir to cook for a few seconds.
Add water and give it a good stir. Pressure cook for 3-4 whistles.
Do not open the cooker but let the pressure drop completely. Open the cooker and if there is excess liquid; strain the gravy back in the pot to discard whole spices. Retain the whole cooked chillies and cook the meat in it until you achieve the desired consistency of gravy.
Baste the meat with the gravy and keep turning the chunk occasionally while the gravy thickens.
Cool the roast pork completely at room temperature and refrigerate to allow the flavors to meld.
When ready to serve; thinly slice the Goan Roast Pork and arrange on a platter. Pour the gravy if any in a bowl or small jug.
Serve with pulao, salad and your favorite potatoes(Hasselback, French fries, baked potato wedges, boiled and pan fried potatoes, or mashed potatoes)