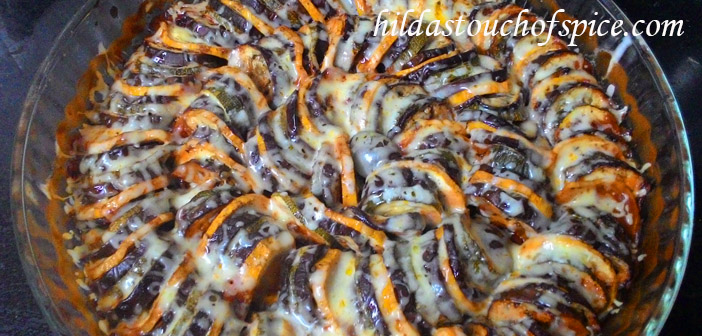 The moment you hear the word "Ratatouille", it instantly reminds you of the movie Ratatouille; assuming that you have definitely watched it. The classic French Ratatouille is a simple, purely vegetarian stew which is a comforting meal in a bowl. It is ideal for people who have dietary constraints or have to be careful of food allergies.
The beautiful and attractive arrangement of the vegetables in the Ratatouille casserole makes it appealing to the eye that you look forward to relishing it.  It was Julia Child's innovative idea to slice the vegetables in perfect round slices, layering them neatly and arranging decoratively in alternatingcolors. Thus making this baked stew extra special.
I try to always make my plate of food look colourful as it surely lifts my spirit and builds an appetite. My family too appreciates it when they are served with gorgeous looking and tasty food. I have a rush of adrenalin whenever I see a beautiful spectrum of vibrant colors and colorful veggies do excite me. I was so excited that I did not mind slicing the veggies with a knife for the ratatouille even though it was a laborious task.
I thoroughly enjoyed baking this ratatouille and all of us could not help but admire it for a while before digging into and savouring the wonderful light roasted vegetables in the casserole with aromatic herbs and goodness of melting cheese!
Ratatouille is excellent to serve at a party and a great vegetarian option. It looks pretty and elegant to serve at a celebratory buffet. It is equally good for a potluck. You could also consider to make it as a light weekend dinner treat. 🙂
Young or old, even if you are not a great veggie fan … all the more reason to enjoy this super gorgeous beauty. Just go for it … Enjoy! 🙂
Ingredients:
1 long purple Brinjal/ Eggplant/ Aubergine
1 long Green Zucchini
1 long Yellow Zucchini
2 med. Red Bell peppers (deseed & remove pith),
4 tbspOlive Oil or as needed
1 tbsp dry mixed Italian Herbs or your favorite
½ cup Processed Cheddar Cheese/ Parmesan or as per choice (I used a mix)
Salt & Pepper to taste
Preparation of Vegetables:
Wash the vegetables and wipe them dry. Lightly trim off both ends of the zucchini and slice them into 1/8thinch roundels. Similarly, trim off the top of the brinjal and bell peppers andslice them into roundels of 1/8thinch thickness.
I manually sliced them with a sharp knife and managed to get them of approximate thickness. You may use a mandolin slicer with adjustable blades for required thickness.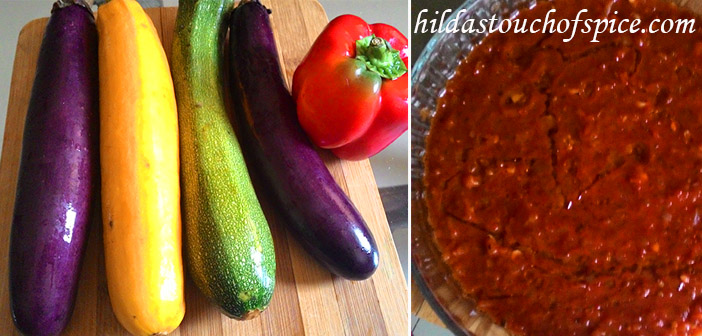 For the Base Sauce:
1 cup tomato paste or thick puree of fresh tomatoes
1 small Onion, chopped
1 tbsp fresh garlic (minced) or to taste
¼ cup water
A sprinkling of dry Italian Herbs
2 tbsp Olive Oil
Salt & Pepper to taste
To prepare the Sauce:
Heat olive oil in a skillet until hot. Sauté garlic until fragrant. Then add the chopped onions and cook until soft. Mix tomato paste with water and add to the skillet. Stir well. Cook until it thickens. Adjust seasoning. Add herbs and stir well. Cook for another couple of minutes. Your sauce is ready for the Ratatouille.
Pre-heat oven to 180C.
Cut parchment paper according to the shape and size of the baking dish to fit inside.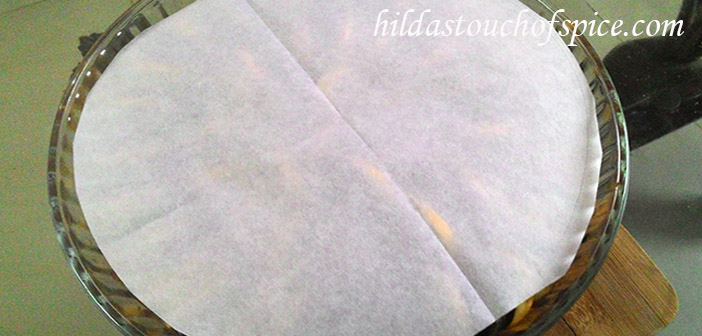 Assembling & Baking the Ratatouille:
Pour prepared tomato sauce into the bottom of your baking dish and spread evenly. Cover the entire sauce by layering slices of bell pepper. Arrange the sliced roundels of vegetables alternating colourfully in a concentric pattern or as desired from the outer edge to the inside of the baking dish and finish in the center. Make sure that the vegetables fit in tight and firm. You may slightly overlap the slices if desired so as to make a section of each slice visible. Drizzle olive oil all over the prepared casserole. Sprinkle herbs. Season with salt and pepper. Cover the top of the dish with pre-cut parchment. Bake in a pre-heated oven at 180C approximately for about 45 minutes or until just tender but firm. Then remove from the oven; take off the parchment and sprinkle grated cheese. Transfer back to the oven and bake further until the cheese melts and is lightly golden. Serve warm on the side with your favoritecrusty bread or enjoy as a main dish.
Tips & Variations:
Be free to use colorful veggies and cheese depending on personal preference.
Only if you wish to have a decorative and colourful arrangement then it is necessary to have veggies of uniform size and retain the thickness in slices.
To save time, use good quality ready to use pasta sauce, tomato puree or tomato paste.
Pre-preparation saves a lot of time and energy.