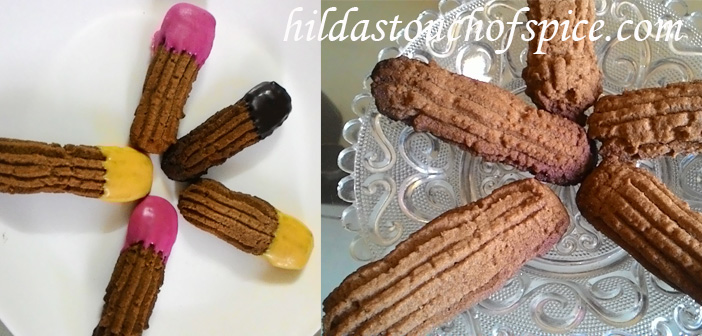 Homemade biscuits and cookies are so easy and fun to make. Bakeries in Pune serve a vast variety of assorted baked goods especially biscuits and cookies but nothing can replace the fresh aroma and delicious taste of home baking.
I love to try my hand at baking different goodies but cookies and biscuits do top my list. So I baked these gorgeous Chocolate Viennese Biscuits and I thoroughly enjoyed every bit of it as much as we relished them. These biscuits need just a total of 35 minutes. To be precise … 20 minutes of preparation and barely 15 minutes of baking and they are all good to eat. This batch of biscuit batter will give you approximately 30 biscuits.
Chocolate Viennese biscuits are a good holiday activity for children too. They will enjoy trying their hand at piping and later dipping them into chocolate. You can use assorted flavoured and colored chocolate just the way I did and it will look so pretty, dainty and colourful. They are ideal to serve at any festive occasion, a wonderful tea and coffee treat, great to serve for kids parties, do make wonderful gifts and giveaways.
These eggless beauties are so absolutely delicious and melt in the mouth. They can be served with tea or coffee or as an accompaniment to fruit fools and mousses too. Make them special and unique with a sprinkling of chopped nuts onto the chocolate coated ends of these biscuits while the chocolate is still soft, if you so prefer.
They are good to go as a mid-morningsnack at school, college or at work or enjoy them with a glass of milk.
A great treat for your loved ones and make your teatime special…Check them out… aren't they beautiful?
Ingredients:
115 gm Butter (softened) plus extra for greasing the tray
55 gm Icing Sugar (sifted)
125 gm Maida/ All Purpose Flour
1 tbsp Cocoa powder
100 gm Cooking Chocolate (melted & cooled)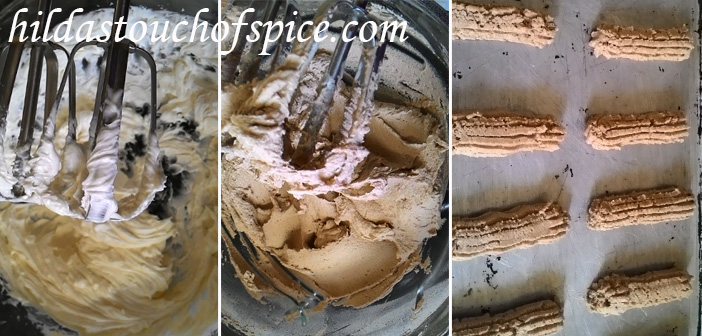 Procedure:
Pre-heat the oven at 180C. Grease 2 baking trays/sheets.
Beat the sugar and butter together until light and fluffy.
Sift the flour and cocoa powder into the bowl and work the mixture until it is a smooth, piping consistency.
Spoon into a large piping bag fitted with a 2.5 cm/1 inch fluted nozzle.
Pipe 6 cm/2 ½ inch lengths of the batter onto prepared baking sheets; allowing room for expansion during baking.
Bake in a preheated oven for 15 minutes or until firm.
Leave to cool on the baking sheets for 2 minutes, then transfer to a wire rack to cool completely.
Dip the ends of the biscuits into the melted chocolate and leave to set before serving.
Enjoy with a cup of tea or coffee or simply gift them to your loved ones.