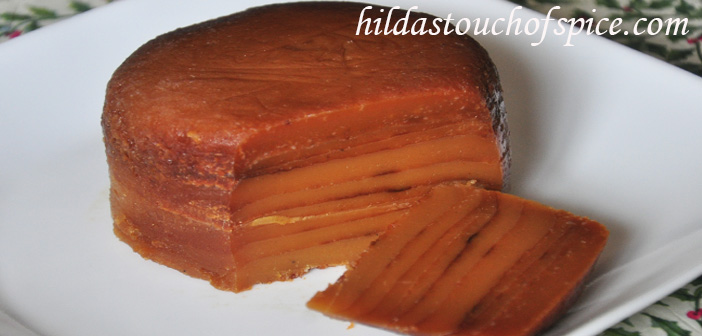 Goan Bebinca is the most loved dessert and the pride of Goa. It is not a difficult dessert to bake once you are accustomed to the process. It has ingredients which most are familiar with. Many may be intimidated to bake this heavenly but extremely rich multi layered cake. If one is comfortable making all sorts of pancakes then there is nothing to fear. It is just like stacked layered pancakes baked into a cake.
The time consuming process could get to you so if you ever plan to make the gorgeous Goan Bebinca. It is extremely important to keep yourself free for the day. You need to be relaxed and all prepped, geared up and passionate enough to bake this one. Bebinca truly tests one's patience and is a labour of love. To make the experience of baking the Goan Bebinca a breeze, you need to focus completely on it. Well, I have had a few failures but failures are stepping stones to success and so ultimately when I did get to get the process right, it turned into a success finally.
The first time I tried it on my own was after I was married. I wanted to make all the Goan sweets to celebrate my very first Christmas. I got married in April and was busy planning months before Christmas and made my list. I was very confident as I had witnessed my grandmother all through the years of growing up; preparing sweets and baking goodies in our clay oven over the clay stove. We used to use raw coal and the fire used to be long lasting. It looked so simple and easy when she baked Bebinca and I thought I could pull it off very easily.
My grandmother came to stay with us and she wanted me to take it easy as I was in the family way but finally decided to make the Chonya Doce and Bebinca. A kind Goan lady was willing to help me with the stirring of the Chonya Doce when it would get difficult. I had no idea and the quantity was too much. My grandmother was old and was used to large quantities. I ended up distributing the Doce and making quite a few people happy.
The Chonya Doce was made over the clay stove but not the Bebinca. The clay stove that I had borrowed was not available and the much needed clay oven I did not have for the Bebinca so I made it on the gas stove. My round conventional oven was too large to handle because I would have had to lift the huge lid each time. Well, it was a total failure!! I baked it in an aluminium handi which was light. I used dry coconut shells with some live charcoal on top of the cover which was not able to hold for long. It was a total disaster. The bottom of the dessert was charred and the top layers were undercooked. I had to chuck the whole thing out. The handi had to be thrown away.
I remember my grandmother's words loud and clear… Never give up! You will get it right some day when you have enough patience and put in all your love into it. I was so upset that she did not help me to get it right. She knew the time was not right for me. I did not make the Bebinca again. The bad experience was still fresh in my mind. It is only when I started blogging that I realized that I have to clear the mental block which I carried all these years. I needed to get over it and then just 2 weeks before Christmas 2013… I baked the Bebinca once again.
I baked two Bebinca so that we could eat one and reserve the other for Christmas. They turned out well. The taste was great but we were not happy with the result. The layers needed to be more defined. Needless to say, both the Bebinca cakes were eaten! What mattered to my family was taste. I wanted to have the homemade Bebinca on my Christmas platter. It was to be a star among all the beautiful Goan goodies. So early on Christmas Eve, I baked the Bebinca even though I was not feeling too well. Just after baking, I fell terribly ill. I survived Christmas day on pain killers and the Bebinca lived up to our expectations. The moment of truth dawned and as I sliced through the cake and voila… it revealed the beautiful alternate layers! The texture was right though the thickness of the layers was not perfect. It was such a delight… so fresh and deliciously homemade. What more could my family ask for?
My older son's all-time favorite Christmas special… BEBINCA!! I do not like to make it at home simply because I end up making a couple or more. This fabulous dessert is loaded in calories and when you have fresh and awesome homemade ones you tend to indulge too much. When it is store bought, you eat it sparingly and above all we buy just one Bebinca. It is an egg yolk based dessert and excess egg yolks are not good for health.
This dessert usually has 16, 9 or 7 layers depending on the size, depth and quantity of the batter being poured in the pan. I made 3 different sizes and so the number of layers varied. This one has about 8 layers. I did not count while pouring the batter. The layers are uneven and not perfect but nothing can beat homemade ones!
Here is the recipe for the most loved Bebinca… the pride of the Goan dessert table… a labour of love… The ultimate test of patience… Enjoy a thin slice of heaven just after a light lunch or light dinner if you are counting calories. Relish in moderation, experience the ultimate joy and satiate your taste buds with this exquisite Goan delight. J
Special thanks to my dear school mate and friend Carmen de Rosario and her affectionate Mum to show us and allow us to click photographs of her beautiful heritage home, antique furniture, beautiful garden full of assorted fruit trees, spices and vegetables, the ancient wells and above all their old kitchen which is still in use.
They still have clay ovens in assorted sizes and their kitchen help climbed a ladder to bring down the clay ovens. Aunty took time out to tell us stories associated with their home and kitchen. They do have a modern kitchen too. With a heavy heart they have given it to the hospitality industry to convert it into a heritage hotel. I was so lucky and privileged to get an opportunity to walk through this magnificent house.
Enjoy the pic of the magical and fabulous antique clay oven… 🙂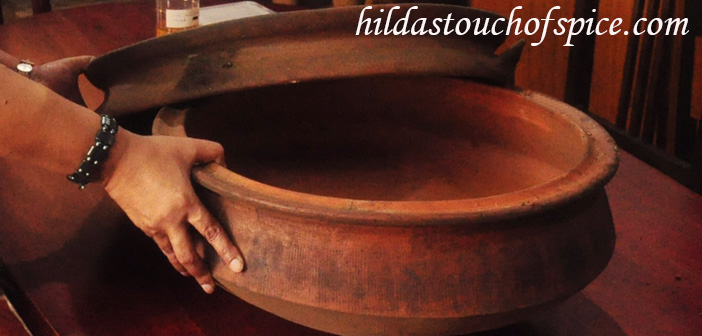 Ingredients:
150 gms Maida/All Purpose Flour (sifted)
400 gms Caster Sugar
250 gms fresh Coconut (scraped)
10 Egg Yolks (lightly mixed)
A large pinch Salt
1 tsp fresh Nutmeg Powder
130 gms melted Ghee or as needed
Procedure: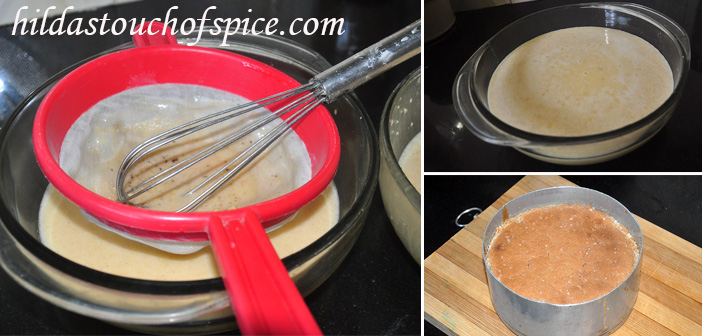 First, extract thick coconut milk by grinding the freshly scraped coconut with 1 cup of warm water. Grind the coconut residue again with 1 cup with another cup of warm water. Strain to extract a cup of thin coconut milk.
Dissolve the sugar with thin coconut milk over low heat. Gradually, whisk in the sugar mixture into the bowl of egg yolk until you get a smooth well combined mixture.
Combine flour, salt and nutmeg powder. Again, gradually whisk in the flour mixture a little at a time so that you get a lump free batter. Strain to get a smooth batter.
Pre-heat the oven at 180 C.
Pour about 3 tablespoons of melted ghee in a round 7 inch baking pan and then pour 1 cup of the prepared batter over the ghee. Bake for about 10 to 15 minutes or until the batter is set and the top is golden. Bake all the layers with the oven door slightly ajar (open).
Next, pour a tablespoon of ghee over the baked layer and then ¾ cup of batter over the ghee. Bake again until the top layer is golden. If you wish to have alternate layers of deep golden and lightly golden, then bake the layers accordingly. Make sure the light layers are cooked but lightly golden.
Repeat the process until all the batter is used up.
After baking, switch off the oven and let it cool in the oven with the door open. When cool, gently flip it onto a plate or platter. Let the Bebinca rest for 12 hours. In this way, the ghee gets well distributed well among the layers.
Serve sliced into wedges or slices with a scoop of Vanilla Ice Cream or enjoy plain.
Tips & Suggestions:
Please note baking in a conventional oven; all depends on individual oven settings. If you have top and bottom heating mode, please use them to adjust if required to avoid burning of the bottom most layer.
Use good quality ghee so as to avoid clumps or granular pieces of ghee in the finished cooled Bebinca.
To get neat slices or wedges; set the Bebinca in the fridge for about 20 minutes before slicing.
Use a warm knife to get neat cuts. Wipe the knife clean after each cut.
Bebinca can be enjoyed warm or cold with or without ice cream.
Bebik is enjoyed as a dessert or can be served anytime you wish.
The dimensions, shape of the baking pan and size of the Bebinca is as per individual preference.