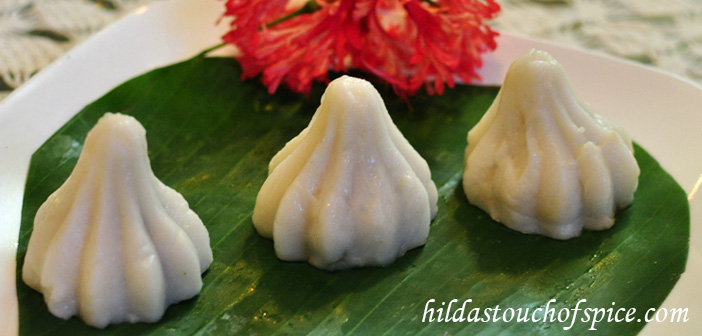 Ganesh Chaturthi is celebrated in Maharashtra, Goa and in some parts of India. In Goa, Ganesh festival is celebrated in a grand way. Schools and colleges have about 10 to 12 days of holidays; beginning from the day the idol of Lord Ganesh is installed and until the final farewell (visarjan) which is after nine days of celebration. Throughout the nine day extravaganza, worship (Pooja) and celebratory pomp and splendour many sweets and savouries are prepared as offerings.
The favorite sweet of Lord Ganesh or Ganapati Bappa as he is affectionately called is prepared. This sweet is Ukadiche Modak. It is a cooked rice dough pastry which is called Ukadi meaning cooked in boiling water. Modak means a dumpling and is in the shape of a whole garlic pod. These dumplings can be deep fried modaks, steamed modaks or mava modaks which is used to prepare barfis / burfis. The mava modaks can be of various sweet aromatic flavors like pista, vanilla, strawberry, chocolate or even fruit puree; mostly mango puree is used. Mava modaks are much easier to make using moulds.
Ukadiche Modak are steamed rice flour dumplings with sweet coconut stuffing and flavoured with aromatic cardamom powder. Some do use nutmeg powder or a mix of both. Usually, jaggery is used as a sweetener but you can use sugar if you like. The Goan pyramid jaggery (coconut/palm) is used in Goa for Ukadiche Modak. It is combined with freshly scraped coconut. The sweet filling is the one we Goans use in our fresh coconut Neuris and Patoleos.
It is tedious to shape the Ukadiche Modak  and you need to have the skill and expertise to shape them perfectly like a fresh whole garlic pod. The pastry has to be super thin and the pleats / folds absolutely flawless. Besides, they have to be uniform in size which can be achieved with years of practice. Well, I used a mould. You need to oil your mould lightly before using to take the shape.
The stuffing has to be prepared with care. Rice Flour is used in the stuffing to absorb moisture so that the modaks remain firm and retain shape.
Banana leaves serve as a duck back and so that the modaks do not stick to the bottom. Hence, they are usually steamed on banana leaves and served on banana leaves. Most importantly, banana leaves help to retain the pristine white color of the Ukadiche Modak.
Years ago, it was truly a community event in the area where I lived and grew up in Pune and also in my neighbourhood. The monetary donation was voluntary. To have the feeling of warmth and togetherness each household voluntarily prepared prasad. Every evening there would be aarti and then distribution of prasad. We would all participate and sing bhajans. It was such a nice way to celebrate nine days of the festival without the terrifiying noise of loud and unrelated music. Many would come forward and showcase their talents. The mandals would have so many activities… movies, mimicry, magic show, etc. People who could afford would sponsor the entire event.
Everyone would look forward to the prasad. People would offer huge baskets of rawa ladoos, besan ladoos, boondi ladoos, banana sheera, rawa kesari, dahi with bananas, pineapple sheera, gulab jamun, jalebis, assorted barfis /burfis, neuris, karanjis, murukkus, chakli, assorted fruits and above all the favorite sweet of Ganapati Bappa… Ukadiche Modak.
You won't believe this! Each household would bring modaks to distribute as prasad on the day assigned for it. We had many neighbors who celebrated and I was so lucky to get to enjoy and relish this beautiful sweet modak prepared with their special touch.
Well, today all this community event celebration is hardly practiced in the right true spirit of love and devotion. One has to buy from the mithai shops who display their assorted mithais and it is so difficult to select as the choice is vast. Each mithai is jostling for attention on their display counter. We had so many banana plantations and could use fresh banana leaves whenever we needed them. Now, I have to buy them and these are only available in the mandis and big vegetable markets.
It is such a pleasure to prepare this traditional sweet… loved so much by dear Lambodar / Vakratund / Bappa / Ganaraya / Lord Ganesh. Thank God I managed to get the shape of the modak with the mould which is a blessing even though I struggled as I do not have skilled and nimble fingers for shaping the modak.
So here it is… Ukadiche Modak! … Ganapati Bappa Morya! Enjoy & relish this one. 🙂
Ingredients for the Outer Modak Shell /Covering:
1 cup Rice Flour
1 ½ cups Water
¼ tsp Oil or Pure Ghee
¼ tsp Salt
Ingredients for the Sweet Coconut Stuffing:
1 ½ cups freshly scraped Coconut
2 triangles grated, Goa Pyramid Jaggery or as per choice (to taste)
¼ tsp fresh Green Cardamom powder
½ tsp Poppy Seeds
A few chopped nuts & raisins (optional)
1 tsp Rice Flour
½ tsp Oil or Pure Ghee
To prepare the Sweet Stuffing:
First melt grated jaggery with a couple of tablespoons of water and strain to separate impurities if any.
Then in a sufficiently deep and thick bottomed pan, heat ghee or oil.
Sauté lightly for a few seconds; poppy seeds, dry fruit if using. Add scraped coconut, thick jaggery syrup and stir continuously on medium heat to cook until the mixture is thick but sufficiently moist. Stir in rice flour. Make sure the mixture is not too thick and hard. The stuffing will thicken further on cooling so keep this in mind. Set aside the stuffing to cool thoroughly.
To prepare the Rice dough for the Modak Covering:
In a sufficiently deep and broad pan, heat water with oil or ghee and salt. When the water starts boiling, reduce heat and add rice flour gradually and simultaneously stir to mix all the rice flour in water. The dough should be lump free.
Take the pan off the flame and cover with a lid. Let the dough sit for about 5 minutes in the pan. Transfer the dough to a bowl and knead it. The dough will be hot so damp your palms and fingers lightly with water and knead the dough until it is smooth and elastic.
Divide the dough into small balls. Knead each ball of dough between your palms until smooth. Keep the dough covered to keep moist.
To assemble and shape Ukadiche Modak:
Roll each ball into a disc with a rolling pin or use a modak mould. You can use your palms and fingers to shape them; if you are comfortable with the manual process. Shaping modaks manually require skill and expertise.
I used a mould. Lightly oil the mould to help the prepared modaks to unmould with ease. Shape them into a cup like depression and fill with the sweet coconut stuffing. About a teaspoon is enough or as per your judgement.
Arrange the prepared modaks on a plate lined with a banana leaf which will fit into your steamer.
Steam the modaks for 10 to 15 minutes like you would for idlis.
After the modaks are steamed and cooked, lift them with the banana leaf and transfer them onto a platter or tray. When warm place them on a serving plate lined with a banana leaf. Before serving, drizzle some pure ghee on the modaks.
Your Ukadiche Modaks are ready as offerings to Lord Ganesh.