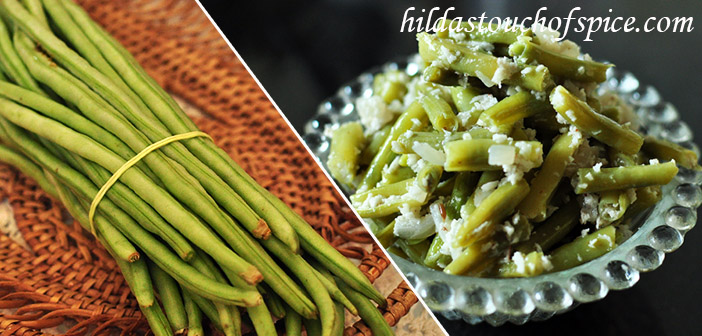 Today's recipe is the much loved Goan style Yard Long Beans which is Eeril in Konkannim and popularly known as Whole Chowli Green Beans in India. The Goan Foogath may sound boring and monotonous but it is a welcome relief to our classic and traditional curries. Cooking in coconut oil and addition of freshly grated coconut imparts the natural flavor of nature's pure gift.
Coconut has cooling properties and it provides the much needed goodness to mankind. The tropical climate in the coastal regions with soaring temperatures and high humidity does affect the quality of life of people living in these regions especially the farmers working in the fields. It is the coconut which comes to the rescue to provide the much needed cooling element and that is why it is incorporated in daily healthy living. Those who have health issues should avoid or refrain from eating it altogether.
It is also very important that you are alert and aware so that you are not cheated while purchasing coconut oil. First pressed coconut oil is usually a cold process. It is pure and crystal clear. You will hardly find sediments in it. It does not turn rancid and has pleasant aroma. It remains fluid and does not turn cloudy and coagulate. The one I am using is so light and does not overpower the cooked food. I have mine stored in clear bottles and I find no change in quality.
Goan curries are popular and loved all over the world and we are known to enjoy and relish our traditional favorites of meat and seafood; fresh as well as dried and pickled. We also do include a lot of vegetables and fruits in our daily diet. To enjoy a perfect balance in our meals we prefer cooking our vegetables with minimal spices and include plenty of fresh coconut and use first pressed coconut oil. This is the Foogath way of cooking our vegetables.
We like to offset our curries with steamed vegetables and still use the good old clay pots for this and do cook over our ancient wood fired stoves. Many Goans who still have their huge palatial homes and even otherwise try to retain their old time tested kitchens along with their modern style kitchens.
Not just Goa but Konkan and other coastal regions use fresh coconut and coconut oil in their normal everyday cooking. Coconut being in abundance; we all do feel a sense of pride to extract and store virgin coconut oil and other products of the coconut palm tree for our yearly home consumption and sell whatever is in excess.
The soil in the coastal regions is rich and conducive to farming and people do manage and maintain their own farms, fields, kitchen gardens, orchards and vegetable patches where they enjoy home grown fresh fruits and vegetables. Some vegetables do shine due to the red soil which brings out the best quality, freshness and vibrant color. The color of Tamdi Bhaji / Amaranth / Rajgira showcases its bright and vibrant red due to the red soil in Goa, Konkan belt and in the coastal regions.
As most of us know that the Goan word "Foogath" is derived from the Portuguese word "Refogar" which means to fry. Traditionally, we prefer to use pure first pressed coconut oil in most of our cooking. Vegetables are very lightly spiced and stir fried or mainly steamed with minimal use of water preferably in a clay pot with fragrant coconut oil and then generously laced with freshly scraped coconut. The freshness is retained as the vegetable is just tender with a light bite.
This Yard Long Beans or Eeril Foogath is cooked just like my previous posts of the Tamdi Bhaji, Tendli Bhaji and French Bean Foogath with a lot of fresh coconut but with mild changes in the various foogath preparations. I do try and use first pressed coconut oil which I brought from Goa and cook in the clay pot with lots of fresh coconut. Cooking in a clay pot also does help to maintain the temperature and the flavor is awesome.
Yard Long Beans are always sold in a bunch. Try and buy tender green beans. We thoroughly enjoy this Yard Long Beans / Eeril Foogath. It is succulent, moist and the flavor of coconut is awesome. My hubby prefers to eat it plain just like the way we enjoy salads. I like to eat it as a side with chapatis and also relish it with rice. It tastes good with rice and dal too.
Easy, simple and quick preparation of Goan Foogath style vegetables is loved by kids and also by persons who like their vegetables low on spice especially ailing people. Instead of always enjoying rich, spicy masala based vegetable curries and stir fries loaded with a whole lot of spices; it is good to enjoy the true flavors of vegetables in as much natural and simplistic way.
Cooking in a clay pot with the gorgeous coconut oil is something that one needs to experience and savor the earthy rustic flavors. Have you tried your hand at cooking in earthern ware on a wood fired stove with coconut oil? If not, I would say do grab the opportunity if you get one. You need to feel and experience the joy of traditional cooking and why it is so very special…
It is good to simply cook vegetables with minimal spices and use just a few basic ingredients to bring out their natural flavor and color. Your family will thank you for this.
Please do give this Goan style Eeril / Yard Long Beans Foogath a try and relish it just the way we did… 🙂
Ingredients:
1 bunch Yard Long Beans / Eeril/ Whole ChowliGreen Beans
2 med Onions (peeled and finely diced)
2 fresh Green Chillies (deseeded and finely cut) or to taste
¼ tsp Cumin Seeds
A sprig of fresh Curry Leaf
A pinch of Asafoetida / HIng
A pinch of Sugar (optional)
2 tbsp Cooking Oil or Virgin Coconut Oil
Salt to taste
Water as required
A handful of freshly scraped Coconut
Procedure:
Wash the eeril /yard long beans. De-string the beans and chop off both ends. Cut the beans or break into reasonably small pieces.
Heat oil in a clay pot or kadhai until hot.
Add cumin seeds, asafoetida, green chillies, curry leaf and cook for a few seconds.
Add the diced onions and saute until soft and tender.
Add the chopped beans and stir well.
Add enough water and cover with a lid.
Pour some water on top of the lid.
Cook on medium flame until the beans are tender but retains a slight bite.
Add salt to taste, a pinch of sugar if using and give it a good stir.
Stir in the freshly scraped coconut.
Cook covered for a couple of minutes.
Make sure there is enough moisture in the cooked vegetable.
Serve hot as a side or enjoy as a salad.