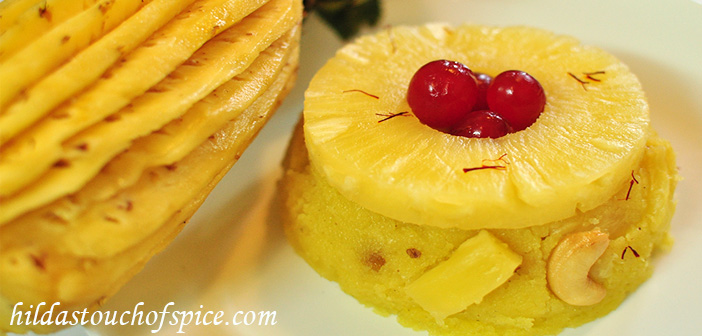 Pineapple is one of the most vibrant and juicy tropical fruits. It has essential vitamins, minerals and antioxidant properties. Even though it is spiky and a little difficult to peel; there are skilled fruit sellers who peel and carve the pineapple beautifully.
We are very fond of pineapples and always enjoy the fresh fruit in all its glory and include it in our diet. It has great culinary uses and I always try to use the opportunity to utilize it in desserts. I have already posted the Pineapple Upside down Cake and Fresh Pineapple Cream Cake. I make so many delicious eats with the pineapple but forget to click pictures quite often.
Sheera or Suji Halwa is so popular among Indian desserts and is mostly enjoyed at breakfast or at tea time. It is a must offering at puja and also many celebratory functions.
Pineapple Sheera is loved by many and is very popular in most Indian homes. Pleasantly sweet, tangy and fruity; Pineapple Sheera is so very delicious and looks beautiful in all its golden glory.
To make the Sheera, suji /rava / semolina /rulao is used and it is so fulfilling and satisfying. Upma and Sheera are great in tiffin boxes as it is non messy and satisfies hunger. Above all, it is very nutritious and healthy.
I made this delectable Pineapple Sheera which is quick and easy. It is a summer fruit but easily available throughout the year. Pineapples taste the best in season. Pineapple jam, jelly, candy, preserves and canned are easily available in the super markets which can be enjoyed and incorporated into many sweets and desserts.
You can use fresh pineapple in the sheera but it has to be cooked in syrup to get the best out of it. It is easier to use canned pineapple slices or cubes in the sheera as it saves time and energy.
We love dry fruits so I use them liberally. Traditionally, all halwa and sheera calls for generous use of pure ghee and I use it only if we finish it while it is fresh. I like to use a mix of oil and ghee if I make a large batch and if there could be leftovers. The oil helps in keeping the sheera moist. This melt in the mouth sheera is pleasantly soft and flavorful. The addition of crisp and crunchy fried nuts, sweet raisins with the gorgeous golden yellow saffron makes it fit for a royal sweet treat.
The use of essence, extract and color in the sheera is all a matter of preference and much depends on the quality of the fruit. If the pineapple has strong flavor and color then there is no need to use these.
If you have not made Pineapple Sheera yourself as yet then please do. It is excellent for kids and every one can relish it…irrespective of age. If you are diet conscious then you may skip the dry fruit and use minimal ghee or oil. Diabetics can use sugar free and enjoy the goodness of Pineapple Sheera.
Enjoy!… 🙂
Ingredients:
200 gms Rava / Suji / Semolina / Rulao
4 slices fresh or canned Pineapple (roughly chopped or cubed)
6 tbsp Pure Ghee
¾ cup Sugar or to taste
50 gm Cashew nuts (halved or chopped)
50 gm Raisins
A pinch of Salt
3 cups Water or as needed
¼ tsp fresh Green Cardamom powder
A pinch of Saffron / Kesar (optional)
A few drops of Pineapple Essence or Extract (optional)
Garnishing:
Slices or chopped Pineapple & few candied Cherries
Procedure:
Crush the saffron strands with a pinch of salt to a fine powder.
Dry roast the rava and set aside.
If using fresh pineapple it is advisable to boil it in water with some sugar until tender. Adjust the sugar according to the sweetness of the fresh pineapple. Add crushed saffron, color and essence if using.  Stir well. Let this mixture simmer on low heat. It will be used in the sheera.
I used canned pineapple in the sheera so skipped the above process. I also prepared a hot sugar syrup with the fragrant sweet spices and essence and edible color. The sugar is to be adjusted according to the sweetness of canned pineapple syrup. I combined the canned pineapple with syrup with the freshly prepared hot sugar syrup.
Heat a kadhai / wok with ghee until hot.
Add the dry roasted rava and sauté until lightly golden and fragrant.
Add the pineapple with the syrup. Stir quickly and briskly while pouring the pineapple with syrup.
Make sure the mixture is smooth and without lumps. Continue stirring vigorously. At first, it will be a sticky bubbling mixture.
Gradually, the rava will absorb the liquid and start leaving the sides of the kadhai.
Add fried cashew nuts and raisins and stir well. Cover with a tight lid and switch of the heat. Keep covered for 5 to 8 minutes so that the flavors meld and the rava plumps up.
Before serving, to get a good gloss to the sheera; you may add a few tablespoons of hot ghee into the Pineapple Sheera and stir well. This is optional.
Serve garnished with pineapple and candied cherries.