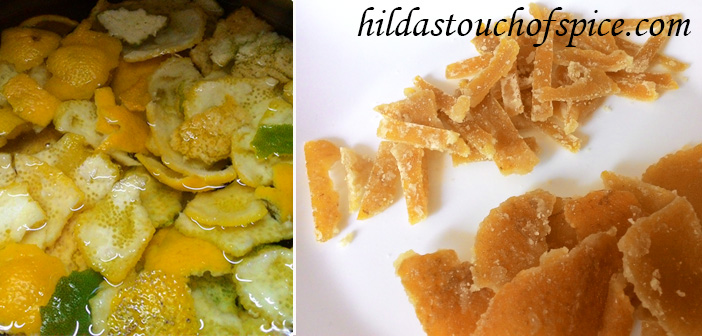 Citrus peels are so good in your bakes especially in rich fruit cakes, delicious sweet pies and all bakes which require citrus peels. Candied citrus peels have a long shelf life if you preserve them in the right way and refrigerate them if the weather conditions are not right. Preserve them in an airtight container in the fridge.
Store bought candied peels are quite expensive. If you have been buying them regularly or often; then try making them at home. You will realize they are very easy, simple, quick and fun to make. It is a good idea to put your citrus peels to good use and avoid wasting them.
When you make them at home you just need to follow the steps meticulously. Voila! …you will be pleasantly surprised and delighted with the fruits of your labour. You will realize that you only stand to benefit. First of all you get to eat and relish the fresh fruit. Then the citrus peels are a bonus! You get home fresh candied peels at a fraction of a price and you also get some fragrant and delicious sweet citrus syrup which you can use in so many creative ways.
The syrup and candied peels add a zing to your cooking and baking. The lovely fragrance fills your home with freshness and your baked goodies are aromatic and super delicious. Who does not like the lovely aroma of oranges, sweet limes and lemons and sour limes? Citrus fruits clean your palate and refreshes your taste buds.
I used orange and sweet lime peels to make candied peels. You can select your favorite variety of oranges and sweet limes to make them, Just remember the right weather conditions are the key to make good qualityones. Humidity is not its friend dry weather is!
Rich Fruit Cake is loved all over the world and prepared and served especially at weddings and almost all celebratory occasions. Dry fruits, nuts, candied peels, candied ginger and candied fruits are soaked in alcohol for year, sometimes for a few months and even for just a month which are then used in rich fruit cakes, light fruit cakes, economical cakes to add a depth of flavor. All the candied fruits, nuts and dry fruits can be used in combinations and varying quantities to emphasize the prominent flavors desired in your cooking and baking.
A lovely fruity, boozy and citrusy cake is favoured by most Goans for all celebratory and festive occasions. The rich fruity cake laced with alcohol and aromatic spices and citrusy flavor is a must for Goan weddings, at Christmas, New Year and Easter.
This Christmas add a tang and a zing to your pies, tarts, cookies and Rich Christmas Fruit Cake with Homemade Candied Citrus Peels. Make your delicious holiday treats and festive specials; extra special…
Enjoy the awesome taste of citrus in every bite of your festive goodies. 🙂
Ingredients:
2 Oranges
2 Sweet Limes
2 cups granulated Sugar
Castor or granulated Sugar for rolling – optional
¾ cup Water – for syrup
Water as required
Procedure:
Wash the oranges and sweet limes, wipe dry, peel the skin and then scrape of the pith (white part). Make sure you remove the pith completely.
Cut the skins into ¼ inch wide strips if you wish. I sliced them after they were candied.
Place the citrus peels in a sufficiently wide, deep saucepan / dekchi or handi and cover with normal water. The peels must be completely submerged in water.
Bring the citrus peels to a boil on high heat and drain out the water.
Use a strainer or sieve to drain the water out from the peels.
Repeat the boiling process twice.
Rinse the same saucepan and dissolve granulated sugar in ¾ cup water. Strain to remove impurities if any and pour the sugar water back into the saucepan.
Bring the sugar water to a simmer and cook further on a constant simmer for about 10 minutes or until you get a sticky sugar syrup.
Add the boiled citrus peels and cook until translucent. It may take about an hour for the peels to turn translucent. Adjust heat as and when necessary to maintain the simmer. To avoid crystallization and breaking of the peels; swirl the pan to help cover the peels with sugar syrup.
After the citrus peels turn translucent use a sieve to strain the excess syrup in another bowl and store to be used in recipes which call for citrus syrup.
Spread the peels on a baking tray lined with foil or cling film or leave to on a drying rack for 5 hours or overnight depending on the weather conditions.
Roll in granulated or castor sugar or store as it is in an airtight container. Store refrigerated.
Use your Homemade Candied Citrus Peels in your Rich Christmas Fruit Cakes or Citrus Cakes or in recipes which call for Candied Citrus Peels.