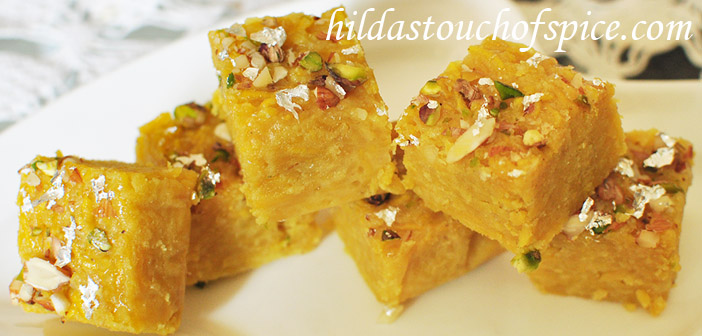 I have a special fondness for Sindhi cuisine. It always brings a smile as I recollect sweet memorable moments of my college days. I graduated from St. Mira's College for girls ,Pune and it was here that I was introduced and was privileged enough to enjoy and relish simple Sindhi food as well as some specials. My Sindhi friends and classmates will surely vouch for this.
It is the very simple but special Sev Barfi or Sindhi Singhar Jhi Mithai which I love and cannot resist! Singhar in Sindhi means Sev. The sev is made with besan (chick pea flour) without condiments and spices. The sev has to be of medium thickness and the form should be like noodles. The texture should not be hard nor soft. The uniqueness of this mithai is that you have to use unsalted sev and unsweetened mawa to make this yummilicious barfi. This barfi is a no fuss and almost instant one.
This barfi is prepared and sold by Karachi Sweets, Bhavnagari Sweets and Mulchand Sweets in Pune. The unsalted sev is sold by these mithai shops and is fairly expensive because this sev is special for the purpose of making Singhar (Sev) Barfi.
Unsalted sev is good for people having health issues especially those suffering from high blood pressure (hypertension). Those who love namkeens and salty savouries but have to stay away from it can opt for this unsalted sev. You can make this sev at home if you please. I bought unsalted sev and unsweetened mawa to make this barfi. To make mawa the conventional way is a little tedious so I prefer buying it. It is relatively easy to make mawa in the microwave if you so prefer.
I was longing to eat this soft, melt in the mouth barfi with pleasant aromatic flavor. The Sev Barfi from the mithai shops is so very delicious and irresistible and have enjoyed and relished it so often. It is so simple and easy to make to satisfy your sweet cravings or for an instant dessert. It is just wonderful to relish home fresh. Chick pea flour / Besan has proteins which is good for everyone especially kids. It is really nice to pack in your kids tiffins as they need enough energy  during school hours if they actively participate in sports activities.
I have been thinking of posting this recipe since quite some time now but had forgotten about it. Just yesterday, I happened to pass by the Sindhi Mithai shops and Sev Barfi came to my mind. Before I forget again, I thought it best that I should post the recipe for all you wonderful visitors. After all Diwali is just around the corner and I think it is time to celebrate the festival of lights with this beautiful Singhar Jhi Mithai.
Make it a part of your sweet platter this Diwali and / or gift a box of this lovely Sev Barfi to your loved ones during celebratory occasions, return mithai gifts or as holiday gifts at Christmas, New Year, Dassera, Holi, Ganesh Chaturthi or at festivals. If you are busy working and hard up for time to make elaborate sweets; this barfi is ideal to make with just a few ingredients and above all in a jiffy. You will surely get enough time to relax and spend precious quality time with family and friends and yet feel good that you could serve up an awesome mithai! 🙂
Ingredients:
250 gm Unsalted Sev
250 gm Sugar or to taste
250 gm unsweetened Mawa / Khoa /Khoya; grated or crumbled
1 ¼ cups Water
A few drops of Edible liquid Yellow Color (optional)
A couple of drops of Kewra Essence or Extract and / or
¼ tsp Rose Water
For garnishing:
A few slivered Almonds or Pistachios or a mix of both
A sheet or two of edible Silver Leaf (Vark) – optional
Procedure:
Heat sugar and water in a sufficiently deep, broad and thick bottomed pan. Stir to dissolve sugar completely. Stir in edibile food color, kewra and / or rose water. Take it off the flame.
Very gently stir in the sev (singhar). Use a silicone or a wooden spoon. You need to make sure that you do not mash the sev. Try to keep the structure of these intact as much as possible.
Mix in grated or crumbled mawa and cook on medium heat for a couple of seconds while you keep stirring gently and continuously until you get a thick mixture. The sev will absorb the liquid and the entire mixture will be soft but quite thick and firm.
Stir in nuts if you like and reserve some for the garnish.
Transfer the mixture in a tray or plate lined with greased butter or parchment paper. You may brush with some vegetable oil.
Very gently level the Sev Barfi / Sindhi Singhar Jhi Mithai.
Garnish with silver vark / varq and slivered nuts.
When well set cut into desired shapes and pieces.
Serve and enjoy fresh the very delicious Sev Barfi / Sindhi Singhar Jhi Mithai. Keep refrigerated but eat within a couple of days.