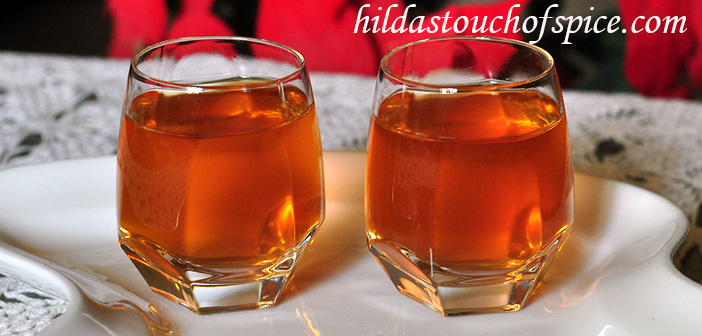 I made this Beetroot Wine this October and my family was pleasantly surprised to see the bottles of wine on the dining table! They just couldn't believe I made Beetroot Wine. The same reaction was when I made Pineapple Wine in August.
Well, I am not a wine maker but my hubby is the one who would be so very excited when he made quite a few wines. I took interest in observing and learning the process from him but preferred being the taster and loved giving him company to enjoy the fruits of his labour. 🙂
It is years since he last made wine. When we lived in Dehu Road on the outskirts of Pune, he used to experiment and also make wines with all sorts of fruit. We had quite a few ceramic jars /bharnis and if we ran short we would go to Pimpri market and buy them. Very close to Dehu Road Railway Station there would be make shift spaces selling all sorts of jars, etc. so we would purchase from there too. We had some fancy antique bottles for wine which unfortunately, we lost in transportation whenever we shifted home. The passion for making wine at home just disappeared after he got so busy with his profession.
Well, over the years we started patronizing stalls selling homemade wine just before Christmas and Easter outside the church or at the (PGI) Poona Goan Institute. There are several homemakers in Pune who sell excellent homemade wine and we continued placing orders with them for all festive and celebratory occasions.
A couple of years ago, I got the wine making bug but then I fell so sick and all my thoughts went on the back burner. I kept looking at all the recipes for wine in my handwritten books, magazine cut outs and kept hoping that I would get to try my hand at making wine. When I recovered, I realized the wine fever was still on and the desire so strong! I was determined to try my hand at it and then summer went by and finally this August I made the Pineapple Wine. Then I got ambitious and this October I wanted to surprise my family and made this beautiful Beetroot Wine.
Well, I had a recipe which needed quite a few kilos of beetroot but I wanted to make a small quantity before I ventured into making a big batch of wine. Besides, most of my jars and bottles were occupied with the Pineapple Wine. I had a spare jar and a glass bottle which was just enough to accommodate a small quantity for fermentation if I went ahead to make beetroot wine.
It so happened that we purchased extra beetroot so I used a couple of them to make wine. I was inspired by "Swapna's Cuisine" but adapted my recipe from "Elephants and the Coconut Trees". I wanted to surprise my hubby and hoped it would turn out well. Wine making at home is a little tricky but once you gain experience and confidence it is a breeze. Many factors determine the final quality of your homemade wine. I made two wines for Christmas and to celebrate the entire festive season. The tasting session was a success and my family gave their approval and here I am, sharing this wine with you! 🙂
To make this Beetroot Wine, you need to have good quality beetroot. It is also important that they have a good color and are sweet. This will ultimately determine the quality and color of your wine.
When the wine was ready, it had a gorgeous color and we couldn't help but admire it. The beetroot was sweet and my family does not like very sweet wines so I reduced the sugar. The taste was right for our palate.
This Beetroot Wine is fruity and true to its beautiful color. Cake and Wine is a must for us Goans at Christmas, New Year, Easter and at all festive and celebratory occasions. The fruity aroma and the  red color is so very apt for Christmas.
So here is my very first wine… to enjoy and say Cheers with my Homemade Beetroot Wine this Christmas.
Cheers to all visitors !! 🙂 Wishing all A Merry Christmas and A Happy New Year.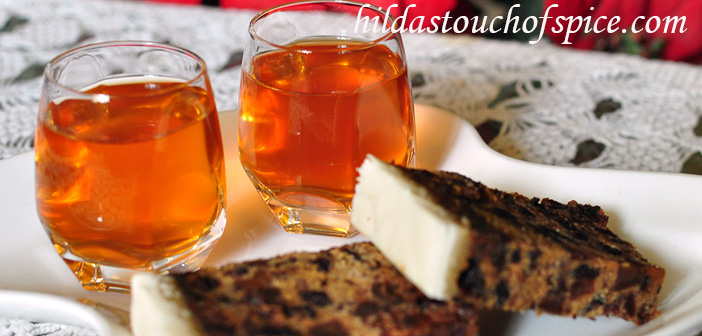 Ingredients:
2 Beetroots
1 ½ cups Sugar
8 cups Water
Juice of 1 Lime
½ tsp Active Dry Yeast
1 Egg White (lightly beaten)
Procedure:
Wash the beetroots, peel and grate them.
Place the grated beetroot in a sufficiently deep and broad pan with water and bring it to a rolling boil. Then reduce heat and let it simmer until it loses color and turns pale.
Take the pan off the heat and let it cool down completely.
Meanwhile, dissolve yeast in lukewarm water.
Strain the cooled beetroot water in a sterilized pan and discard the beetroot.
Add yeast mixture, sugar and lime juice to the beetroot water. Stir to dissolve sugar.
Strain the beetroot water once again to remove impurities, if any.
Pour all the beetroot water in one sterilized ceramic jar / bharni or a glass bottle. Add the egg white and stir once more with a wooden spoon. Do not fill to the brim but leave about 5 to 6 inches space for fermentation.
If using a glass bottle it is preferable to use a cloth to cover the mouth of the bottle to allow the gases to escape.
Keep the jar / bottle in a dark place. Leave it undisturbed for 14 days. Do not touch, shake or open the jar / bottle. It will be fizzing and bubbling slightly as fermentation will be taking place.
Open the jar on the 15th day and inspect the wine to see if the fermentation has ceased. If not allow another 3-4 days for fermentation to complete.
After complete fermentation rack the wine into another jar and repeat the process a few times if necessary or until the wine clears.
Store the wine in sterilized bottles.
Serve and enjoy at Christmas, New Year or at celebratory occasions.