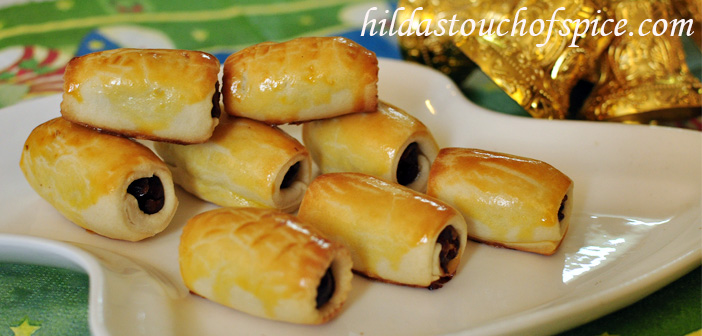 There are several variations to a Date Roll but wanted this to be one of the firsts with Dates and Nuts. It is a favorite and a popular one at Christmas and a must on the Christmas platter.
Date Rolls prepared with ripe whole dates stuffed with walnuts or cashew nuts and baked wrapped in short crust pastry are a popular Christmas sweet especially among the Bombay / Mumbai East Indian Community.
Dates and nuts are healthy, nutritious and has immense medicinal value. They are power packed with energy are an instant pick me up. They are a perfect combination in several interesting recipes.
My friend Maria Rose from Jaipur wanted me to post this recipe of Date Rolls since a very long time. Now that Christmas is just around the corner, she kept requesting me to do so.
Well, we always end up eating dates as they are. This time however, I  wanted to bake these beautiful Date Rolls.
To make these delicious Date Rolls you need soft but not mushy; firm but not hard dates. I had a packet of Tunisian Dates which were almost uniform in size, glossy and not too sweet. They were perfect in texture and just what I needed for making Date Rolls.
So if you are looking for a neat and professional finish of stuffed whole date rolls; it is important to keep the above note in mind. Uniform sized dates also determine the size of your pastry squares / rectangles or strips of dough. Please keep in mind that you need to roll out the pastry dough to uniform thickness; it should neither be too thick or too thin. Avoid using excess dry flour to help with the rolling of the dough.
The Date Rolls were buttery and had a warm beautiful golden glaze just apt for Christmas. I also added a dash of rum to make them extra special! 🙂 They turned out the way I expected them to be. I was so happy that they were not too puffed up and the dates were quite moist.
To make them completely eggless; you may skip the egg wash and brush them with milk.
Thank you Maria Rose for repeatedly requesting me to post these gorgeous Date Rolls and this recipe is especially for you. Hope you make them and enjoy them just the way we did.
Here is another favorite Christmas gem… DATE ROLLS … which I am so happy to share with you. Loved by all… young ones and adults. A big hit with kids and your guests will surely be delighted with these goodies when they are served on your festive sweet table.
These can be enjoyed throughout the year and they are good to go in your mid-morning snack boxes or even as a cute little dessert after lunch or dinner. They are wonderful at breakfast and nice to serve at tea time. No mess and handy if you are looking for a sweet pop of explosion in your mouth with natural goodness. 🙂
Double up the pastry recipe if you wish to enjoy these Date Rolls until New Year. They do make excellent festive gifts… 🙂
For the Stuffing / Filling: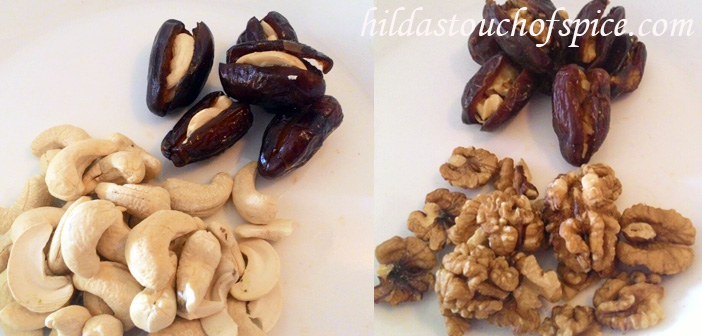 20 firm Whole Dates with seeds
20 slivered pieces Walnuts or Cashew nuts
1tbsp Rum (optional)
Preparation of Stuffing / Filling:
Prep all the dates by slitting each date partially not all the way through and remove the seed. If using rum toss the dates in them. Let them rest for a couple of hours or preferably overnight.
Stuff each date with slivered pieces of walnuts or cashew nuts. Do not over stuff. Make sure each date encloses the filling of walnuts or cashew nuts neatly. Place the stuffed dates on a plate or tray.
Let's proceed to the preparation of the covering for the stuffed dates…
The below mentioned recipe for Shortcrust Pastry is a tried and tested no fail recipe. The same recipe is used for the Mini Lemon Tarts. You may double the quantity of the below mentioned ingredients for the pastry if you wish to make a sufficiently large quantity of Date Rolls.
For the Shortcrust Pastry:
115 gm Maida / All-purpose Flour
60 gm unsalted Butter (chilled & cut into cubes)
2 tsp Caster Sugar / Sugar powder (optional)
1/4 tsp Vanilla Essence / Vanilla Extract
A pinch of Salt
Enough Chilled Water for kneading the dough
For the Glaze/ Egg Wash:
1 Egg Yolk
3 tbsp Water
In a small bowl lightly mix together egg yolk with water.
Preparation of the Pastry:
Sieve the maida with salt and lightly rub in butter with your fingertips until it resembles bread crumbs. Mix in caster sugar. Add vanilla essence to the chilled water and gently knead to a dough.  Alternatively, you may use a food processor to prepare your dough. Place the dough in a bowl, cover with cling film and keep in the fridge to rest for about 15 minutes.
Assembling & Baking the Date Rolls: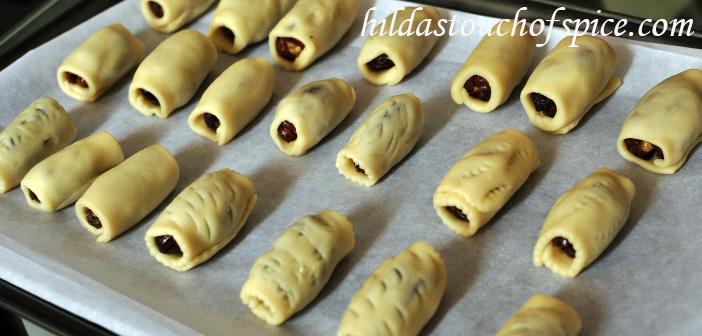 Roll out the dough into medium thickness and cut into squares / rectangles or into strips the size of whole dates.
Ensure that each piece of dough will completely cover each date. Overlap the dough to enclose each stuffed date.
To make sure it is firmly secure in place, seal the ends of the dough with a light touch of water; if necessary.
Place each assembled date roll; sealed side down on a baking tray lined with parchment.
Brush the tops of the date rolls with the prepared egg wash for a golden glaze.
Bake the date rolls in a pre-heated oven at 180C for 12 to 15 minutes or until the tops of the date rolls turn lightly golden.
Cool the date rolls completely and store in an airtight container.
Serve at Christmas and enjoy throughout the festive week or relish throughout the year!