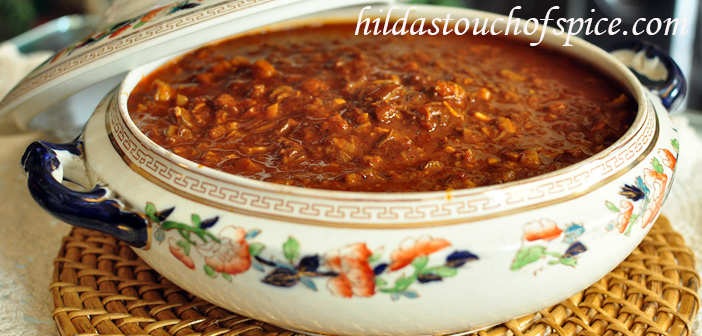 Goan Sorpotel is loved and relished almost all over the world. Goan Pork Vindaloo / Vindalho and Goan Pork Sorpotel are most loved and  cherished pork preparations. The wonderful gems from the treasure trove of Goan Cuisine which is influenced by the Portuguese, are always enjoyed with steaming fresh sannas, Goan parboiled rice and with Goan breads like pao, poee from the wood fired ovens or with hot chapatis made with rice and coconut.
"Sarapatel" or "Sarpatel"  prepared by Mangaloreans and East Indians of Bombay / Mumbai differs as well. Each household in Goa also have their own unique way of preparing it. However, it is the type of Chillies  with or without seeds that will determine how fiery hot or mildly hot the Vindaloo or Sorpotel would be. There are variations to a Goan Sorpotel too. Different villages of Goa have their own variety of chillies which they use and this reflects in the final preparation of the various dishes.
Who may I ask can resist a good Goan Sorpotel? Since time immemorial it is cooked over wood fire in clay pots; set aside to mature well and then eaten over several days with choicest Goan breads or served over rice; usually Goan red parboiled rice.
Traditionally, sorpotel includes offal and blood but in recent times both these are avoided. It all depends on personal preference. The process also may differ in each household. Goans take pride in preparing and serving it. Nowadays, most use pork meat and pork liver in the preparation of Sorpotel.
My hubby loves pork Vindaloo and Sorpotel are his favorites. In fact, he is happy if he gets to eat all the year round! 🙂 I do make a reasonably large batch; several days in advance and as it matures over a period of time it gets better. The flavor of the matured Vindaloo or Sorpotel is just super; in time to celebrate the festive or celebratory occasions.
Pork Sorpotel was often made by lightly roasting the spices and then soaked in vinegar and ground to a paste by my grandmother and aunt. This was preferred by our family and I observed my grandmother and aunt following this elaborate process. My aunt used offal and blood just because of my uncle's personal taste. The raw spices were always diced finely. We used home brewed Goan vinegar but now my family prefers sugar cane vinegar.
For this preparation of Sorpotel, I used home brewed vinegar which I bought on my recent visit to Goa. The aroma and taste of the vinegar is just like the way we like it and I used it in this preparation.
It is very important for us to get the right balanced depth of flavor, rich red color of dry Kashmiri Chillies and the deep reddish brown color of the Sorpotel which we enjoy and relish on maturity. The brown color deepens on maturity but it is the addition of pork liver which enhances it.
My family is particular about the perfection of meat and liver cubes and the finely diced raw ingredients. For us the final texture, color and taste of sorpotel also does matter a lot. It takes much time to dice the ingredients but worth the effort.
It is the addition of tamarind which accentuates the thickness of the gravy but addition and combination of souring agents is a matter of choice. In Goa, cashew feni or coconut feni may be added depending on personal choice or to make it festive as these are in plenty.
The fat of the pork makes the sorpotel succulent and tasty and helps preserve better but due to health reasons many use lean pork with very little or no fat. The pork which we selected for this preparation had little fat. Again, you may use oil or fat to your discretion.
The sorpotel is looking good and the aroma is filled in my house! My family especially my hubby cannot wait to dig into it but patient enough to wait until Christmas! This batch of Sorpotel I made will last us upto New Year but on second thoughts may not until then! 🙂
Pork Sorpotel is a labour of immense love! You have to follow the process meticulously and be fully involved. You need to plan well to make it and heat it for a few days before you set it aside for the flavors to meld. It is like a pickle and so you will be able to enjoy it truly on maturity.
Enjoy the Goan Pork Sorpotel… our way! 🙂 The recipes for Sannas and Phugyas are posted earlier. Check out the Goan Pork Vindaloo recipe too.
Hope you all enjoy Goan Pork Sorpotel just the way we are looking forward to it this Christmas.
A Merry Christmas and A Happy New Year to all. Enjoy the festive season and spread the love… 🙂
Ingredients:
1 kilo boneless Pork chunk (washed & parboiled)
350 gm Pork Liver (washed & parboiled)
25 gm fresh Garlic (peeled & finely diced)
10 gm fresh Ginger (peeled & finely diced)
3 fresh Green Chillies (destem, deseed & finely chopped)
1 large Onion (peeled &  finely chopped)
1 tsp Sugar or to taste
Salt to taste
5 tbsp Cooking Oil
250 ml Goa Vinegar or as per preference
2 tbsp fresh thick Tamarind Extract or paste (optional)
For the Masala / Spice Paste:
Lightly dry roast for a couple of minutes; separately each of the spices mentioned below:
50 gm dry Kashmiri Chillies (destem, deseed & break into pieces)
8 Cloves
8 Green Cardamom
8 Peppercorn
2 inch piece Cinnamon Stick / Cassia Bark
1 tbsp Cumin Seeds / Jeera
Soak and grind to a fine thick paste; the above mentioned dry roasted spices along with the tamarind extract, using some vinegar if necessary. Rinse the masala grinder with a little water and reserve it for later use.
Procedure: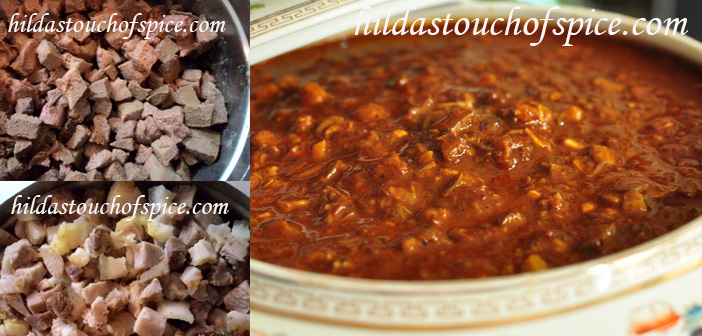 Cube the parboiled meat and liver into reasonably small pieces and put them into separate containers. Reserve the stock.
Heat a sufficiently large thick bottomed pot or clay pot with oil. First gently saute the cubed meat in 2 to 3 batches until lightly fried and the meat releases fat. Do not over fry or is will turn hard. Adjust heat if necessary. Set aside in a separate bowl.
Similarly, lightly fry the cubed liver until lightly brown. Adjust heat if necessary. Do not over brown or it will taste bitter. Set aside in a separate bowl.
To the same pot, add the onions and saute until soft and translucent. One by one add the finely chopped green chillies, the ginger and the garlic. Saute on medium heat until you get a good aroma but should not turn brown. Adjust heat accordingly and if necessary.
Now, add the prepared masala / spice paste and again saute until rawness disappears. Add the reserved masala liquid to avoid drying up of the masala paste.
Then add the browned meat and liver and give a gentle good stir. Allow to cook for about 5 minutes; stirring in between.
Add the stock and sugar and stir well. Let it come to a rolling boil; reduce heat to simmer and add vinegar and stir to combine well.
Cook for about 20 minutes on low heat. Stir after adding salt to taste. Cook for another 5 minutes on low heat and switch off the flame. Let it rest for about an hour. Taste to adjust seasoning, vinegar and sugar; only if necessary. Cover and set aside.
Heat once or twice every day for 3 days. Give time for the Sorpotel to mature. It is advisable to eat after 4 to 5 days.
Serve and enjoy Sorpotel with pao, poee, bread, sannas, appams, neer dosa, pulao, rice, etc.