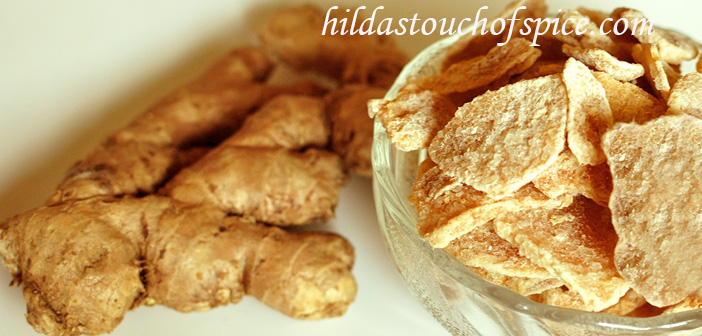 When you think about Christmas it gives you a warm, comforting feeling of home. Your thoughts start running riot and it feels like sugar and spice and everything nice… Your home starts unfolding before your eyes as a perfect picture postcard scenario. The sweet aromas of festive holiday cooking and baking brings to your mind sweet aromatic spices like cinnamon, cloves, candied citrus peels, candied fruits, dry fruit and nuts.
How many of us think about ginger!! Quite a few may not even consider it in their baking but may be cooking. Would the heady, spicy, tangy and pungent flavor of Ginger ever cross your mind? Not everyone likes it but not many dishes can do without the flavor of ginger.
Many cannot do without ginger powder, candied ginger or ginger preserves especially when you want to use it in your baking. Cookies, ginger bread, biscuits, jams, jellys, pies, tarts, pickles and rich fruit cakes need this important ingredient to give you that oomph and yum!
It is not the raw ginger but the crystallized form of stem ginger which is called Candied Ginger and Ginger preserves which is used in confectionery and baking.
Today's recipe is Homemade Candied Ginger. Pure, simple and super easy with just a few essential ingredients. Add some much needed depth of flavor to your fruit cakes and festive baked goods with this beautiful candied ginger. Your baked goods will stay fresh and aromatic throughout the season of Christmas.
Goan festive and celebratory occasions are synonymous with cake and wine. Christmas, New Year, Easter and Weddings have the customary Rich Fruit Cake on the sweet table. Goans are proud to serve their special Fruit Cakes loaded with fruit soaked in alcohol which includes the good old Candied Ginger and Citrus Peels and it is the King of their sweet festive platter.
Store bought ones are so expensive and sometimes it may not be available. There is no need to buy and your search ends here when you take that much needed step of making it yourself. Be proud to make your own and include it in your delicious baked goodies. 🙂
Ingredients:
250 gmsnon fibrous fresh Ginger
2 cups Sugar
2 cups Water
A pinch of Salt
2 tbsp Milk
Caster Sugar for rolling the ginger slices
Procedure:
Wash, peel and slice ginger with a mandolin slicer or with a sharp knife. Make sure the ginger slices are not too thin but reasonably thick.
In a pressure cooker body or in a sufficiently deep and wide pot / pan place the ginger slices with enough water so as to completely cover the ginger.
Bring to a boil; reduce heat and let it simmer for about 10 to 15 minutes.
Drain out the water through a sieve or strainer and repeat the process one more time.
Rinse the pot / pan / cooker body. In the same pot, combine sugar with water. Stir to dissolve the sugar. Bring to a boil. Add milk to the sugar syrup to clarify impurities if any. When the mixture is warm; strain out the sugar syrup to discard impurities.
Wash the same pan and transfer the syrup into it.
Add the strained ginger slices and a pinch of salt to it. Stir well.
Cook the mixture until you get a sufficiently thick syrup of pouring consistency and the ginger is tender.
Remove from heat and strain the mixture.
Bottle the syrup in a sterilized jar or bottle and use in recipes which include ginger syrup.
Toss the drained ginger slices in caster sugar and place on a rack to dry completely.
Store Homemade Candied Ginger in an air tight container at room temperature only when completely dry or store in the fridge for a better shelf life.
Use Homemade Candied Ginger in your baking and cooking.