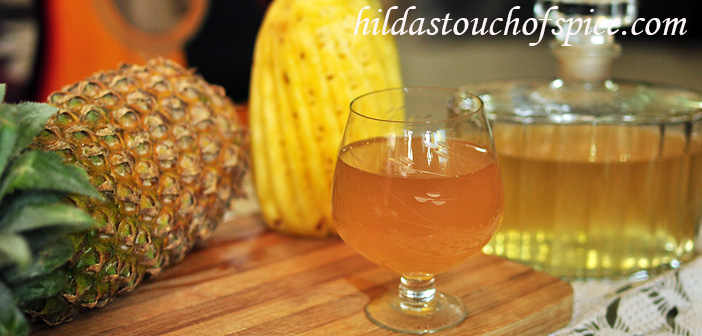 Pineapple is a delicious and wonderful tropical fruit. It has immense health benefits and is of great medicinal value. Even though it has an exterior which is rough and hard; you cannot help but admire the beautiful Pineapple with its refreshingly mild and bright interior which is just like molten gold. You can have dark yellow or light yellow fleshy fruit.
Pineapple is a sweet juicy fruit, a great tenderiser and pairs well with meats and cheese. So lovely in cooking and baking. Awesome in salads and desserts and makes beautiful table decorations.
We all love pineapple juice and enjoy the fresh fruit but this fruit can be utilized well in all its splendour and glory without wasting any of it. The crown of the pineapple can be easily transplanted to grow into bushes and yield the fruit to be relished.
When we see the peel and eyes discarded to make the Pineapple into an elegant beauty; do we think about this waste? Many might have and I did too. Often wondering about the strong fermented aroma on the fruit carts where the fruit vendor displays his magical skills of peeling the peel with dexterity and carving beautiful designs while he gently and meticulously snips of the eyes. Well, it is this awesome waste of peels and eyes which can be converted into sweet, fruity, with a lovely tinge of pale yellow… delicious wine!
When I ventured into making this wine, I wanted my Pineapple Wine to have the natural color, sweetness and the goodness of pure fruit so I made it thrice. The pineapples were sweet so I adjusted the sugar according to the palate of my family. I also included the pineapple slices to get the natural flavor of pineapple. Finally, in my third attempt I made a large quantity.
Wine making is popular since ancient times especially with fruits. Goans love making wine at home and take immense pride in serving it. Fruity homemade wines are apt for Christmas and are festive. For us Goans, it is customary to serve and enjoy wines at celebratory and festive occasions. We love to enjoy our wine with slices of rich fruit cake and welcome our guests with cake and wine.
Sharing with you two gorgeous beauties… Pineapple and Beetroot Wine which my family loves and which was long overdue. So happy that we can all celebrate and enjoy the festivities with our loved ones. Cherish and share the warmth and spirit of Christmas and the entire festive season with homemade fruity wine.
Cheers!! A Very Blessed Christmas and A Happy New Year to all. 🙂
Ingredients:
1 fresh Pineapple
1 ½ cups Sugar
¼ tsp Active Dry Yeast
4 cups Water
1 Egg White (lightly beaten)
Procedure:
Before you start remember to sterilize and dry your ceramic jar / bharni / buyaon / glass jar
If you intend getting the pineapple peeled by the fruit vendor, it is advisable to carry along a bottle or enough water to wash the pineapple before he starts peeling it for you.
Discard the crown and trim off the top and bottom of the pineapple.
Reserve the peel of the whole pineapple and a couple of slices of pineapple without the core for the wine.
You may use only the peel if you like but I used a couple of slices of pineapple to prepare the wine.
Cut the pineapple slices into pieces and mash them lightly. Alternately, you may pulse roughly in a food processor. Cut the peel also into pieces and place the entire contents into the sterilized ceramic jar or glass jar.
In a sufficiently large pan heat water and bring to a rolling boil. Take it off the heat; dissolve sugar and yeast when lukewarm. Cool thoroughly and pour into the ceramic jar.
Cover the mouth of the jar with a cheese cloth or muslin. Keep it in a dark, dry place in your kitchen. On the 5th day, taste to check the sweetness. Adjust sugar if necessary.
Then add the beaten egg white to the jar and give it a good stir with a wooden spoon. Cover again and keep in the same place for another 5 days.
On the 10th day; decant very slowly and carefully without disturbing the sediments into a sterilized pan through a fine sieve lined with a double layered muslin cloth.
If the fermentation is completed only then pour into sterilized dry bottles. If not, pour back the decanted contents into the jar. Cover with cloth and set aside for the fermentation to complete. You may need to repeat the process of decantation a few times if there is a lot of sediment / residue.
Just remember the process of fermentation has to complete otherwise there could be a tendency for the bottle to burst or bottles with loose stoppers may pop off with force.
It is better to wait for the standard 3 weeks i.e. 21 days before you taste the flavors of the wine. The wine will also have enough time to display clarity.
Serve this fabulous Pineapple Wine in shot glasses or in wine glasses. Enjoy! 🙂
Tips & Suggestions:
Here are few tips necessary and important which I forgot to add in the Beetroot Wine post. Please take note. It applies to all homemade wines:
Keep separate jars and bottles for the purpose of making wine. Do not use jars which are already used for pickles and chutneys.
Use separate wooden spoons for stirring wine. Also fresh cheesecloth and muslin cloth for covering and decanting to avoid contamination and mixing of flavors.
Hygiene and sterilization of jars and bottles for fermentation and storage of wine is very essential. Boil the containers and dry in the sun, if possible.
Fungus can ruin all your efforts. Keep jars well covered. Even after covering the mouth of jars or bottles make sure you cover the top but do not seal. Sealing tightly may land into mishaps and accidents. Glass bottles can burst and loose stoppers can pop off.
During fermentation a lot of activity goes on in the jars and the accumulated pent up gases need to be released so do not close tightly.
Fruit flies are a big bane and ever ready to ruin wine. It might turn into vinegar!
For a beginner, it is wise to use clear jars and bottles for fermentation so you can see and judge the process of complete fermentation.
Natural ingredients such as egg white, clay and tiles are used to help settle the impurities, sediments /residue which further help you to get clarity in the final product i.e. the wine.
Fruits which ferment easily will allow you to see a slightly vigorous dance of activity in your jar but the same will not happen with the beetroot. With the beetroot it will be light bubbling and mild fizzing.
Many factors determine a good texture, color, sweetness, clarity of your wine… viz. quality of fruit, the soil, water, climatic and weather conditions, quality of yeast and sugar all contribute towards giving you good wine.