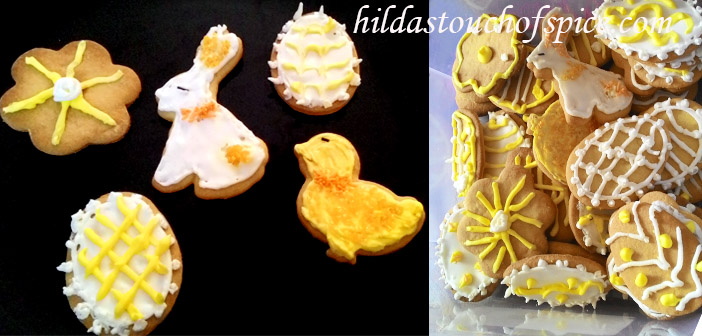 It is so much more fun to make festive holiday cut out cookies /biscuits especially at Easter, Christmas and Halloween. Sugar cookies are so simple, easy and pretty. It brings together families, friends and creates a happy positive feeling. It is a great activity for children and they are ever willing to help in making these cut out cookies and always look forward to frost and decorate with creative designs. I baked these beautiful sugar cookies for Easter with Easter cookie cutters. I frosted and decorated them with glimmer sugar crystals and sprinkles. It was truly worth the effort. All Easter goodies on the Easter dessert table look so elegantly inviting and festive. Make this Easter celebration special with Easter Eggs and Easter Cookies on your sweet table. They do make gorgeous gifts in attractive wrappers. You can have an Easter hunt as well if you love adventure! So get your Easter cookie cutters and Easter Egg moulds and start preparing for the grand Easter celebration! 🙂
Wishing all visitors and well-wishers "A Very Happy & Blessed Easter."
Ingredients for the Sugar Cookies / Biscuits:
400 gm Maida / All Purpose Flour
220 gm Unsalted Butter @ room temperature
200 gm Caster Sugar
2 Eggs
1 tsp Baking Soda
2 tsp Vanilla Essence / Extract
½ tsp Salt
Procedure: In a sufficiently large and wide bowl, sift together flour, salt and baking soda. In another large bowl beat together butter and sugar until light and fluffy. Add the eggs and vanilla essence and beat until well combined. Add the flour mixture and beat until you get a smooth dough. Divide the dough in half and wrap each half in cling film. Refrigerate until firm enough to roll. Roll one half of the chilled dough on a lightly floured surface or between two sheets of cling film to ¼ inch thickness. Using your lightly floured Easter Cookie cutters cut out shapes. Place them on baking trays lined with parchment paper. Place the trays with unbaked cookies in the fridge to firm up and retain shape while baking. It may take about 15 to 20 minutes to chill. Similarly, cut out Easter shapes with the other half of the dough. Pre heat the oven to 175 C. Bake the cookies for about 8 to 10 minutes or until the edges just starting to brown. It will also depend on the size of your cookies and your oven settings. Let the baked cookies cool on the baking tray for a few minutes and then transfer them on a wire rack to cool completely. Frost with royal icing and allow them to dry completely before storing them. Store the frosted cookies in air tight container. They keep well for several days but store them between layers of parchment paper. Enjoy your Easter with these pretty Frosted Easter Cookies.
Ingredients for Royal Icing:
320 gm sifted, Icing Sugar / Confectioner's Sugar
2 Egg Whites
2 tsp Lime / Lemon Juice
Food Coloring as desired
To prepare Royal Icing: In a sufficiently deep bowl, beat the egg whites with lime juice. Add the sugar and beat until smooth. (I used a hand blender). To obtain the right consistency add more sugar or water as necessary. Use the icing immediately or store in an airtight container as the icing has a tendency to harden when exposed to air.
To decorate the Easter Cookies: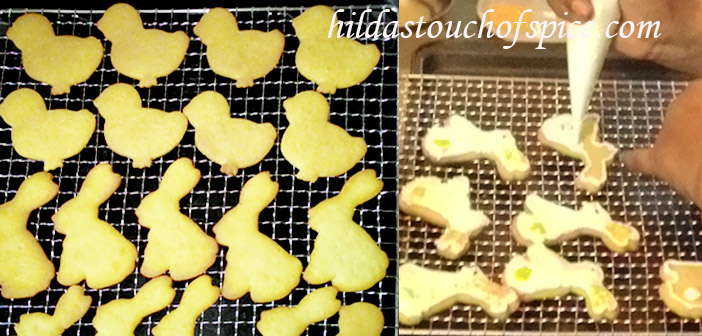 If you wish to have a variety of colored icing then divide in separate bowls. Add the desired coloring with the help of a tooth pick to each bowl. This way it is easy to control the depth of the color. It is advisable to use gel food colors but liquid edible colors also can be used. It is better to use cones made of parchment paper if you intend having several colors of icing and it also helps to have control while drawing borders and creating intricate designs. Take care and cover your bowls and cones filled with icing properly to avoid hardening of icing when exposed to air. Use your creativity to make your cookies beautiful and attractive by drawing borders, flooding them and then designing them to make them glamorous.