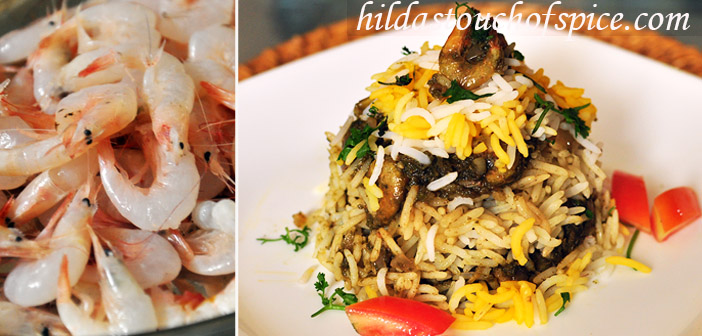 There are umpteen variations to a good biryani. This is a very special biryani for us because I have prepared it with fresh baby shrimp. In Konkanni it is called Galmo and in Marathi Javala.
Many prefer eating a prawn biryani in a restaurant to avoid the tedious and time consuming process of de-veining prawns. You will be very glad to know that baby shrimp / javala / galmo does not need de-veining at all as the intestines are not yet developed! So it takes off the stressful load.
We Goans love to eat fresh galmo and include it in our stir fries, chilli fries, curries, pulao, biryani and make good use of it whenever it is available fresh. Of course, the dried galmo is handy and consumed during the rainy season.
This one pot wonder is so easy and quick to prepare even though it feels like a long process. My family loves it so much and who can resist a delicious and aromatic biryani? You can use big prawns if you like but the flavor with these fresh baby shrimp is just fabulous.
Biryani and Pulao are just great on weekends and wonderful to serve at celebratory parties. In fact, you need not wait for an occasion to cook your favorite biryani or pulao. Two of our frequent favorites are Prawn Pulao and Prawn Tawa Biryani. Give it a try sometime.
We love the flavor and freshness of green ingredients in our biryani and so I make Fresh Galmo Biryani whenever baby shrimp are available in the fish markets in Pune.
Try this awesome Fresh Galmo Green Biryani / Green Masala Baby Shrimp Biryani once and I am sure when you visit the fish market, you will be looking out for these baby shrimp / galmo / javala to make various Goan delicacies with them!
So delighted to share my special Baby Shrimp Green Biryani with all. 🙂 Enjoy and relish it just the way we always do…
Ingredients:
300 gms fresh Galmo /fresh baby Shrimp / fresh Javala
¼ tsp Turmeric powder
½ tsp fresh Ginger-Garlic paste
¼ cup fresh Tomato puree
¼ cup whisked Curds (slightly sour)
½ tsp Salt
5 tbsp Vegetable Oil / Cooking Oil
2 tbsp Pure Ghee / Clarified Butter
For the Rice:
200 gms Basmati Rice
2 drops Kewra Essence or a light sprinkle of Kewra Water
Few drops of edible Orange or Yellow Color (optional)
Or Few Strands of Saffron soaked in a little milk
Garnishing Suggestions:
3 tbsp Fresh Coriander (chopped)
¼ cup Crisp golden fried Onions
Lime quarters or wedges
For the Bouquet Garni:
3 Peppercorns
2 Green Cardamom
1 Black Cardamom
3 Cloves
½ inch Cassia Bark / Cinnamon
1 Bay Leaf /TejPatta
The Bouquet Garni:
Place all the ingredients in a mortar and pound with a pestle to break the spices. Fold it a piece of muslin and secure with enough string for it to hang over the rim of the cooking pot / handi / dekchi.
Procedure:
Pick and wash rice until the water runs clear. Drain out the water from the rice; add the bouquet garni and reserve for 45 minutes with some water.
Cook the rice in boiling water with some salt. Add the bouquet garni and let the string hang over the rim of the pot. Cook the rice to ¾. The grains should be cooked but firm. Discard the bouquet garni. Drain out the water and cool the rice completely. Sprinkle kewra water. Divide the rice into 2 parts and color one part of rice or use saffron.
Reserve the rice until assembly of the Biryani.
For the Green Masala / Green Spice Paste:
5 fresh Green Chillies; destem & deseed (for spicy retain seeds)
½ bunch fresh Coriander leaves; pick, wash & drain
¼ bunch fresh Mint leaves; pick, wash & drain
2 med Onions (peeled & roughly chopped)
2 tbsp fresh Garlic paste
1 tbsp fresh Ginger paste
½ tbsp. Cumin Seeds
1 tsp Fennel Seeds
2 tbsp Coriander powder
2 flakes Mace
A large pinch fresh Nutmeg powder
A large pinch fresh Green Cardamom powder
¼ tsp Black Peppercorn powder
¼ tsp fresh Clove powder
¼ tsp fresh Cinnamon powder
¼ tsp Yellow Chilli powder (optional) or Red Chilli powder
1 tsp Sugar (optional)
Grind the above mentioned ingredients for Green Masala to a fine thick paste with water. Rinse the grinder and reserve the liquid in cooking.
Preparation of Galmo / Baby Shrimp Masala:
First, rinse the baby shrimp in running water. Drain them through a colander. Put them in a bowl and then add ginger-garlic paste, turmeric and salt. Mix well and set aside to marinate for about 20 minutes.
In a sufficiently deep and wide pan / handi / dekchi; heat oil until hot. Reduce heat and add the marinated prawns. Sauté  for about 2 to 3 minutes and set aside in a bowl.
To the same pan; add the prepared green masala / spice paste and sauté  until rawness disappears and you get a good aroma.
Then add tomato puree and sauté  further until the tomatoes are cooked and you see slight oil separation.
Next add the whisked curds and stir to mix well. Cook for another 2 minutes.
Next mix in the reserved galmo / baby shrimp and add the reserved masala liquid. Stir well and cook to get the desired thickness of gravy.
Keep in mind not to thicken the gravy too much as later the rice will absorb the gravy. Taste and adjust seasoning if necessary.
Assembling of the Green Masala Galmo Biryani:
In a glass dish or deep pot / handi / dekchi; arrange alternate layers of white rice, galmo/ baby shrimp / javala green masala and colored rice. Garnish with chopped coriander and golden crisp fried onions. Spoon hot pure ghee (optional).
Seal with dough or foil and cook on dum on a tawa or oven. Alternatively, you may microwave on high for 5 minutes.
Let the flavors meld for about 15 minutes before serving.
Serve hot with an accompaniment of your favorite raita.