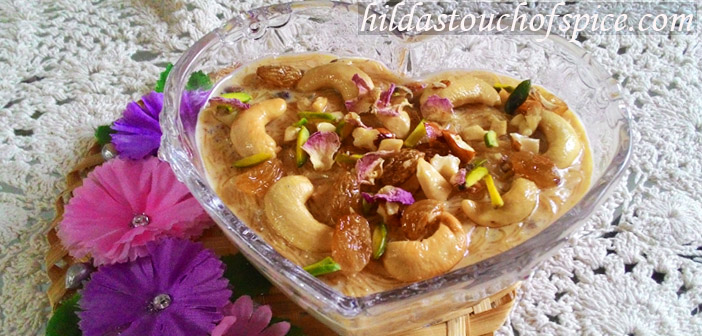 "Sheer Khurma"is the most popular traditional sweet vermicelli pudding prepared by Muslims to celebrate Eid. 'Sheer' is Milk and 'Khurma' is Dates. This is a very rich dessert which is truly royal as it is full of finely chopped or slivered assorted dry fruits especially dates. This highly nutritious, healthy treat is served as a festive special at breakfast after offering prayers by the Muslims and served to all guests throughout the day.
There are various methods of preparing this spectacular dessert and each household takes pride and cherishes their own unique recipe. This pudding can be fairly thick or like a thin gruel. It all depends on individual preference. You can use dry fruits in any combination you love but dates are an integral part of this preparation.
I like to add a dash of nutmeg as I love the flavor of nutmeg. Our personal preference is lots of dry fruits, less ghee, not too sweet as the condensed milk, dates and raisins fulfill the sweetness. I also prefer using sweetened condensed milk for its creamy consistency and love the delicious taste. Besides, I feel it takes off a big load of boiling the milk over a period of time to thicken it.
Sheer Khurma can be fairly thick or thin liquid form. We enjoy both ways. If you like yours thick then you may add more vermicelli or thicken the milk to the desired consistency. For those who like it like a gruel, then either increase the quantity of milk or reduce the amount of vermicelli. Whichever way you choose; it is amazingly delicious… 🙂
Dry rose petals, kewra and rose water make the Sheer Khurma truly royal and further accentuates the true taste of this fabulous Vermicelli Milk and Date Pudding. Along with the above, I make sure to include saffron and fresh green cardamom (elaichi) powder. These gorgeous edible aromatics; arouses the taste buds, soothes not only the palate but also the nerves.
Feel joyful as you relish every spoonful of this super dessert"Sheer Khurma"and experience a sense of calm and tranquility, peace and fulfilment in body and soul… 🙂
Here's wishing all 'A Very Happy Eid.' Enjoy "Sheer Khurma" and celebrate with joy! 🙂
Ingredients:
100 gms. fine pre-roasted Vermicelli (broken into pieces)
2 tbsps. Pure Ghee (clarified butter)
1liter Milk
75 gms. Sugar or to taste
½ tin Sweetened Condensed Milk
½ cup chopped, Mixed Dry Fruits (almonds, pistachios, raisins)
½ cup soft deseeded sweet Dates (chopped)
5 Green Cardamom (peeled & freshly powdered)
3 pinches Nutmeg (freshly powdered)
A few strands – Saffron (optional); soften with warm milk
A pinch of Salt
To further enhance taste and flavour: Use any one or all just like the way I do…
A sprinkling of Rose Water
A few drops of Kewra
Dry Rose Petals
Procedure:
Bring milk to a boil. Add condensed milk, sugar, powdered cardamom and nutmeg; stir to combine well.  Add dates and cook on simmer until the dates soften. Switch off the flame and set aside.
Meanwhile, heat ghee in a thick bottomed pan; preferably non- stick.
Reduce heat; add the pre-roasted vermicelli and sauté for a few seconds or until lightly toasted and crisp.
Add the sweet flavored warm milk and stir to bring to a boil.
Reduce heat to low and cook for about 5-7 minutes or until the vermicelli is soft.
Switch off the flame and let the flavors infuse for about 10 -15 minutes.
Heat a couple of tablespoons of ghee in a tempering pan until hot.
Reduce heat to low. Add the assorted chopped dry fruit and fry until the nuts are lightly golden brown.
Add to the prepared vermicelli; the fried dry fruit and a pinch of salt. Give it a good stir.
To further enhance the flavour; (Use any one of the following edible aromatics as per your personal taste and preference: add a sprinkling of rose water, a few drops of kewra, some fresh rose petals) and saffron. Stir well and again bring to a boil.
Reduce heat to low and cook on simmer for about 5 minutes.
Switch off the flame and allow the flavors to meld.
Serve in individual bowls garnished with more dry fruits, rose petals and saffron.
Sheer Khurma tastes best when served warm.
Enjoy Sheer Khurma… 🙂