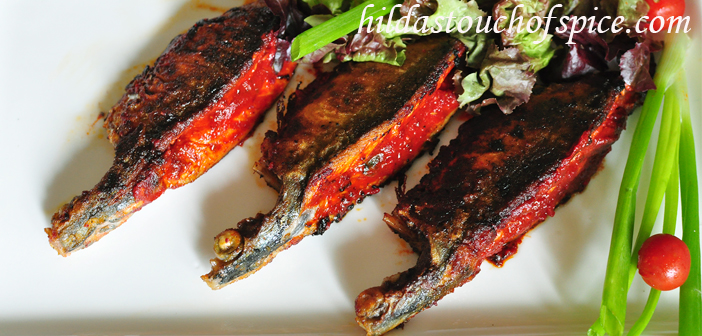 Goan Recheado Masala is a traditional sweet, sour and spicy multi-purpose red spice paste. Goan cuisine is influenced by the Portuguese and Goan food is loved for its varied delicious flavors and the gorgeous Recheado Masala paste is one of the precious gems in the spectra of spice pastes.Goan Recheado masala paste can be used in vegetarian and non-vegetarian cooking but most popularly used as a stuffing in fish and seafood.
This essential Recheado spice paste is popularly used as a stuffing in pomfret and mackerel / bangada / bangurde. Recheado pomfret and mackerel tastes delicious but I feel it tastes divine stuffed in mackerel. Many refer to mackerel as a poor man's fish as it is fairly priced and sometimes very cheap but not anymore! Mackerel is rich in protein, omega-3 fatty acids, and essential minerals and hence has many health benefits and nutritive value and is now become valuable!
Mackerel has a strong, heady aroma while cooking. This fish holds the stuffing well and the flesh is firm after cooking and is not as delicate as the pomfret. Besides, we Goans love the flavor of mackerel. Curries, croquetas, pickles, etc. prepared with mackerel taste heavenly. Even though mackerel has fine bones; it is a very tasty fish. Have you tried my Goan Mackerel Croquetas? Try them sometime as they are very tasty and just a couple won't do once you bite into one.
Today's recipe is our favorite Goan Recheado Stuffed Mackerel. Small mackerel is known as Bangurde in Konkannim. It is also popularly known as Bangada. Fairly large, medium and small mackerels can be used to stuff them with the delicious Goan Recheado Masala paste. We like medium sized fish and prefer the small ones as they are very tasty.
Some years ago, I posted my recipe for Goan Stir Fry Prawns with my Recheado spice paste. Later I posted my Goan Pomfret Recheado. Even though we eat Stuffed Recheado Mackerel so often, I realized that I have not posted the recipe as yet! Every time my family is so eager to eat it as the aroma is so enticing and inviting. We have been postponing the photo shoot for this recipe. It is high time I share it with you.
Goan Recheado Stuffed Mackerel is just fantastic. It pairs well with Dal Tadka & Rice, Traditional Goan Fish Curry Rice (Xitt Kodi), Ukdem Xitt & Sorak. You can enjoy it with bread, pao, pulao, chapati or phulka if you please, or simply plain as a starter.
Here is the recipe for whole stuffed mackerel with Goan Recheado. It has the perfect balance of spices and ground to a fine paste with only vinegar. It is pan-fried / shallow fried crisp and golden dredged in wheat flour. You can use rawa / semolina or rice flour instead of wheat flour. Whichever way you choose; it is super delicious and will give you a true, authentic experience of beautiful Goa. 🙂
It is always good to consider having a jar of homemade Goan Recheado Masala paste in your fridge. You can use it to stuff just a single whole mackerel or pomfret if you are cooking for yourself or stuff a large batch of mackerel or pomfret for a crowd. It is a versatile paste and can be used for stir fries and just a light application on fish and then shallow fried can do wonders in minutes and brighten up your lunch or dinner.
Most importantly; it makes every day Goan meals special. So bring the magic of Goa with the amazing goodness of Recheado Masala / Spice Paste in your fish and seafood… 🙂
Ingredients:
5 whole fresh Mackerel
½ tsp Turmeric powder
Juice of 2 Limes
Salt to taste
Goan Recheado Masala paste (refer to Goan Stir Fry Prawns)
½ cup dry Wheat Flour or as needed
Cooking Oil for shallow frying
Procedure:
Select fresh Mackerel and get it cleaned from the fishmonger.
Slit the fish on either side so as to get deep pockets.
You may do this or get it done from the fishmonger.
Wash the fish well and drain completely.
Apply turmeric, a little salt &lime juice to the entire fish and keep aside for about 10 mins. Drain out excess liquid.
Fill the pockets of each mackerel with the Goan Rechado Masala paste;making sure the masala paste does not spill out. Approximately, 2 tsp of recheado paste is used for each mackerel.
Place the wheat flour on a plate and roll each stuffed whole mackerel in the dry flour.
Dust off excess flour.
Heat sufficient oil in a large fry pan till hot.
Reduce heat and gently slide in the whole stuffed mackerel. You may fry 2-3 whole stuffed mackerel at a time depending on the size of the fish and your skillet / tawa / pan.
Fry on medium heat on each side for about 3 mins. You may cover your pan briefly to avoid the splattering of oil. This is optional.
Flip gently to fry on the other side.
Fry till the fish is cooked through and the fish is golden & crisp. (Take care not to burn). Adjust the flame if needed.
Lift the fish with the help of spatulas (you may need two spatulas).
Drain the oil completely by turning the fish on the side away from the pockets.
Transfer to a plate.
Serve as a starter or enjoy with your favorite fish curry rice, traditional xitt kodi, sorak and rice, pulao or steamed rice & dal fry/tadka. You can also eat it with your favorite roti, chapati, phulka.
Tips & Variations:
 Fresh fish and fresh spices brings out the flavors better.
Stuffed Mackerel can be grilled or baked.
Use rice flour or rawa for dredging if you like very crisp fish.
Boneless pockets can be made by snipping of the central bone and then stuff with the recheado paste. (The above picture is with boneless mackerel). Sometimes, I retain the central bone and then stuff the fish when the mackerel is of small size.