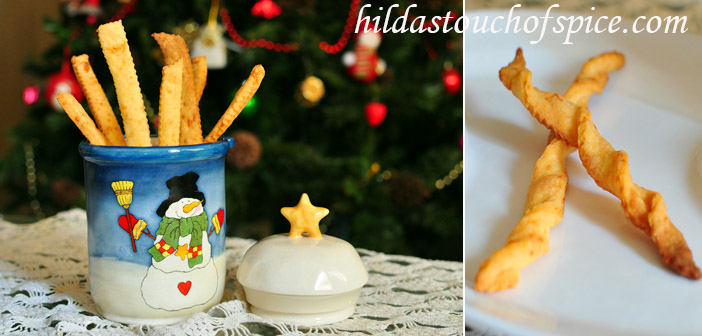 Super easy and quick; these Cheddar Cheese Straws / Cheese Twists are an absolute delight at tea time. You can serve them on all festive and celebratory occasions but even better to have them as a part of your Christmas, New Year and Easter goodie platter.
I made these buttery and flaky Cheese Straws and Cheese Twists with  imported aged yellow Cheddar Cheese. They were so delicious and savoured every bite. They were bursting with true aged cheddar flavor and were a treat to the taste buds of all who were lucky last Christmas and New Year! 🙂
Last year, I first started with my Traditional Christmas recipes and later moved on to new festive recipes. I had too many Christmas recipes to post and before I realised, it was Christmas and a tad late. Due to my health issues, I could not post during the year. I completely forgot about many of my recipes until now. I thought I had lost all my photos but thank God I found them after a frantic search. All bloggers will agree that festive season begins earlier for us. So here I am posting so that you have enough time to plan your sweets and savouries for the festive season of Christmas and New Year.
Cheese Straws / Cheese Twists are great to serve at parties. They make awesome finger eats for kids and adults alike. They can be served instead of regular wafers / chips with cocktails or mocktails too.
How about making these for your savory festive goodie platter this Christmas? Consider making these pretty Cheddar Cheese Straws / Cheese Twists as a part of your Christmas or New Year gift hamper and make your loved ones feel special on the joyous occasion of Christmas. 🙂
Ingredients:
 125 gm Maida / All Purpose Flour
125 gms grated; yellow aged Cheddar Cheese or as per choice
3tbsp chilled unsalted Butter; cubed
¼ tsp Salt or to taste
A dash of Chilli Powder or Paprika (optional)
A pinch of White Pepper
1 lightly beaten; Egg White
Procedure: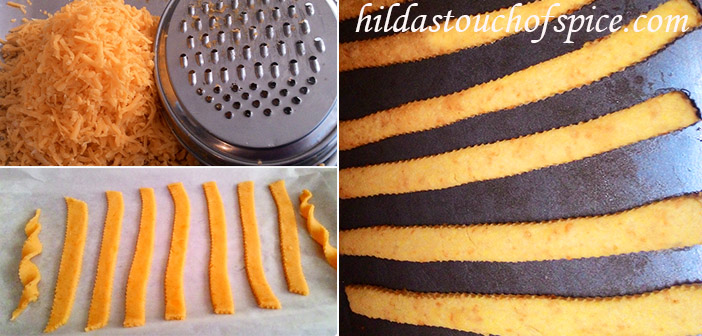 In a sufficiently large bowl; sift together maida and salt.
Mix in chilli powder / paprika, white pepper.
Add cheese and mix with your fingers to combine well.
Add the chilled butter cubes and mix it into the flour mixture using your fingertips. Do not allow the butter to melt but must break down into small pieces.
Add the egg white and stir to evenly distribute it.
Knead lightly into a dough. Do not over work the dough.
Roll out the dough on a floured board / kitchen counter; preferably between two sheets of plastic without dry flour.
Using a serrated or a plain sharp knife cut into long strips of 1/8-inch thickness.
Arrange the cheese straws on a baking tray lined with parchment.
You may twirl some of the cheese strips into twists onto the baking tray for variety.
Chill them for about 10-15 minutes.
Bake in a pre-heated oven at 200C.
Bake for 10 minutes or as per oven settings; until crisp and lightly golden.
Cool completely and then serve or store in an airtight container until serving time.
Enjoy your Cheese Straws / Cheese Twists at tea time or serve on your festive platter.