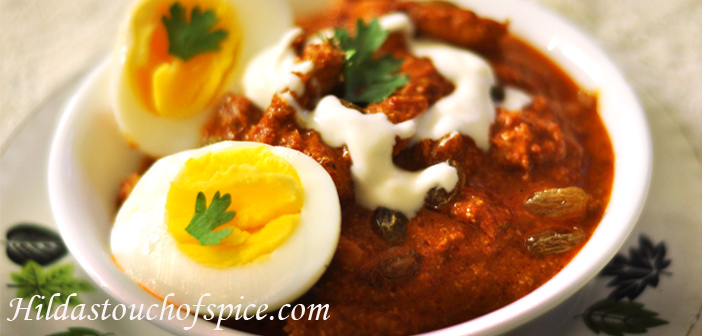 The Mughals always insisted on displaying exquisite style and splendor. The moment one hears the word 'Nawab', it is already understood as 'Royalty'. Whenever one thinks of Mughlai food, you know it has a perfect smooth blend of spices which is mild with sweet aromatic spices.
Mughlai cuisine is known for its lavish use of exotic spices, dried fruit and nuts. It is also rich due to the extensive use of curds or yoghurt, milk and cream. Hence Mughlai food is aromatically spicy and rich.
Today's recipe has all the ingredients and frills associated with royalty. This exquisite dish can be served to celebrate a grand occasion or just to dwell in the sheer joy of happiness. If you are counting calories throughout the week then you can treat yourself perhaps on a relaxing weekend or on a holiday. It will definitely be a favorite with children.
When you cook this delicious Murg Nawabi at home, you can be in total control of the use of rich ingredients and relish it without feeling guilty. It pairs well with Butter Garlic Naan as well as Jeera Rice. Enjoy this flavorful, creamy Murg Nawabi with your favorite Indian bread or rice preparation. 🙂
Ingredients:
½ kg boneless Chicken
2 med. Onions (peel, chop & grind to a smooth paste)
3 tbsp Cashew nut paste
1 tbsp. fresh Ginger paste
2 tbsp. fresh Garlic paste
2 tbsp. fresh Tomato paste
¼ cup whisked fresh Curds/Yoghurt or to taste
4 tbsp. Milk or as needed
2 pinches Saffron (lightly pan roasted, crushed & dissolved in milk) optional
4 tbsps. Vegetable Oil or Ghee (Clarified Butter)
Salt to taste
Combine together  2 tbsp.Coriander pwd.,½  tsp. Red Chilli pwd. or to taste, ¼ tsp. Turmeric pwd. with water to form a paste.
Aromatic Spices:
½ tsp. lightly roasted Cumin pwd.
½ tsp. lightly roasted Shahjeera pwd.
1 tsp. Garam Masala pwd.
2 Green Cardamom (powdered)
2 pinches each of fresh Cinnamon & Clove pwd.
A dash of Javitri (Mace) pwd.
¼ tsp. Saunf (Fennel) pwd.
For Garnishing:
4 tbsp Raisins (soaked & lightly fried)
2 tbsp Cream
Freshly chopped Coriander Leaves
3 hard boiled Eggs (halved or quartered) or as per requirement
Procedure :
Marinate the chicken pieces with a little salt & turmeric for about 15 minutes.
Lightly fry the chicken pieces in hot oil and set aside.
Now add the fresh onion paste and sauté till light brown on low heat.
Add the ginger garlic paste and sauté again till rawness disappears.
Now, add the tomato paste and sauté for a few seconds.
Then add the dry spice powder paste and sauté for a few seconds.
Add a few tablespoons of water if necessary.
It is time to add all the aromatic spices mentioned above.
Stir to combine well.
Add the curds and cashew nut paste and stir well.
Cook on simmer till you see oil separation from the masala.
Add milk and give it a good stir.
If the gravy is too thick add some water.
Add the fried chicken pieces and stir once again.
Adjust the consistency of the gravy if necessary.
Cook the chicken for another 10 minutes.
If using chicken on the bone then it will take a little longer.
Adjust salt to taste.
Mix in the dissolved saffron.
Cook for a few seconds and then transfer to a bowl.
Give it a touch of royalty before serving…
Drizzle fresh cream.
Garnish with lightly fried raisins and top with freshly chopped coriander.
Arrange boiled egg halves or quarters.
Serve with your favorite Indian bread or rice preparation.