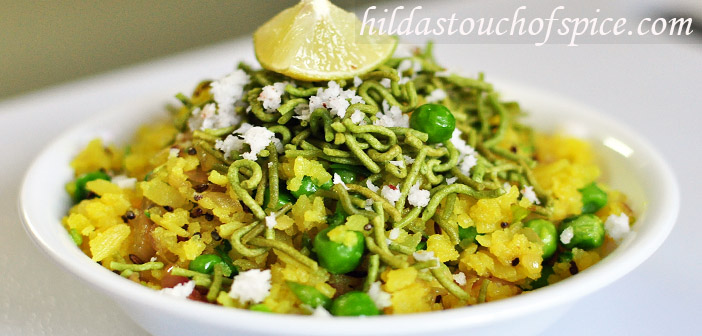 Popular in Maharashtra; Pohe is a quick, easy delicious anytime snack but mostly served at breakfast and evening tea.It is my absolute favorite comfort food. It is perfect with tea especially ginger tea (Adrakwali Chai). Even though traditional Maharashtrian style Kande Pohe and Batata Pohe is usually prepared and relished at home, it is easily available and served steaming hot in wayside restaurants and carts. You can customize your homemade savoury pohe / poha by fortifying and boosting the nutritive aspect by addition your favorite vegetables.
We are very fond of fresh green peas. I like to use frozen peas in my pohe, which I thaw before using to save time but sometimes I do use freshly par-boiled peas. Being a Goan, I never lose an opportunity to use fresh grated / scraped coconut if I have it readily available. There are times when I use dessicated coconut too if I have the urge and craving to eat coconut. For us, fresh or dessicated coconut enhances the flavor of the prepared Poha / Pohe a notch higher.
In this recipe for Pohe / Poha, I have used Matar / Green peas and Palak / Spinach Sev. I love the combination of both these ingredients and I think it's a perfect pair whenever I decide and prepare it. I am also liberal with onions, fresh coriander, peanuts, coconut and lime. If I use potatoes then it's a great, happy day for me. 🙂
Maharashtrian breakfast, snacks, fasting food are our all-time favorites. Batata Vada, Sheera, Upma, Sabudana Vada and Sabudana Khichdi as usual top the list!
The foundation of Maharashtrian arranged marriages lies on the interesting ritual of serving piping hot delicious Kande Pohe! If the prospective bride serves delectable melt in the mouth pohe then the relationship is sealed for good. 🙂 Well, Pohe and tea is a match made in heaven!
Sharing hot, delectably soft, golden, savoury pohe decked gorgeously with fresh green peas, coriander and juicy white coconut with fragrant spices and tanginess of fresh lime. What can be better may I ask to pep you up with that cuppa of refreshing adrak ki chai? Winter is here and a perfect time to enjoy "Chaha ani Pohe." 🙂
Ingredients:
2 cups Pohe; thick beaten rice flakes
¾ cup fresh or frozen Green Peas
2 med. Onions; peeled & finely chopped
3 fresh Green Chillies or to taste; finely minced
3 sprigs Curry Leaves
1 tsp Mustard Seeds
1 tsp Cumin Seeds
A pinch of Hing (optional)
½ tsp Turmeric Powder
4 tbsp. Vegetable Oil
¼ tsp Sugar or to taste
Salt to taste
 For Garnishing:
¼ cup freshly grated / scraped Coconut or to taste
2 tbsp. freshly chopped Coriander Leaves
1 cup Crisp Palak Sev or as required
Wedges of fresh Lime
Method:
Clean the dry pohe with a sieve and winnow to remove any dust.Quickly wash in normal running water and drain out the water through a strainer. Set aside to rest. It will absorb water and plump up.
Heat oil in a kadhai / wok on medium heat until hot.
Reduce heat and add mustard seeds, cumin seeds. Let it crackle.
Add turmeric pwd., curry leaves, a pinch of hing.
Now add green chillies, chopped onions and cook until onions are translucent.
Add sugar and a little salt and give it a stir.
Add green peas and cook for a couple of minutes. If using fresh peas; first par-boil the peas.
Add the pohe and stir to combine well.
Adjust salt to taste and a tablespoon of coriander leaves.
Keep stirring from time to time; cook for 3 to 4 minutes. In case it is dry then sprinkle water sparingly just to moisten a little. Cover if you so like to cook in its steam.
Squeeze fresh lime juice and give a nice stir.
Serve garnished with palak sev / spinach sev, grated coconut and coriander leaves with hot cups of tea; Adrakwali, if you please.
Alternatively, you can serve palak sev, grated coconut, lime wedges separately.