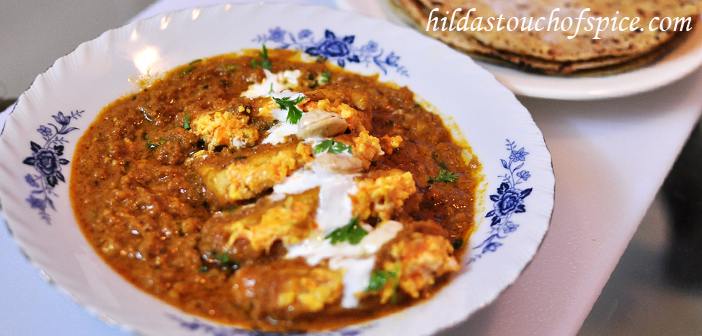 Paneer Pasanda is Cottage Cheese sandwiches in a thick and rich gravy.
For the gravy, I have used a combination of boiled onion paste and fried onion paste with tomatoes and cashew nuts to give the gravy a balance of body and color.
It is a fairly rich preparation but in case you prefer a lighter version, you can simply make it just a tomato-onion based gravy. If you are calorie conscious then skip the cream.
We all know there is no replacement for a fresh home cooked meal. Try this easy & lip smacking Paneer Pasanda Recipe. Enjoy! 😀
Ingredients:
For the Gravy:
¼ cup boiled Onion paste
4 tbsps. fried Onion paste
3 large fresh Tomatoes (pureed)
2 tsps. fresh Garlic paste
1 tsps. fresh Ginger paste
2 tbsps. Coriander pwd.
¼ tsp. Turmeric pwd.
½  tbsp. fresh Cashew nut paste (optional)
½ tsp. Red Chilli pwd. or to taste
½ tsp. Garam Masala pwd.
A dash each – fresh Cinnamon, Clove & Green Cardamom powder
1 Bay Leaf
A pinch of Sugar
4 tbsps. Vegetable Oil
Salt to taste
Preparation of Gravy:
In a sufficiently deep and wide pan, heat oil.
Add the bay leaf, turmeric powder and then fry the boiled onion paste until rawness disappears.
Then add the fried onion paste and sauté for a few seconds.
Stir in the ginger-garlic paste and chilli powder.
Sauté again till you see slight oil separation.
Mix in the cashew nut paste if using and stir for a few seconds.
Add the tomato puree, sugar, garam masala, cinnamon, clove and green cardamom powder..
Stir and cook till you again see a slight oil separation.
Add 1 ½ cups of water and bring to a boil or as per required consistency of gravy.
Reduce heat and cook on medium heat until the gravy thickens to the desired consistency. Set aside for assembling later with the Paneer Pasanda.
Remember when you add the stuffed paneer sandwiches; it will absorb some gravy.
For the Paneer Sandwiches:
250 gms. slightly firm Paneer (Cottage Cheese)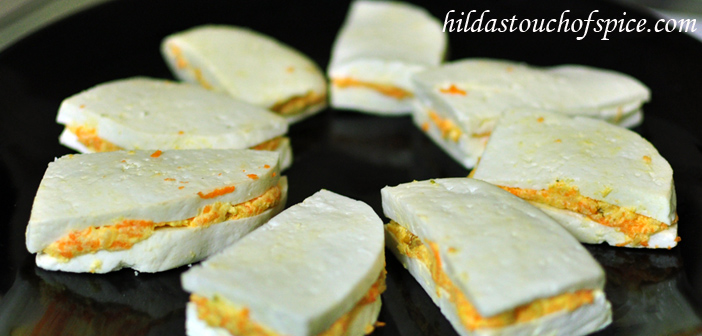 For the Stuffing:
100 gms. Cream Cheese
1 fresh Carrot (peeled & grated)
1 fresh Green Chilli (deseeded & finely chopped)
4 tbsps. Almonds (powdered)
4 tbsps. Raisins (finely chopped)
Salt to taste
For the Coating & Rolling the Paneer Sandwiches:
¼ cup dry Corn Flour
Enough Oil for Pan Frying the sandwiches
For Garnishing: (Optional)
Fresh Cream
Coriander Leaves (chopped)
Few Cashew nuts
Procedure:
In a sufficiently large bowl, combine all the ingredients for the stuffing.
Slice the firm paneer into ¼ cm. slices.
Sandwich the slices with the stuffing.
Press the sandwiches gently to keep the stuffing intact.
Cut into desired shapes or into regular triangles.
Place all the sandwiches onto a plate/tray.
If you have any extra stuffing, you may use to top the sandwiches if you so like.
Gently dip each prepared stuffed paneer sandwich into dry corn flour.
Dust off excess taking care that the stuffing stays intact.
Place them on the tray for a few minutes so that the water in the paneer is absorbed by the corn flour. ( which I did).
Alternatively, you may prepare a thick corn flour batter and deep fry.
Heat a few tablespoons of oil in a sufficiently large frying pan until hot.
Reduce heat to medium.
Gently pan fry the sandwiches for a few seconds until very lightly golden.
Do not over fry or the paneer will turn hard!
Drain off excess oil and gently transfer to a plate.
Just before serving, pour enough gravy in a serving dish.
Arrange the Paneer Pasanda Sandwiches on it.
Top with remaining gravy.
Drizzle cream, top with cashew nuts and sprinkle freshly chopped coriander.
Serve with your favorite Indian bread or rice preparation.