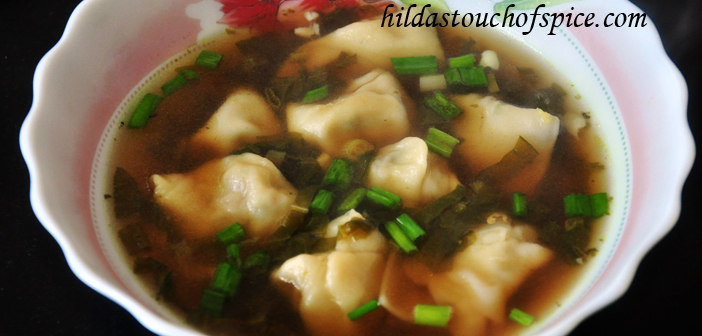 There are several ways of making a good wonton soup. It all depends on individual taste and creativity. You can make your own personalized wonton wrappers or use packaged ones. Packaged ones are handy and save a lot of time and trouble! You can use round or square wrappers and fold them whichever way you choose but make sure the filling remains intact.
If you prefer vegetarian then you can use vegetables of your choice in the filling and in the broth to make it wholesome. Wonton soup can work as a one bowl, simple and nutritious light meal especially if you like your lunch or dinner to be light.
Wonton wrappers are not readily available in the supermarkets of Pune. I made my own wonton wrappers and it did take a while to make them. I wish wonton wrappers and spring roll wrappers were easily available then we would not be having it ever so often in the restaurants! It would definitely save a lot of precious time and energy.
Now that the monsoon has set in and there is a nip in the air, it is really good to enjoy a comforting bowl of hot soup and keep warm. As always, we did enjoy our hot bowls of soup and there was enough for a second helping too! 😀
Chicken Wonton Filling & Assembling:
20 Wonton Wrappers (packaged or make your own)
½ kg Chicken Mince
1tbsp. fresh Ginger (peeled & grated)
1 ½  tbsps. fresh Garlic (peeled & minced)
5 tbsps. fresh Spring Onion Greens (snipped)
1 tbsp. light Soya Sauce
1 tsp. Sesame Oil
Salt & Pepper to taste
Combine all the above mentioned ingredients for the Chicken Wonton filling. Mix well.
Fry a tablespoon of the filling and taste. Adjust spices and seasoning, if necessary.
Then cover and chill for about ½ hour.
Fill and assemble wonton wrappers as shown in the picture.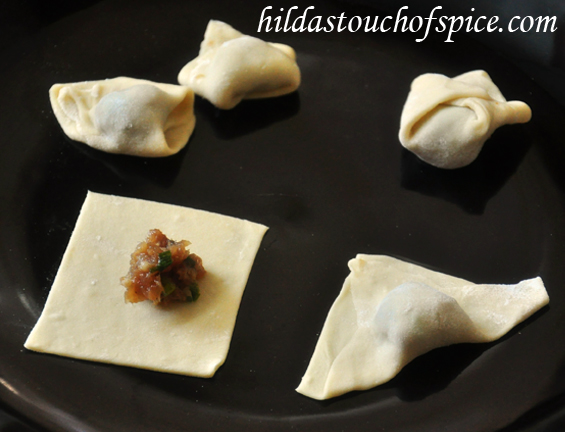 Prepare wontons as many as you need and freeze the remaining to use when needed.
For the Chicken Soup:
2 litres Chicken Broth (fresh or packaged)
1 tbsp. fresh Garlic (peeled & minced)
½ tbsp. fresh Ginger (peeled & grated)
1 tbsp. Rice Wine Vinegar or as per choice
1 tbsp. light Soya Sauce
1 tbsp. Sesame Oil
2 sprigs Spring Onions (snipped)
2 cups Bok Choy (roughly chopped) (optional)
Assembling the Chicken Wonton Soup:
Combine all the ingredients mentioned above for the chicken soup. Bring to a boil.
Reduce heat and simmer for about 15 minutes.
Increase heat and gently add the prepared chicken wontons to the boiling chicken soup.
Cook until the wontons float to the top of the soup.
Lastly, add the bok choy and cook for another 2 minutes.
Serve the Chicken Wonton Soup piping hot.
Enjoy!! 😀