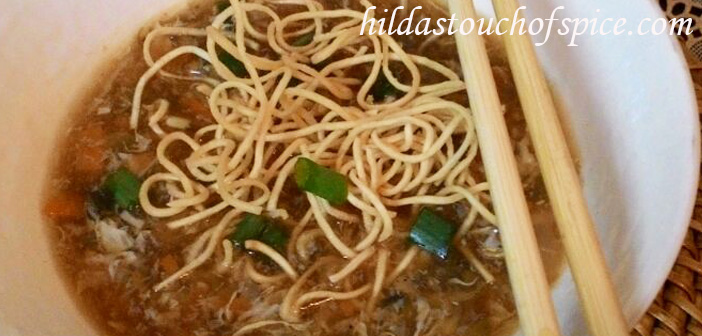 Chicken Manchow soup is a very popular one. The Indo Chinese version is very spicy with strong flavors of ginger-garlic. It has a considerable amount of fresh vegetables and flavorful notes of celery and fresh coriander. The addition of light and dark soy gives the Manchow soup a beautiful deep brown color and the red chilli sauce further enhances the color and accentuates the spice factor. You can adjust the use of fresh green chilli, red chilli sauce, ginger and pepper powder to bring a perfect balance of spice in the finished soup according to your preference and personal taste. The vegetables, chicken, chicken stock and eggs make it highly nutritious and delicious. The Manchow soup served in restaurants and on street carts are usually very spicy but can be adjusted if made at home. For those who are not comfortable with spicy, there is always the Sweet Corn Chicken Soup or Sweet Corn Vegetable Soup.
Manchow Soup has great texture and color. As always, corn flour is the thickener, the vinegar brings in the much needed tang and a light touch of sugar makes it glossy and cuts the spice to balance all flavors.The finely chopped colorful vegetables bring relief to the deep brown soup. Full of protein and vitamins this soup is so comforting irrespective of the weather and climate. Combat cold and feel the warmth with this piping hot nutritious soup with crunchy noodles. It is the crunchy deep fried noodles which makes Manchow soup special and unique.
My family loves soup and we always have a pot of soup ready to tuck in. We all enjoy a bowl of soup when dining out but it is even better when prepared at home. You can always add vegetables you love and customize it according to your palate and preference. Make it vegetarian or add stock and meat as per your choice.
Who may I ask can resist a bowl of Manchow soup? Did you have your soup today? You can even have it as your light dinner. Hot and spicy or mild it is always welcome topped with deep fried crunchy noodles. 🙂
Ingredients:
1 tender Chicken Breast; boiled & shredded or diced
5 cups fresh Chicken Stock
2 Bouillon Cubes
1 fresh Carrot; peel & finely chop or grate
¾ cup Cabbage; finely shredded
5 fresh tender French Beans; de-string & finely cut
1 med fresh Capsicum; destem, deseed, discard membrane & finely cut
2 tbsp fresh Garlic; peel & finely mince
1 tbsp fresh Ginger; peel & grate
2 fresh Green Chili; deseed & finely minced (optional)
2 fresh Spring Onions; finely chop; reserve greens for garnish
1 tbsp fresh Coriander leaves; finely minced (optional)
1 tbsp Celery Stick; finely minced
½ tsp White Pepper powder
¼ tsp Light Soy Sauce
½ tsp Dark Soy Sauce
1 tsp Red Chilli Sauce or to taste
¼ tsp Sugar or to taste
2 tbsp Sesame Oil or Refined Vegetable Oil
3 tbsp Corn flour or as per desired thickening
1 Egg; lightly beaten or Egg White
1 tbsp Chinese Vinegar or to taste or Vinegar as per choice
Salt to taste
Water as needed
Sesame / Cooking Oil for deep frying the noodles
Garnishing:
Spring Onion Greens; finely cut
1 packet Noodles (cook as per instructions; cool & deep fry until golden)
Method:
Boil the noodles as per instructions on the packet. When cold; deep fry till golden. Drain the oil completely and set aside on tissue paper to cool and crisp up. Reserve to garnish your Manchow Soup.
Heat oil in a sufficiently deep and wide saucepan. Sauté the ginger, garlic, green chilli and spring onion(whites) for a few seconds on low heat or until rawness disappears and you get a good aroma. Do not burn.
Add the vegetables and stir fry briefly for a few seconds.
Add chicken stock, bouillon cubes,coriander, celery. Add more water if necessary and a little salt. Stir to dissolve the bouillon cubes and bring to a boil.
Next, add the seasonings, sauces, sugar, chicken and simmer for about 5 minutes. The vegetables must have a light crunch and not over cooked.
Dissolve corn flour in just enough water to make a slurry and add to the soup in a stream. Stir continuously to thicken the soup. The soup should be smooth and not lumpy.
Add the beaten whole egg or egg white in a thin stream; stirring continuously to distribute into strings and not clump up. Mix well. Taste to check seasonings; if necessary.
Remove from heat. Stir in the vinegar.
Ladle the Manchow Soup piping hot in individual bowls garnished with spring onion greens. Serve the crispy fried noodles separately.
Enjoy your delicious Manchow soup with crispy fried noodles.