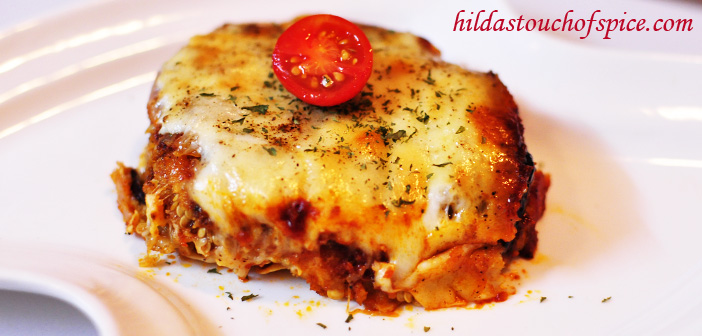 Eggplant (Brinjal/ Baingan/ Aubergine) tastes so delicious in a lasagna! Even if you're not very fond of this vegetable but love lasagna, you will definitely enjoy this one… This delicious Lasagna is so simple and easy with intense flavors. It requires such few ingredients and can be fixed in a jiffy.
This vegetarian lasagna is an absolute delight. It is a great bake for vegetarians and non vegetarians alike and is excellent to serve at a party. If there are any leftovers, it tastes better the next day as the flavors meld because the eggplant has a tendency to absorb all the beautiful elements in the bake.
There are quite a few variations to this lovely lasagna. Many of us enjoy Indian preparations of eggplant (baingan) especially at home but an Italian preparation of eggplant is rarely ordered in a restaurant. When I made this one, my family was a little skeptical but it was a sure hit because there were no leftovers! J
You don't even need lasagna sheets for this one! J If you love brinjal/ baingan/ eggplant/ aubergine and are fond of lasagna then just go for this double bonanza.
Do give this light, wholesome, soft and melt-in-the-mouth lasagna a try and you will surely be in for a pleasant surprise… 😀
Ingredients:
2 med.round purple Brinjals/ Aubergine/ Eggplant/ Baingan
1 med. Zucchini (sliced into thin roundels)
2 cups Marinara Sauce
2 cups grated Cheese (I used a mix of cheddar, parmesan and mozzarella)
4 tbsps. Olive Oil
Salt & Pepper to taste
2 tbsps. mixed dried Italian herbs or as per choice
8 fresh Basil Leaves (roughly torn with your fingers) (optional)
Procedure:
Wash the eggplant / brinjal and wipe dry.
Cut into thin round slices, season with a little salt and pepper.
Brush the eggplant slices with some olive oil and grill on both sides until soft and golden. Set aside.
Blanch the zucchini roundels very briefly in boiling water, drain and cool.
In a lightly oiled oven-proof casserole, first spread some marinara sauce evenly.
Arrange a single layer of grilled slices of eggplant, top with a layer of zucchini, cover with a layer of marinara sauce.
Sprinkle some basil leaves, Italian herbs, cheese and a very light sprinkling of salt and pepper.
Similarly arrange another layer in the above mentioned order so as to get a double decker.
Top with remaining marinara sauce, basil leaves, cheese, Italian herbs and seasoning.
Drizzle some olive oil over the entire casserole.
Place in a pre-heated oven at 180C for about 15-20 minutes or until the cheese has melted and the top is lightly golden.
Serve hot with crostini or garlic bread
Tips & Suggestions:
Peel the eggplants before slicing, if you prefer.
It is preferable to use eggplants (baingan)/ aubergine/ eggplant without seeds.