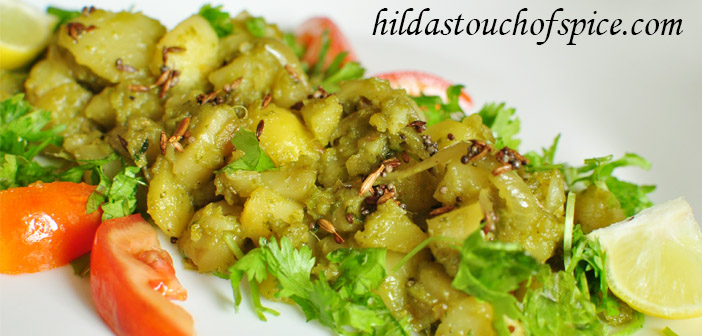 Who can resist potatoes? Definitely, not me! The humble potato is loved by almost everyone. Those who do not consume them are those who consciously have to make an effort to refrain due to health reasons.
Potatoes are so sinfully good and they impart their gorgeous flavour and mingle beautifully in any preparation to make it extra special. Bake, boil, steam, fry, cook or mash them. Kids, young and old will rarely stay away from them. There are so many varieties of potatoes in countries all over the world and varied preparations.
There are numerous variations in cooking up a simple Potato Bhaji. All over India, people do take pride in the way they prepare it. Different states have their signature Potato Bhaji or Aloo/BatatachiBhaji. In Maharashtra where I live viz. Pune, every household in villages, towns and cities prepare it depending on the occasion it calls for. It could be for a normal everyday vegetable or tiffin, different for a thali meal in restaurants, a special version for a wedding etc. Potatoes are a great comfort food and uplifts the mood… It works wonders for me! 🙂
Today's recipe is one of my favorites. It is a typical Maharashtrian, Puneri style BatatachiBhaji which would be cooked by my neighbour. When she made this bhaji, she always kept my share and would bring it with beautifully puffed puris or hot and freshjowaribhakri with an accompaniment of some chutney (groundnut, garlic or onion) and not to forget the homemade pickle! It was a treat which I always looked forward to. The taste of this Potato Bhaji was awesome and brought my taste buds alive.
I must say that my neighbour's Batatachi Bhaji was super special and always will be. I miss her so… This is my humble effort and tribute to her awesome food that I got to relish and enjoy. I love my BatatachiBhajiand can't wait to share. The magical fingers which cooked with love and in all simplicity will always be original and unique.
I do hope you will give this a try… it sure is a keeper. 🙂
Ingredients:
4 med Potatoes (boiled, peeled & diced)
2 med Onions (peeled & sliced)
4 tbsp Cooking Oil
A pinch of Sugar (optional)
Salt to taste
For the Green Spice Paste: Grind to a paste the below mentioned ingredients:
 1/4 cup fresh Coriander Leaves
A few sprigs of fresh Mint (optional)
2 fresh Green Chillies (or to taste)
1 tsp fresh Garlic paste
½ tsp fresh Ginger paste
For the Tempering:
½ tsp Mustard Seeds
½ tsp Cumin Seeds
¼ tsp Turmeric powder
Few sprigs of Curry Leaves
A pinch of Asafoetida
1 ½ tbsp Cooking Oil or pure Ghee
For Garnishing:
Chopped fresh Coriander Leaves
Lime Wedges
Procedure:
Heat oil in a pan or kadhai until hot.
Add the sliced onions and fry until soft and translucent.
Add the prepared green spice paste.
Sauté on medium heat until the rawness disappears and you get a good aroma.
Add the diced potatoes. Stir to mix well.
Keep stirring so that the potatoes are well coated with the spice paste.
Add sugar if desired, salt to taste and stir well.
Cook for 2 to 3 minutes. Set aside.
Your Potato Bhaji is ready for the tempering.
For the Tempering:
Heat oil in a tempering pan until hot.
Reduce heat and add all the tempering ingredients.
Let it splutter for a few seconds.
Pour the tempering on the prepared Potato Bhaji.
Let the Potato Bhaji rest until serving time so that the flavors meld.
Serve with your favorite Indian flatbreads or puris garnished with freshly chopped coriander and wedges of lime.
Enjoy the delicious Potato Bhaji in Green Masala.