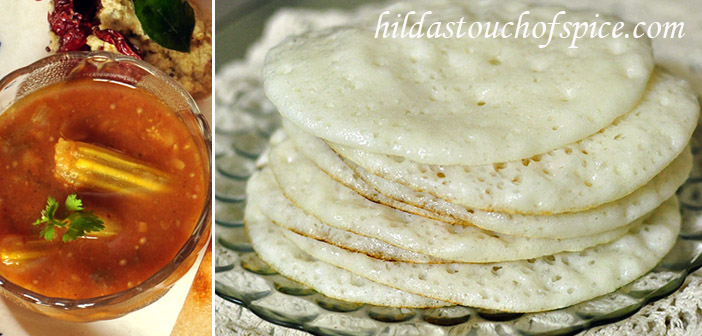 Sponge Dosa is the easiest dosa to make and requires just a few ingredients which are always available in the kitchen pantry. This dosa is so versatile. You do not have to worry about the shape as the batter automatically takes care of itself on the hot dosatawa. Above all, the consistent thin concentric circles are not at all necessary to achieve the perfect crispness and maintain the golden brown of the finished dosa.
Sponge Dosa is also known as Set Dosa in restaurants because it is served as a set of three small dosas in a plate. This dosa is much loved by all… age no bar. Children and elderly can relish it plain. It is a soft, spongy dosa and can be enjoyed at any time. It is ideal for breakfast with choicest chutneys, dry vegetarian and dry non vegetarian preparations along with a cup of tea or coffee.
This soft, pillowydosa helps to mop up curries with ease just like a sponge and is super delicious with curries. It is a great lunch box option with your favorite accompaniments as it retains its soft, fluffy texture. It is fantastic for dinner too; especially for working people as the batter stays fresh in the fridge and is a time saver. Sponge dosas are addictive and one can't be satisfied with just a couple of them.
There are several variations to this dosa batter but this one is the most simple and easy and just magical for novices and bachelors. We normally love to relish it with our favorite curry.
So here is the recipe for the most delicious and magical Sponge Dosa which is soft, fluffy, moist and very lightly golden and crisp at the edges.
Tastes best when fresh and piping hot! Go ahead and try this one… Enjoy! 🙂
Ingredients:
2 cups Raw Rice
¼ cup Urad Dal
1 tsp Methi Seeds (optional)
Salt to taste
Water as required
Oil as needed
Procedure:
Pick, wash and rinse rice and urad dal. Soak in enough water with methi seeds for 4 hours.
Drain the water and grind with sufficient water to a thick, fine paste.
Transfer the batter into a sufficiently large bowl; add salt to taste and water if necessary and stir well.
Ferment the batter overnight.
The next day; stir the fermented batter well and adjust the consistency with water if necessary.
Heat the dosatawa until hot. Lightly brush with oil or use half and onion lightly dipped in oil and smear the entire surface of the tawa. Sprinkle some drops of water on the tawa to prep it well.
Pour gently a ladle or two of the dosa batter in the center of the tawa. Do not spread with the ladle as the batter will spread on its own. Cover with a lid.
Cook on medium heat for a minute or two and then lift the lid off. You will see several holes on the surface of the dosa. Sprinkle a few drops of cooking oil on the surface. Adjust the heat if needed. Cover again for a few seconds.
Open and check to see if the dosa is cooked. The dosa will be cooked when no raw batter is visible and the edges are very lightly brown and slightly crisp.
Do not flip the sponge dosa but just transfer it on a plate. Prepare all sponge dosas in this way and stack them.
Enjoy as breakfast or serve with meals.