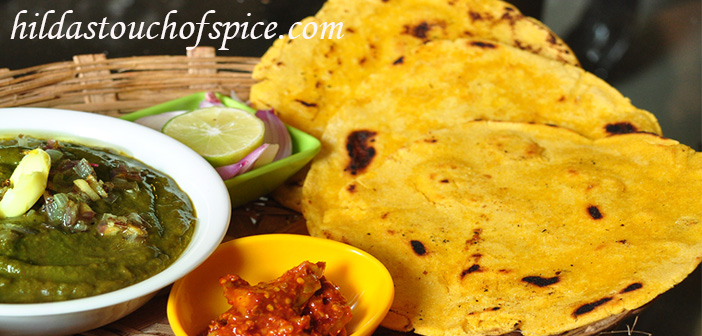 Traditionally, Makki ki Roti or Makki di Roti is served with Sarson ka Saag /Sarson da Saag in North India especially in Punjab during the winter months. This roti tastes best when roasted on a wood fired stove. It is served with other leafy greens or with dal during the rest of the year.
Makki ki Roti is a very simple but nutritious and a healthy roti. It is very easy to make it if you roll it between two polythene sheets. This roti is rolled a little thick to hold the dough together and not break into pieces before roasting.
It is preferable to use fresh makki atta (corn meal flour) and knead it with just enough warm water. Warm water helps to bind the dough better. The kneaded dough is soft and delicate so it is difficult to handle. Too much water will further change the structure of the dough so be careful while adding water to mix into a dough.
Addition of radish and other greens is optional but preferable if you wish to eat it plain with a dollop of butter or ghee. It helps to fortify and make the roti more tasty and nutritious. The roti tastes best straight from the hot tawa. In the villages of Punjab, North India and most urban Punjabi homes you will find the family enjoying these served piping hot one by one and not stacked in a roti dabba.
I have earlier posted the Sarson kaSaag / Sarson da Saag. So here is the perfect accompaniment …Makki ki Roti / Makki da Roti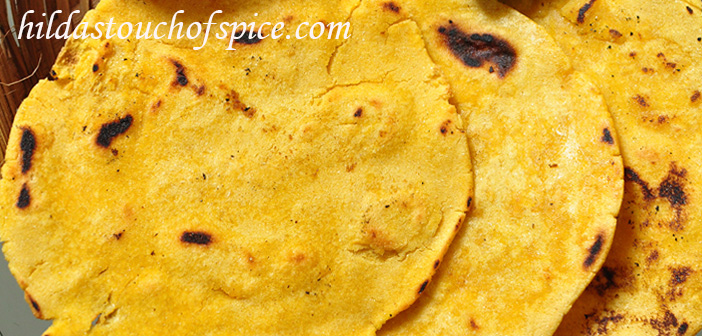 Ingredients:
2 cups Makki ka Atta / fresh Corn Meal (flour)
Grated Radish (optional)
Salt to taste
Water to knead
Procedure:
Knead the makki(corn meal) flour with warm water just before cooking the rotis.
While kneading, add some grated radish (if using) and salt to taste.
To roll the makki rotis, sandwich a ball of kneaded dough between two pieces of square polythene sheets on the kitchen platform and then press with the ball of your palm till you get the size of roti you desire.
This roti is slightly thicker than the normal roti.
Lift the roti and transfer it to a hot tawa / griddle.
Cook on low heat, turning until both the sides are roasted.
Serve topped with homemade white butter, yellow butter or ghee.
Enjoy with Sarson ka Saag / Sarson da Saag.