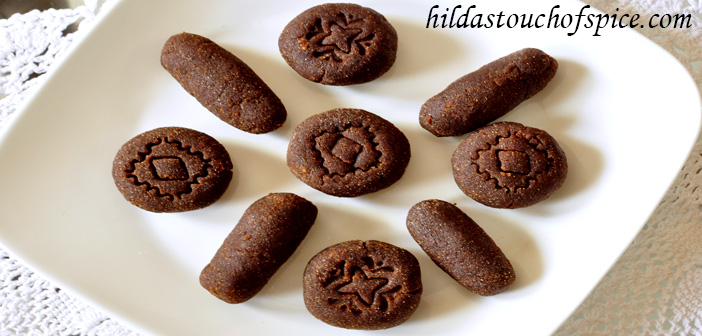 Traditional Goan Pinaca or Pinaac as it is popularly known; is a simple sweet which is an any time treat. Since rice, coconut and jaggery are plentiful; they are put to good use make this sweet treat.
You will find Pinaac served on the Goan Christmas platter but this sweet can be enjoyed throughout the year. Traditionally, they are moulded by hands like Croquetas / Croquettes or like mini cocktail sausages; about two inch cylindrical shapes. They are also sold commercially in this shape so it is very easy to identify them. This shape brings to my mind the delicious Fish Croquetas and Beef Croquettes and hence I associate them with savouries and spices. The tussle between sweet and  savory would arise and I would not get drawn to it.
It is certainly unusual and I don't think anyone has ever seen Pinaca moulded in assorted patterns especially floral designs! But in our home we did!! 🙂 As far as I can remember, we used a wooden mould to shape them. My grandmother was very proud of this beautiful wooden mould from Africa in which she would shape the Pinaac / Pinaca. I distinctly remember the thick, heavy hexagonal teak mould. I am not very sure but I probably think it had about twelve assorted flower motifs. They were deeply carved into the wood and we had to put in a handful of the dough to get the pattern engraved on the Pinaac.
Unfortunately, I do not have the mould and I do not have the picture of it. My grandmother wanted me to have it but it was gifted to my uncle as he so wanted it. My uncle was born in Africa (Dar es Salaam) so it was good that he got it. Well, the wooden mould was specially crafted.With great pride, a smile on her face and a sparkle in her eyes; my grandmother never lost an opportunity to tell the story of the mould to all who were interested to know about the designer Pinaca on the festive platter.
The Goan Pinaca brings back sweet memories of my loving grandmother moulding them with her frail, wrinkled but firm hands. She put in so much of love and effort to make this sweet treat whenever she felt like making it. The simple and elegant floral Pinaca held its place of pride and stood out on our Kuswar platter and the guests who visited us during the festive season would always go for it.
My hubby's favorite any time sweet treat. Just the word "Pinaac" and he starts salvinating. Our vacations in Goa are spent looking for choicest traditional and classic sweets and the Pinaac has to be bought and also "Gons" which is rare. Just remembered that I have not yet posted this recipe! We come back loaded with sweets, jaggery, coconut oil, sausages, etc. Chonya Doce, Cocad, Dodol, Bebinca, Perad, Roce Cookies, Bolinhas, Neurio, Kulkuls, Kormolas, Baath Cake, Rich Fruit Cake… all these delectable sweets are already on this space and now… another addition to the (Kuswar) Goan festive sweet table… PINACA!
So here is the recipe if you would like to try. I used a cookie stamp just to remember my childhood days. Feel free to make designer ones or the traditional classic ones. 🙂
Just look at the picture… don't they look pretty.
Ingredients:
500 gms Goa par boiled Red Rice
1 ½ fresh Coconut (scraped/grated)
4 cakes Goa Pyramid Jaggery
½ tsp Green Cardamom (freshly powdered) or to taste
4 tbsp Water or just enough to melt the jaggery
Procedure:
Dry roast rice on a tawa/griddle on low heat in batches until it turns lightly brown, crisp and gives a good aroma. Make sure it does not burn or it will turn bitter.
Cool the rice and grind into flour.
Grate the jaggery and heat it in a pan with water. Stir to dissolve completely on low heat. Strain the jaggery syrup to separate impurities and sediments if any.
In a sufficiently large bowl, first combine rice flour, cardamom powder and mix well.
Mix together coconut and jaggery syrup and add to the dry ingredients. Give it a good mix.
Take small portions of the prepared rice mixture on a grinding stone and pound it together until it comes together and forms a dough. Transfer this dough to a bowl. Similarly, repeat this process until all the mixture is formed into a dough.
Then take small portions of this dough and roll into balls or small cylindrical shape just like the way we shape croquettes/croquetas or any desired shape. These are "Goan Pinaca."
Roll them into dry rice flour and then place the finished deep dark balls of  Goan Pinaca on a tray/plate/platter.
Leave to dry for a couple of hours or set until firm at room temperature.
Serve and relish  fresh or refrigerate in an air tight container to enjoy whenever you wish.