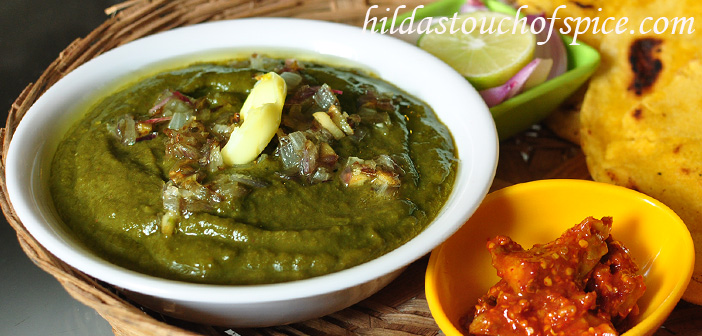 Sarson ka Saag is a traditional gem in the bouquet of authentic Punjabi vegetarian cuisine. It is the pride of Punjab and every Punjabi loves it. Sarson and Bathua are grown and available in the winter so that is the time it is used to make saag. Sarson is mustard in Punjabi and Hindi. The word "Saag" is greens. In the villages of Punjab it is slow cooked on wood fired clay stoves.To prepare it the traditional slow cooked way, you need tremendous patience and love for this preparation as it is tedious and laborious.
Usually the cooked saag is served with a generous topping of homemade fresh white butter or pure ghee which further enhances the flavor. This also gives a smooth, creamy texture to the finished dish. Butter and ghee helps to generate the much needed warmth in winter and combats the dryness of the skin.
Traditionally, sarson ka saag is a combination of five lush leafy greens. The leafy vegetables used are sarson (mustard), bathua (chenopodium), palak (spinach), muli (radish) and methi (fenugreek). Spinach is used to cut out the bitterness in the sarson. Addition of bathua is optional but adds depth of flavor. Corn meal is a binder and a thickener otherwise the vegetables without it will be mushy or like a soup.
There are several variations to Sarson ka Saag. You can select your favorite leafy greens or use all or different combinations to make it wholesome and tasty. It is also popularly served in dhabas i.e. way side restaurants and the traditional way is preferred. It is best enjoyed with makki ki roti and accompaniments like pickles, salad, onions and washed down with buttermilk or lassi.
My neighbour makes this one in the pressure cooker and uses besan in the absence of corn meal. I prefer to make it in the pot but at times use the pressure cooker to save time. I use blanched leafy greens sometimes to retain the vibrant green color.
Earlier, we used to love the Sarson ka Saag with Makki ki Roti at Juice World situated on East Street, Pune as our office was located just around the corner. My hubby and I would have it for lunch often in winter. I have not been there recently.
When I went to buy leafy vegetables, I saw fresh sarson and thought of cooking it at home. I asked for a bunch along with spinach and this time my vegetable supplier immediately handed me a bunch of bathua leaves and suggested I use it as it was one of the essential elements for the saag. I actually wanted to use radish but finally skipped in favour of bathua. So thankful that he actually gave me a lesson on Sarson ka Saag.
The flavor and taste of this saag improves on maturity so you can make it a day earlier before you dig into it. It is perfect with Makkiki Roti. We did enjoy with home fresh makki ki roti. Sarson ka Saag is an acquired taste. You must try and taste it at least once. You never know… you may actually like it!
So here is the Punjabi Winter Special… Sarson ka Saag… it will transport you to the swaying mustard fields with specks of yellow flowers and to the rustic villages in the North … and acres of home grown fresh leafy vegetables in rich soil… and nature is all you need to enjoy delicious and evergreen Sarson ka Saag …
Ingredients:
1 fresh bunch Mustard Leaves / Sarson
1 fresh bunch Spinach Leaves / Palak
¼ bunch Chenopodium Leaves / Bathua
2 med. Onions; peeled & sliced
1 inch piece fresh Ginger; peeled & grated
10 cloves fresh Garlic; peeled & finely minced
2 fresh Green Chillies or to taste; minced
2 tbsp Corn Meal / Makki ka atta
A pinch of Sugar (optional)
4 tbsp Vegetable Oil or as required
Salt to taste
Procedure:
Pick, wash and roughly chop all the greens i.e. sarson, palak and bathua. Each one separately.
Heat 2 tablespoons of oil in a sufficiently wide and deep pot / pan.
Saute ginger, garlic, chillies and onions until rawness disappears. Do not brown.
Add the chopped sarson and give it a good stir for a couple of seconds. Similarly, follow the process for palak and bathua.
Add sugar if using and salt to taste. Stir well.
Cook until the greens turn soft.
Dissolve cornmeal in some water; add to the pot. Stir and cook completely.
Cool the mixture and grind to a thick coarse paste.
Heat the remaining oil in the same pot and add the thick paste. Rinse the grinder with a little water and add to the pot.
Stir to mix completely. Simmer for 3 to 4 minutes.
In a separate pan; temper some crushed garlic, grated ginger and a tablespoon of chopped onions with some oil or ghee. Pour the tempering on top of the prepared saag. This is optional.
Serve Sarson ka Saag topped with a generous dollop of white butter / pure ghee and enjoy with Makki ki Roti accompanied with pickles, onions and lemon wedges.