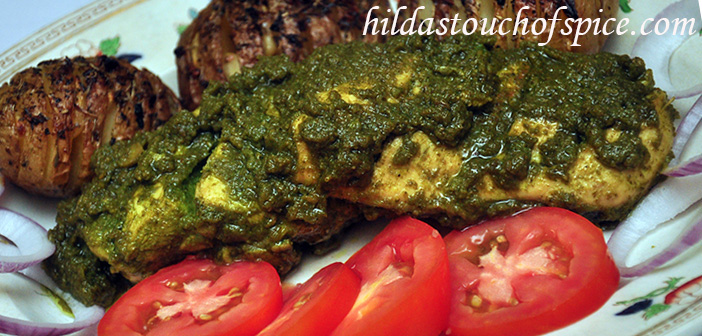 We all know that Goan cuisine has a strong Portuguese influence. Traditional Goan Chicken Cafreal is not only popular among tourists but loved by all for its classic flavor. The vibrant green spice paste with a wonderful blend of aromatic spices makes it enticing and delectable and sends your taste buds on a pleasant spin.
Whenever, I prepare Chicken Cafreal the aroma is so divine that it feels like a festive occasion. Even though it is usually prepared at celebratory and festive occasions, there is no reason why you should not relish it whenever you feel like eating it.
Usually, prepared with chicken leg pieces; you can use a whole chicken on the bone, cut into pieces. We prefer boneless chicken breasts which can be butterflied and cooked.You can pan fry or grill it if you please.
There are many variations to a Chicken Cafreal but for us it is always the gorgeous green masala paste. The below mentioned recipe is my tried and tested one which my family has always loved and continues to relish every time I make it.
The lemon/lime juice adds a freshness to the finished preparation. Fresh tamarind paste/pulp can be used in the absence of vinegar. The choice of selection of vinegar is purely personal. We like our sugarcane vinegar so in all my Goan cooking I use it. For a festive touch a dash of rum is used but again it is optional.
It is very important to use fresh ingredients and maintain the right balance of spices to achieve perfection in the preparation. Boneless chicken cooks quickly but chicken on the bone takes time so it is always better to check if it is cooked before serving it. Many opt for the traditional way and prepare with chicken legs which is juicy with an accompaniment of French fries. Just as we Goans love our seafood and pork specials; Chicken Xacuti and Chicken Cafreal /Galinha Cafreal is equally dear to us. 🙂 It sure is finger licking good.
A platter of perfectly pan fried or grilled Chicken Cafreal is so succulent and delicious. It pairs well with potatoes and a fresh green salad. It tastes good with a serving of pulao and with bread too. When in Goa, enjoy it with Goan pao or poee and of course with Feni. Left over cafreal is excellent in sandwiches. Enjoy as an appetizer with Feni, or your favorite alcohol. Serve at parties with cocktails or simply enjoy it as a main. It is served at Christmas, New Year, Easter and all festive and celebratory occasions.
Usually served with potato fries; I served it this time with Hasselback Potatoes but Baked Potato Wedges also taste great. Potatoes are a perfect accompaniment to several meat, fish and seafood preparations but you may skip if you are not so fond of potatoes but on second thoughts rarely have I come across people who can resist eating potatoes!
Here is the recipe which is long overdue. Don't know how I overlooked this one? If you have relished it before then need I say more? Enjoy! 😀
Ingredients:
4 tender boneless Chicken Breasts (washed & drained)
¼ tsp Turmeric powder
1 tsp Salt
5 tbsp Cooking Oil or as needed
For the Cafreal Paste:
 Grind together the below mentioned ingredients to a fine thick paste. Rinse the grinder with some water and use it in cooking.
5 fresh Green Chillies (destem & deseed) or to taste
1 tbsp fresh Ginger paste
2 tbsp fresh Garlic paste
1 bunch fresh Coriander (picked, washed, roughly chopped)
2 tsp. Cumin Seeds
4 Peppercorns
5 Cloves
1 inch piece Cassia Bark / Cinnamon
2 Green Cardamom
A dash Sugarcane Vinegar or as per choice (optional) & to taste
1 tsp Sugar or to taste
A dash of Rum (optional)
Salt to taste
Water if needed
Procedure:
If using whole chicken on the bone; make slits on the legs and breasts. If using boneless breasts; it is better to butterfly them.
Rub the chicken with turmeric, lime juice and salt and keep aside for 15 minutes.
Apply half of the fresh green spice paste to the chicken and further marinate for an hour. It is preferable to marinate and refrigerate the chicken overnight.
Heat oil in a sufficiently deep pan and shallow fry the marinated chicken on high to first sear the juices. Keep flipping the chicken until lightly fried and golden.Take care not to burn. Adjust heat if necessary.
Add the reserved masala waterand cook covered until done.
The chicken will release its juices so adjust the quantity of water if necessary.
Now add the remaining green spice paste.Stir well. Use depending on how much thick sauce you would like in the finished preparation. Refrigerate remaining masala paste if any to be used on another day.
Add a couple of teaspoons of oiland cook further; turning occasionally until the masala is thick and saucy enough to coat the chicken pieces.
Adjust seasoning if necessary. Add a dash of rum for a touch of festivity but this is optional.
Serve hot garnished with Hasselback potatoes, French fries, baked potato wedges or potato chips and a fresh green salad. You can serve it with pulao or with your favorite bowl of rice or bread.