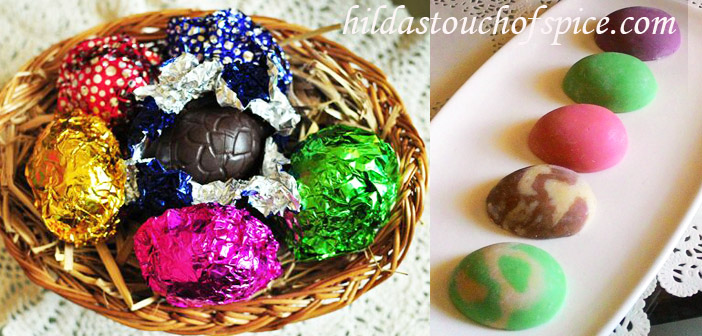 Marzipan can be made with almonds as well as cashew nuts. Almond Paste is mostly used as a base coat for a Madeira or Rich Fruit Cake. Marzipan is a pliable mixture of ground almonds or ground cashew nuts, confectioner's sugar, egg white and lemon juice. It is referred to as almond paste. Marzipan can be a cooked or an uncooked paste. It can be colored with food colors and moulded into different shapes for decoration. For a sweet aromatic taste; essences, extracts or rose water is used in the marzipan paste /dough. Easter eggs are usually prepared with cashew nut marzipan.
I have earlier posted Chocolate & Marzipan Easter Eggs recipe with uncooked marzipan and have given a link wherein you can get the recipe for the cooked Marzipan which I normally use to prepare moulded shapes for my Christmas platter and can be found listed under Christmas / Festival Specials.
I usually prefer the cooked marzipan recipe even though it is painstaking and tedious to get the perfect texture for the Christmas moulded shapes and Easter Eggs. The uncooked marzipan comes handy only when I need to get the marzipan in a jiffy, when I am running out of time or I have a lot of things to catch up on my to-do list. But I always use the almond paste for my cakes which is the uncooked recipe. Check out the Batternburg Cake with Almond Paste and Sugar Paste.
This time I just thought it necessary to post my cooked Marzipan recipe for Easter Eggs on my blog for my family and for all those who would like my favorite recipe which has always been a great success.
I am not much into decorating Easter Eggs with royal icing as we are not so fond of it. We prefer our Easter Eggs coated and decorated with Chocolate. My hubby being a diehard fan of CHOCOLATE!!
My DIL Ramita Mascarenhas suggested that I post this recipe again so that it can be found with ease. This is why I am re-posting it. So here is my Easter Eggs (Cooked Marzipan Recipe).
Go ahead and enjoy your Easter celebration and make your sweet table gorgeous this Easter. Gift with love and share Easter blessings. Easter Eggs are a symbol of a new beginning so make it memorable each time… every time… 🙂 How about a treasure hunt to make it more adventurous! 😀
Wishing all visitors "A Very Happy Easter".
Ingredients :
200 gm Cashew nuts / Almonds (without skins)
400 gm Sugar (finely powdered)
2 Egg Whites
½ cup Rosewater
Food Color as desired
Method :
Grind cashewnuts to a fine powder and soak with rose water for about 15 mins.
Grind cashewnuts to a fine paste.
Lightly whisk the egg whites.
In a thick bottomed pan, combine cashewnut paste, sugar, egg whites and mix well. (I used a pressure cooker without the lid).
Place the pan on a low fire; keep stirring continuously.
Make sure that the mix does not stick to the bottom of the pan and does not burn.
Cook till mixture thickens and starts leaving the sides of the pan.
Pour out the mixture in a plate and muscle with a spoon/spatula till the mixture cools down.
When cool, muscle again using some rose water sparingly.
Knead till it forms a pliable smooth and soft dough.
Fun with colors, shapes and gift wrap:
A variety of edible and food grade coloring can be used to make marzipan vibrantly colourful and beautiful.
If you wish to color the dough then divide the dough and color each dough with few drops of desired edible coloring and flavouring but use sparingly.
Knead each ball of dough to incorporate the color completely.
Try and keep the colors pale so use colors sparingly. Light pastel shades make the finished marzipan shapes and Easter Eggs look elegantly pretty. Keep aside the balls of dough to rest for awhile before shaping or moulding them.
Now, you should be able to mould desired shapes easily as the marzipan will be pliable.
Use Easter Egg moulds or shape eggs with your hand and place on tray.
Decorate the prepared Easter Eggs with royal icing if you wish or simply dip them into melted chocolate of your choice and decorate with sprinkles, colored or sparkling sugar, edible shimmer, marzipan or sugar paste flowers, etc.
Dark, milk and white chocolate can be used to add assorted beauty. It is all a matter of personal creativity.
In case you wish to make full eggs then seal the two halves together with chocolate or royal icing. If you intend making half eggs then there is no need to seal.
For a surprise in the egg; mould marzipan into hollow eggs; chill halves and fill chocolates, nutties, gems, dry fruit, etc. and then seal together to form a whole egg.
Further dip in chocolate if you wish and chill in the fridge again for a firm and neat finish.
Use pretty gift wrap and tie with colourful ribbons… make them stunning and a joy to gift and share. 🙂
Gift them at Easter in delightful paper bags to your loved ones or / serve them in a basket lined with straw or as per your creativity.