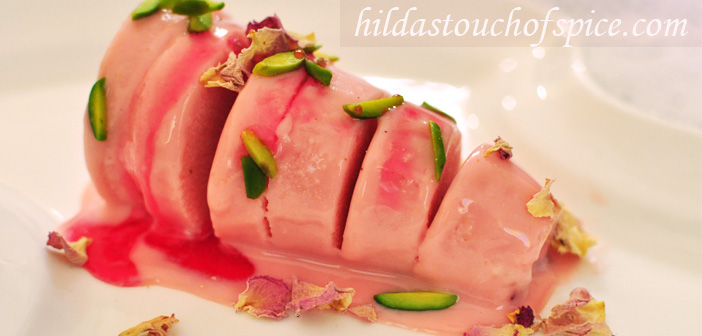 Roses… a flower of paradise! Who can resist the sweet aroma of the fresh wild organic pink roses or even dried rose petals?Shahi Gulab… loved by the royal Mughals… especially the Persians.
Roses are a boon to mankind. The sweet smell of roses is so refreshing and mesmerizing. Rose water, rose syrup and rose petals cools the senses and brings in all that is good, pure, a feeling of calm, peace and positivity. So soothing to the skin and boosts good health. It is perfect to enjoy the benefits of roses in summer.
When I had a huge bush of the wild pink aromatic rose which produced roses in clusters; I made sure I utilized them well. Recently, I posted our favorite Shahi Gulab Barfi. Do try it out if you haven't.
This year the summer heat was unbearable and the temperatures were soaring. The Indian summer was definitely not kind to us. I must say the gorgeous rose did take good care of us. It cooled our senses, mind and body.
The ever popular kulfi is loved by all. All the year round I make kulfi for us but summer is the time we indulge the most with this awesome unchurned supercool wonder. Well, I made this divine Rose Kulfi / Shahi Gulab Kulfi which was to die for but went on two vacations while the summer almost went by and hence did not post this beautiful recipe for Rose Kulfi.
I so want to share this cool aromatic treat which is a feast for the eye and a joyful delight to the tastebuds! Just have a look at the picture… What do you think? Does it compel you to give it a try right away and see the sparkle in the eye of your loved ones and the true satisfaction of a royal dessert?
Enjoy a slice of paradise on earth with this heavenly Rose Kulfi / Shahi Gulab Kulfi!! 🙂
My large hearted friend Fakhri gifted me the most aromatic rose petals and raw pistachios which she knows I love so much and I used them to make this Shahi Gulab Kulfi which my family relished and enjoyed.
Can't thank you enough Fakhri Arabiyan for the sweet aromatic dried rose petals and raw pistachios from Iran. Thank you for your generosity, love and prayers. God Bless you abundantly my dear friend.
Ingredients:
1 litre pure creamy Milk
1 tin sweetened Condensed Milk
100 gmssoftened; Khoya / Khoa / Khava
Sugar to taste (optional)
50 gm fresh Cream
3 tbsp Corn flour + 4 tbsp Milk
A pinch of Salt (optional)
5 tbsp Rose Syrup or to taste
1 tbsp Rose Water
Garnishing:
A few dry aromatic Rose Petals
A few slivered Pistachios (optional)
Rose syrup (drizzle as desired)
Procedure:
First, combine corn flour and milk in a small bowl or cup. Stir to mix into a smooth thin paste. Set aside to use later.
In a thick bottomed deep saucepan, bring milk to a boil. Reduce heat and boil further on simmer to reduce to half the quantity.
Add sweetened condensed milk, khoya, sugar to taste (optional), fresh cream, salt and stir to combine well.
Stir continuously for another 5 minutes.
Stir in gradually the reserved corn flour paste. Cook until the mixture thickens to thick sauce.
Take the pan off the heat and let the sauce cool completely.
Pour the cool sauce into blender along with the rose syrup and rose water. Pulse briefly to a thick smooth basundi / rabdi.
Transfer the rosebasundi / rabdi into another pan.
Reserve some of the rose basundi / rabdi for topping and fill in aluminium kulfi moulds / matkas / popsicle moulds or any container of your choice.
Freeze for at least 8-12 hours or overnight.
To unmould; dip the frozen kulfi moulds briefly in normal water to loosen. With the help of a blunt knife slide the Rose Kulfi / Shahi Gulab Kulfi on to individual serving plates.
Slice the rose kulfi and serve topped with the reserved rose flavoured basundi / rabdi, and a drizzle of rose syrup.
Garnish with some slivered pistachios and dry aromatic rose petals.
Enjoy your delicious and cool dessert!