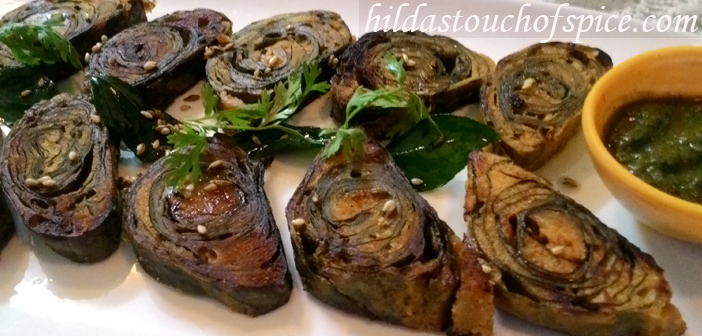 I wanted to make alu vadi since a long time and am so glad that I finally got to make it. In the rainy season, the markets are flooded with colocasia leaves. Aluchi Paane / Taro or Colocasia is a monsoon vegetable and grows wild and in abundance in marshy conditions which is absolutely perfect for it in the rainy season. Back yards come alive with the plants multiplying like crazy and you are assured that when you make the vadi with home grown leaves you will not be saddled with the itch! It is dicey to buy as you have to be lucky to get good ones.
Aluvadi is so popular in Maharashtra, Gujarat (Patra), Goa (Pathrode) and in the Konkan belt. It is served with pride during festive and all special celebratory occasions and can be enjoyed even on normal days.  In fact, restaurants specializing in thali meals do include the vadi. Local restaurants do have it on their regular menu too.
I have eaten them all… the perfect spirals with the perfect balance of spices… the right amount of tang and sweetness, the not so perfect ones, the itchy and the slightly raw, the over fried and hard, the very spicy, the mild, the deep fried and the shallow fried. That special extra tang with the sweetness is the ultimate for me. My taste buds do the tango and go on a spin. Well, we have tasted many versions of alu vadi and each preparation is interesting and unique.
I can vouch for the ones sold fresh and piping hot at breakfast by homemakers who take pride in making them every single day in TulsiBaug area in Pune. I miss them so much as I no longer visit that area like the way we did. My children and hubby eat but are not great fans of it but I am."Why is it so special to me"? "What is so spectacular about the aluvadi"? "It is so laborious and such a great task"! I do agree when my hubby comments about it. "Don't ever make it again"! "It is so easy to buy and not worth making it at home"; he further reiterates. Yes, I fully endorse that. But don't all good things come with extra effort. I am sure you will agree with me.
Well, just this once… let me fulfil my craving and nostalgia, I insist. Every time I was in the mood to make them there were several barriers due to which I feel it took an awful long time to make them at home. How I recollect the days when I could make it whenever I wanted to as it was so easily available in my backyard in Dehu Road. I remember with fondness those days when my neighbor always made sure that I got my share of the deep fried aluvadis whenever she made them. She made sure she distributed the leaves to all but I always got the piping hot ones wrapped in a banana leaf or in a steel vati and even sometimes wrapped in a piece of newspaper. When I shifted to Dehu Road, my good neighbor gave me a sapling which multiplied and reminded of her each time I picked fresh leaves to make my aluvadis. My garden was a free for all and so many made a living and I received blessings.
Today's recipe of the aluvadi is a labor of love and a gift to me! 🙂 I got my patrode leaves on a day when I was not feeling too well and my hubby took me on a refreshing drive to Saswad to lift my mood. I love to go to Saswad as it is an awesome drive on the Babdev Ghats with a breath-taking view of the hills and lush greenery especially in the monsoons. Above all, beyond the ghats is just paradise with lush fields and orchards and flower gardens especially roses which are grown for commercial use.
I was enjoying the drive and admiring the scenery. We had a stopover to breathe in clean, pure air and enjoy a cuppa of adrakwali chai which warmed us up. We resumed our drive and casually my hubby asked if I would be interested in alu leaves. Well, my eyes lit up and I said "Of course"! We turned back to get them.
When I stepped out of the car, I saw an old lady sitting in the light drizzle with small bunches of alu leaves. Beside her was a man selling organic fresh methi. He assured me that the leaves were good.  Behind her was a village house and I could see the pathrode leaves growing blissfully on one side in front of the house. I did not ask if it was her house but guessed it could be hers. I initially selected a bunch but since they were small size ones, I picked another. She insisted I buy three bunches but I explained that it would be just me who would eat.
When I came home and started the pre-preparation, I realized she had given me an extra bunch and had hardly charged me much. How generous she was. God Bless her. The leaves were tender and I had to snip of the central vein of just two medium sized leaves. On tasting the prepared vadi, I was so pleased. J My efforts paid off! The vadis were so delicious just the way I love them… tangy and sweet. I felt so satisfied and that I could finally fulfil my craving for them. 🙂
The making of the alu vadi / patrode / patra is a laborious and time consuming task which can be easily accomplished if it is a team effort where you can involve friends, relatives and even kids in your family over the weekend. It is fun especially for kids to smear the leaves with the spicy paste just like play dough.
Simple ingredients which make the essential paste which is then smeared on leaves, further sandwiched into layers which are assembled into stacks and then neatly rolled, steamed, deep fried and then tempered with healthy and nutritious ingredients make this rustic vadi into a glamorous piece of art! These gorgeous spirals are so soul satisfying, comforting when you eat them piping hot with your favorite dip or chutney and don't forget that hot cup of chai in the monsoon season.
Not just the vadi but when the rain gods are pouring their abundant blessings and it is difficult to go out and shop to prepare your daily meals; it is these leaves if you are fortunate enough to have in your backyard which come in handy to make a delicious gravy (alu patal bhaji) or even pakodas (bhajjis) if you are not in the mood to make these elaborate savory, spicy rolls.
Will I make Alu Vadi / Patrode / Patra ever again? Who knows! I just might! 😀
Ingredients:
 17 Colocasia Leaves / Taro / Alu Paane / Patra / Patrode
1 ½ cups Besan / Chick pea Flour
1 ½ tbsp. Rice Flour
¼ tsp Turmeric Powder
1 tsp Red Chilli Powder or to taste
1 tsp Coriander Powder
½ tsp Jeera Powder
A Pinch of Soda Bicarb / Baking Soda (optional)
Salt to taste
¼ tsp fresh Ginger Garlic Paste (optional)
½ cup Tamarind Paste / fresh extract / Lime Juice to taste
2 tbsps. Melted / grated Jaggery or to taste
Enough Water to prepare a thick pliable batter
Coconut Oil or Cooking Oil of your choice for deep or shallow frying
For the Tempering / Tadka:
1 tsp Sesame Seeds
½ tsp Cumin Seeds
A pinch of Asafoetida
¼ tsp Mustard Seeds
2 Sprigs Curry Leaves
1 tbsp. Oil
2 tbsps. freshly chopped Coriander Leaves (optional)
2 tbsps. freshly grated Coconut or to taste (optional)
Note:
It all depends on the number of leaves you have and intend to use. I used all 17 leaves as mentioned above to make the vadi. I had 2 medium sized leaves and the remaining were small ones. I aligned the leaves to get rolls to fit in my steamer. So I prepared two rolls with all the leaves I had. That's why I did not get the perfect round shape throughout when I sliced the rolls after steaming. I was very happy the way it turned out. As you can see in the picture above; I got some pretty shapes almost like a tear drop or should I say the design looked somewhat like on the peacock feathers! J It was tedious and laborious to roll the vadi but worth the effort. I thoroughly enjoyed the plating and so loved the pictures and I hope you do too.
It is very important to select leaves which do not have thick central veins. Slender stems and sleek veins helps cut out the extra work of trimming the leaves.
Another very important point to keep in mind is to get leaves which are not itchy. If you buy them then you have no choice but just pray that you are lucky enough to get non itchy leaves. Home grown ones are best but very few may be growing them in their back yard or easily available in their vicinity.
But above all, there is no need to fret you can enjoy your vadi by simply trimming off thick veins and stems and soaking them after washing in tamarind water for a couple of minutes or so. Make sure you wipe off each leaf and it is completely without moisture to help the leaves hold the batter well within control. It is even better to dry the extra moisture under a fan.
The prepared batter should be thick enough to spread evenly with ease and hold well on the leaves as in the steamer the moisture will again engulf it. You also need enough patience as the leaves tend to slip with the paste while rolling the stack.
Just keep these pointers in mind and you are good to go.
Follow the steps meticulously to get some fresh, wholesome homemade aluvadi / pathrode / patra… So here we go.
Procedure: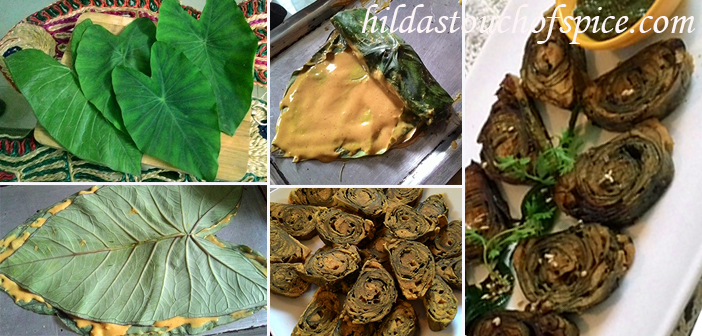 It is better to be safe than sorry; so prepare the leaves by cutting off the stems and trimming off the veins of each leaf if necessary.
Wash the leaves with normal water to get rid of grit and grime if any.
Soak the leaves for a couple of minutes in tamarind water. Drain out the water through a sieve and wipe each leaf with a kitchen towel or tissue. Dry under a fan to remove any extra moisture.
Combine both the flour, all the dry spices, baking soda and salt. Mix well.
Dissolve melted or grated jaggery in fresh tamarind extract. Dilute further with some water, if necessary. There should be no jaggery lumps in the solution.
Gradually mix into the dry mixture; ginger-garlic paste if using and also the tamarind – jaggery solution. Mix well. Use minimal water to prepare a thick smooth batter. Add a few drops of oil (optional). Mix well.
It is better to check for seasonings, tanginess, sweetness if necessary as per personal taste and preference before starting to use the paste in the assembly of the rolls.
For the Assembly:
It is comfortable to assemble on a clean kitchen counter but it is best to assemble on a baking tray. To make the process non messy; line the tray with cling film or aluminium foil.
Begin by using a big leaf as a base with the smooth surface facing downwards and the veins facing upwards.
Spread evenly a small spoonful of the prepared savory batter on the leaf. Keep a margin around the leaf as when you roll the batter will spread further. Arrange the second leaf on the wet batter and spread the next spoonful of batter. Stack all the leaves alternating with batter and thereby sandwiching them. You can use a set of 4 leaves to make each roll or as per your comfort but I divided my 17 leaves into two rolls.
If you have few torn leaves; you may use them in between or use them to make patal alu bhaji or prepare pakoras later.
Fold the sides of the stacked sandwiched to encase the batter just like you would a spring roll.
Very gently; with steady fingers roll gradually. The roll should be tight. Roll like you would a swiss roll.
Prepare the second roll in the same way. You can make several rolls if you intend using few leaves to make each roll.
Steam the rolls in a prepared steamer on high for about 30 to 45 minutes. It also depends how tender the leaves are. It is better to steam them well.
I steamed both my rolls for 45 minutes as the rolls were thick and I had just two medium sized leaves with slightly prominent veins.
Cool the tray with the rolls thoroughly. As they cool; the leaves with the sandwiched batter will firm up. Thoroughly cooled rolls will give you neat slices.
Use a sharp knife to get neat and sleek rolls. Slice them into ¾ cm slices. Place the slices gently into a sufficiently broad bowl or plate.
If you are counting calories or have health restrictions, then you may enjoy steamed rolls with chutney.
When ready to eat or serve; pan fry or deep fry few vadis at a time until lightly golden and crisp. Temper with the below mentioned tempering.
For the tempering:
Heat a tempering pan with oil until hot. Reduce heat and add sesame seeds, mustard seeds, jeera, asafoetida, curry leaves. Let it splutter. Pour the tempering on the fried alu vadi. You may either add the coconut and coriander and just fry for a few seconds if you so like along with the tempering. Alternatively, you can use toasted coconut or sprinkle fresh gratings of coconut and freshly chopped coriander as garnish. The choice is purely yours.
Serve your delicious home fresh alu vadi / patrode / patra with chutney.